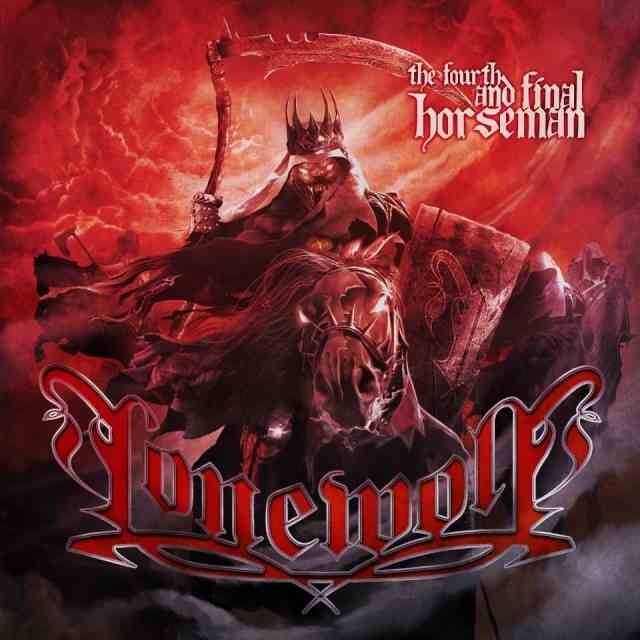 Lonewolf – The Fourth and Final Horseman
20th June 2013
0
By
Mark Booth
Band: Lonewolf
Album: The Fourth and Final Horseman
Record Label: Napalm Records
Release Date: 5th July 2013
Reviewed By: Mark
Tracklist:
1. The Fourth and Final Horseman
2. The Poison of Mankind
3. Hellride
4. Time For War
5. Another Star Means Another Death
6. Dragonriders
7. Guardian Angel
8. Throne of Skulls
9. The Brotherhood of Wolves
10. Destiny
Standout Tracks – "Hellride", "Dragonriders", "The Brotherhood of Wolves"
LONEWOLF are a French Power Metal band and this is their 7th album and second for Napalm Records, lets just start by saying 'The Fourth and Final Horseman' is 10 songs and 51 minutes of Power Metal. If this is not your cup of tea then this album isn't going to win you around to Power Metal and all its glory. Musically this album is very decent and all the musicians play to a good standard and the production is quite good, however sometimes the music seems to be missing something. It just doesn't have that battle cry in it that you expect from Power Metal or the sombre moments just don't seem to move you.
Another thing with Power Metal is that the albums are mainly epic stories that grab you and having you rooting for the hero, yes sometimes these can be over the top (GLORYHAMMER, see my review) or on a more serious level like KALEDON (also see my review). However with 'The Fourth and Final Horseman' I just didn't really seem to care that much about the lyrics or even the story LONEWOLF were telling on this album. This might be because (as stated in my KALEDON review) Power Metal need a powerful vocalist who grabs the listening with every word sung or spoken, however most of the time LONEWOLF vocalist sounds nasally and like he had man flu while recording his tracks. On some tracks his voice compliments the music at certain stages, however on others (most) it is just out of place like a Kraken on a beach!
The annoying thing is though when he does sing and gets away from his nasally voice he has a good voice, I just don't know whether he was trying to be all "metal" and gruff voiced or if he did actually have a cold while recording?!?!?
Anyway LONEWOLF are supposedly on the rise and this album wont overly harm their reputation, but I don't think it will enhance it outside of power metal fans and fans of the band already. I quite enjoy Power Metal every now and again, however I found this album more of a background album, it will grab you ever now and again but the majority will just pass you by. However If you love Power metal then this might be a good purchase for you if your looking to expand your collection and if you are new to Power Metal then there are a hundred and one better bands out there…GLORYHAMMER, RHAPSODY OF FIRE, DESTINYS END, HELLOWEEN, BAL-SAGOTH are a few to name who I would recommend (sadly) over LONEWOLF.
SCORE – 6/10
How useful was this post?
Click on a thumb to rate it!
Average rating 0 / 5. Vote count: 0
No votes so far! Be the first to rate this post.
Related
About the author
Devotees and followers of the Cult of Cletus, I am your true God and my word is law! I come forth to spew daemon loving music at your ears and to corrupt your little mind. My words maybe harsh but I want only the best for my minions! So when I discover a new deadly spawn of music take heed and purchase...