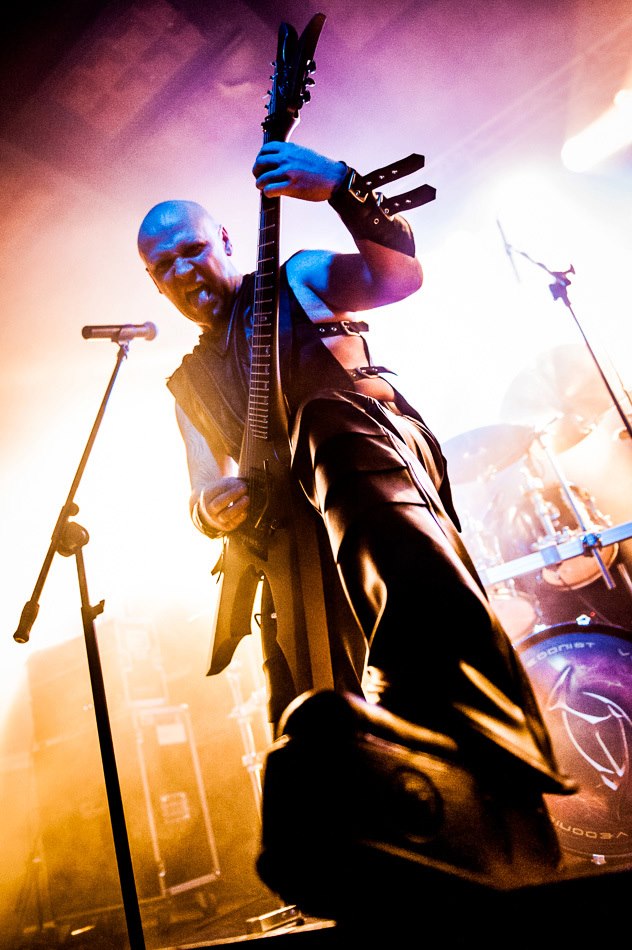 Lost Soul: Jacek Grecki Interview
9th September 2016
0
By
Fraser
I had the pleasure of catching the kingpin of Polish death metal underdogs, Lost Soul, Jacek Grecki, for a quick chat! Read what he has to say regarding lyrics, his career, and Lost Soul's future below!
All About The Rock: Hey Jacek, thanks for taking the time to chat today! I hope you're well?
Jacek: Everything is fine here, thanks!
AATR: For any readers unfamiliar with you and your music, can you introduce Lost Soul?
Jacek: We play metal. Probably the most powerful version of metal. It's fast, heavy, hard, but certainly not pointless. We have a lot of influences from classical music in our compositions. We are more technically advanced than a dozen extraterrestrial civilizations together. There are a lot of feelings in our music and I think that our way of their transmission appeals not only to fans of metal music. We are trying to equip our songs with optimum amount of melodies, panache and space. We have played for twenty-seven years already, and released five studio albums through Earache, Osmose, Relapse, WHP and Apostasy. We've toured with bands like Vader, Nile and Rotting Christ. We also did many individual shows with the best metal legends in the world.
AATR: The awesome Atlantis: The New Beginning has been out for almost a year now – how has the album cycle treated you so far?
Jacek: It's still magick, I love it in the same way I did a year before. I wouldn't change anything in this album. The only think that I'm afraid is that this album is too perfect. It is both a source of pride but also there is a thought: what next? For me it's definitely the best record in Lost Soul's career.
AATR: Are there any plans to tour the album in the UK?
Jacek: Unfortunately we can't think of any playing now because we're working on old stuff with new line-up. It takes a lot of time because of technical advancement of our songs.
AATR: Can you walk us through the lyrical concepts and themes found across the album?
Jacek: Atlantis is definitely a concept album. Apart from the first album, every other was a concept. I'd be lying if I said that the story behind Atlantis … is not related to the work of Alistair Crowley of the same title. The way in which Crowley cleverly concealed the true meaning of his work undoubtedly inspired me to create my own Sexual Magic with a few additional layers, and a dash of science fiction on top of it. Each inner and outer planet – over millions of years and the cooling of the Solar System – has been inhabited by successive generations of Atlantean Kings on their way to the Sun. Each planet is assigned to one song and has its own history. Analogically, it refers to the anti-religious aspect. There is an anti-commandment message in every song. I'd rather leave in-depth analysis to fans who like to explore the art of death, not only through music. Just like with music I carefully connected these themes together and screamed the message out to the heavens with all my might. In summary, each successive Lost Soul album is the work of a lifetime for me!
AATR: And are there any lyrical concepts you wish to explore on future releases?
Jacek: Oh yes they are! I have a plan for the next two releases. But for obvious reasons, I can't say much at the moment.
AATR: You recently parted ways with Marek, Damian, and Jonathan, and have just confirmed your new line-up. Can you give us any details on the split, and who has stepped in to fill their shoes?
Jacek: I made an appointment with the guys, that until we rehearse all the songs and play them in a satisfactory manner, their personal details will remain a mystery. There is much work, we are preparing a set list which includes songs from the last three albums and some tracks from the first album as well… My Kingdom or Tabernaculum Miser for example, surely something from Ubermensch, something from our demos. Over twenty songs in total. This takes time. The only thing I can tell is that these people are all from my home city, which greatly facilitates our work. With the previous line-up there was no such comfort, half of the band lived in other countries and the logistical problems had some impact on the line-up changes.
AATR: I believe you are working on a new album – can you give us any details on that, or is everything yet to be confirmed?
Jacek: Yep, this I can confirm. We are working on a new album. There is no pressure, no deadline. We want to make a very good concept album, but different from the previous ones. It's too early for more details now.
AATR: Are your new members contributing to the new material, or is it mainly being composed by yourself?
Jacek: It's normal that I would love to have less work on the album. I'm open to share some responsibilities with the guys. We have opportunities because we live close to each other.
AATR: How do you feel your sound has evolved from your early demos to this new material you are working on now?
Jacek: You know, it is so. Now I am mature enough to look back and analyse the way I used to write songs and compare it to how I compose now. I am not able to say what the future brings… Apart from the development as a composer, as a man, I keep thinking about one thing. The youthful wildness that I try to find in myself when thinking about new compositions.
AATR: Poland has produced some of the best death metal bands in the world. What death metal bands do you really enjoy from your home country?
Jacek: I don't want to come across as ignorant but I never follow the Polish scene much because of school and after my work, responsibilities which keep me occupied all the time. I always spend my time with my family and do pure dark magic stuff around my band. I like Behemoth, Decapitated, old Vader stuff and a bunch of other bands, but I'm not a big fan of all of them.
AATR: What are some of your career highlights?
Jacek: For sure release of all albums, and European tours with Vader and Rotting Christ, some big festivals.
AATR: Musically, what inspires you to write killer death metal?
Jacek: Cosmos, man! Cosmos!!! I like film music, classical music, true black metal bands and some masters like Mayhem, Dimmu Borgir or Emperor. Apart of that above I thing the music is inside me, it is just in my blood.
AATR: Thanks for your time today Jacek! Before you go, have you any parting messages for our readers?
Jacek: Thank you very much!
Check out Lost Soul on Facebook, and order Atlantis: The New Beginning here!
How useful was this post?
Click on a thumb to rate it!
Average rating 0 / 5. Vote count: 0
No votes so far! Be the first to rate this post.
Related
About the author
This bearded wildman from North of the wall survives the harsh ever-present winter of Scotland on a healthy diet of thrash, death metal and beer.