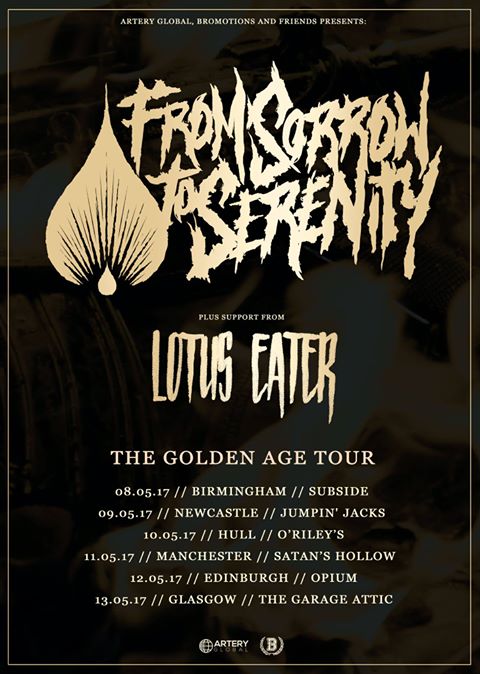 LOTUS EATER & FROM SORROW TO SERENITY – SATANS HOLLOW MANCHESTER 11/05/2017
12th May 2017
LOTUS EATER
These guys are a groove metal band, hailing from Scotland and are the support band for 'From Sorrow To Serenity' tonight here at Satans Hollow.
There deep booming chords, and visceral sound sounds very death metal'ish with a side order of groove thrown into the mix.
Their approach to the crowds is like someone has rammed a hard mass of pulverizing riffs down your throat as their tones massacre your ears.
They rip the stage apart with their merciful destruction with thunderous drums, heavy bass tones and a juggernaut of explosive beats.
FROM SORROW TO SERENITY

From Sorrow to Serenity are fast becoming the UK's most hyped and innovative metal core band with the release of their new single 'Golden Age'.
Hailing from Glasgow, UK these guys truly show their talent here on stage tonight.
Touring their Single 'Golden Age' which was premiered on Kerrang just goes to show that these guys are going from strength to strength.
Supporting the likes of 'Martyr Defiled' and 'Within Destruction', playing fabulous events such as UK Tech Fest Techabilitation these guys are headed from great things!
The crowds get hyped up with the fabulous 'Golden Age' track, and bounce about to the rhythm of 'Perpatrator' which seems to lap up the crowds.
They end the night with 'The Way Back', a tasty little track which has now got the crowds completely energised after this stunning performance.
These guys have shown great showmanship and energy, their fresh grooves mixed with a lot of ambient atmospherics builds up the dynamics of their performance.
We hope to see these guys come back to Manchester really soon, ones we will definitely be checking out again!