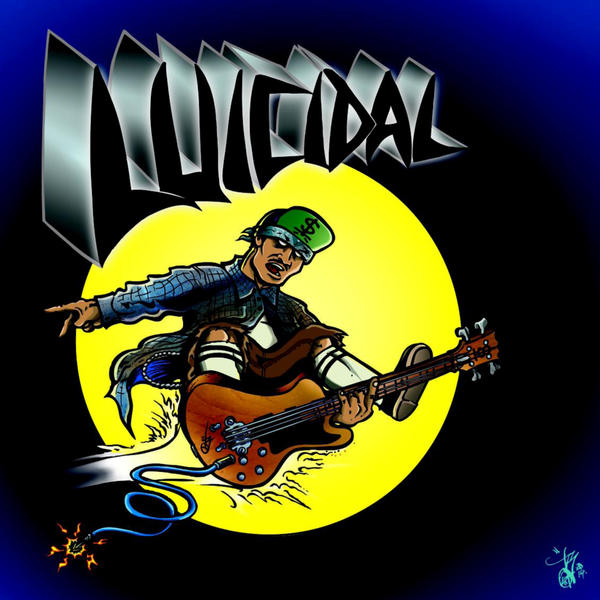 Luicidal – Luicidal
17th September 2014
As a massive fan of the Venice Beach punk rock / crossover scene from the 80's and 90's, THIS is the album that I've been eagerly awaiting since the day I first heard it was being recorded.
Why?  Because Luicidal is the old school punk rock band formed by ex Suicidal Tendencies' bassist, Louiche Mayorga.  Not only that, but involved in the recording of this album were: Rocky George (ex Suicidal Tendencies), RJ Herrera (ex Suicidal Tendencies), Amery Smith (ex Suicidal Tendencies), Grant Estes (ex Suicidal Tendencies), Dale Henderson (Beowulf), Keven Guercio (No Mercy), Mando Ochoa (Sick Sense), and HR (Bad Brains) !!
Opening track 'Westside Familia' is fast, furious, and perfect for slamming into each other in an old school pit.  It's the perfect start to the album and lets you know what to expect right from the start.
'Live For Today' sounds like something from Join The Army by Suicidal Tendencies… which is no bad thing, and no doubt due to the fact that Louiche Mayorga wrote a number of the classic tracks on that album.
'Kumbaya' is a punk rock homage to the spiritual song from the 1920's, with screeching guitars and lyrics about being a cyco problem child.  The acoustic ending with Louiche's softly spoken words is beautifully done, and shows the deeper side of the old school Venice ethos.
This is an album of old school punk rock, Venice Beach style, and an album that I'm going to have on repeat play for a long time to come.
Rich Dodgin
My favourite track on the album is 'Changed World' which features Dale Henderson on guitars and vocals.  The song is about how much Venice has changed over the years… for the worse, as a result of gentrification.  This track wouldn't sound out of place on a Beowulf album, and hearing Dale laying it down a brought huge smile to my face.
'You Always Knew' is short and sweet (58 seconds long to be precise) and features Keven Guercio on vocals.  I always much preferred the version of No Mercy with Keven on vocals (i.e. before Mike Muir came along and ST-fied it all) so it's great to hear him singing on this.
'Knife Fight' is (I think) a message to Mike Muir about how he treated Louiche and the rest of the original Suicidal Tendencies lineup, and the fact that Luicidal are now in town to put things right.  It's fast and angry and features some amazing riffs.  "Now I'm back I'm going to make a damn scene" screams vocalist Mando Ochoa… Hell yeah!!
'Mexican Crabs', 'Sinister Love' and 'Least To Succeed' are all catchy as hell, in your face punk rock numbers that continue the old school punk rock vibe.  Listening to them you can tell the guys had a blast playing these tracks!
'Green Light' and 'Killing Skating Machine' are both fast as fuck, and again show that these guys still have it in spades – the energy, the talent, and the "fuck you" attitude \m/
The album finishes with 'Kumbaya (feat. HR of Bad Brains)' – a laid back funky / semi-hiphop version of the track, featuring HR from Bad Brains.  It's a seriously cool ending to the album, and a great way for you to catch your breath after all the punk rock craziness from the previous 11 tracks.
With so many of the greats from the Venice scene involved, I was expecting this to be a great album… but I can honestly say that it's even better than I expected!  The songwriting, musicianship, vocals, and lyrical content of this album are all first class.
This is an album of old school punk rock, Venice Beach style, and an album that I'm going to have on repeat play for a long time to come.  It's available now on iTunes and Amazon – so what the hell are you waiting for ?!!
Score: 10 out of 10
ALBUM INFO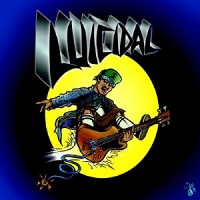 Tracklist
1. Westside Familia
2. Live For Today
3. Kumbaya
4. Changed world
5. You Always Knew
6. Knife Fight
7. Mexican Crabs
8. Sinister Love
9. Least To Succeed
10. Green Light
11. Killing Skating Machine
12. Kumbaya (feat. HR of Bad Brains)
Record Label
1-800 PRIME CD
Release Date
Download 16th September 2014 / CD 14th October 2014
Links
https://www.facebook.com/LuicidalOffical?fref=ts