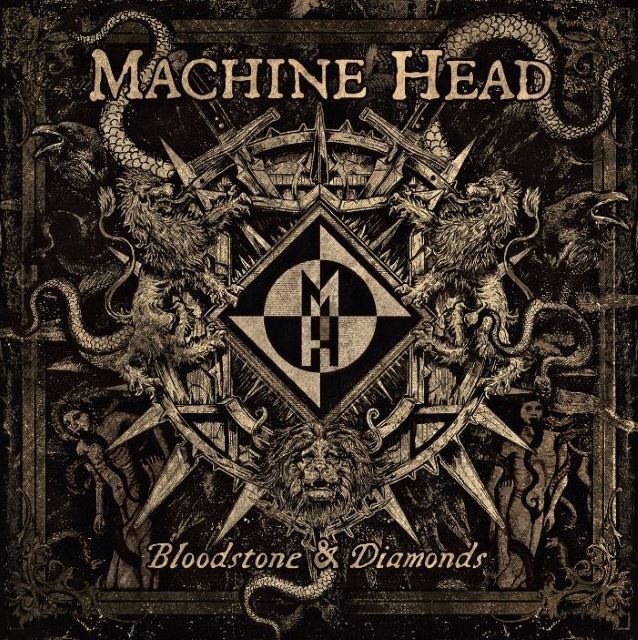 Machine Head – Bloodstone and Diamonds
13th November 2014
Machine Head's eighth studio album "Bloodstone and Diamonds" marks the beginning of a new chapter in the legendary California band's story. The first effort on Nuclear Blast Records after parting ways with long time label Roadrunner, Machine Head's newest album comes after the commercial and critical success of 2007's "The Blackening" and 2011's "Unto the Locust." After releasing a string of albums in the late 90s that featured far too much of a nu / rap metal influence that alienated the band's core audience and nearly put the final nail the coffin, Machine Head is ready again to test the waters with an ambitious record that combines thrash and groove metal influences, plenty of melodic guitars, harmonies, and experimentation. "Bloodstone and Diamonds" succeeds as an album that pushes the metal envelope in a manner that distinguishes rather than typecasts the band. Machine Head is certainly a band that has learned from the mistakes of its past and is ready to forge a new path into the future.
"Now We Die" and "Killers and Kings" open up the album in a blistering manner with the kind of thrashing guitar and pinch harmonic melodies that the band has come to trademark over the years. Robb Flynn's vocals are on point, ferocious, and the album's clear but natural production gives the tracks a full sense of body without stripping the sound of integrity in a way I truly appreciate. It is worth noting that Colin Richardson has yet again had a hand in the album's mixing and his work behind the board services the band's sound quite well. The Drum production on "Bloodstone and Diamonds" is particularly well done with the snare and symbols sounding tastefully natural and giving the overall sound a sense of metal credibility alongside some really beautiful harmonies and clean vocals. The first half of this album is very energetic and tracks like "Killers and Kings," "Ghosts Will Haunt My Bones," and "Night of the Long Knives" focus on shredding the listener with blistering thrash riffs and really solid guitar work. "Night of the Long Knives" in particular showcases blast beat drumming and is really a vicious track that sees the band's melodic and abrasive elements converging into one gigantic track.
Then something happens, the air is just sucked out of this record altogether.
Once "Beneath the Silt," a track that showcases a really heavy, d-tuned guitar riff kicks in, the pace of this album changes and without warning the listener is met with songs that, although they display some nice vocal arrangements and interesting qualities, don't necessarily flow well with the first half of the record and sound out of place. "In Comes the Flood" offers little more than metal cheese lyrically and its attempt to stand as an epic anthem of social injustice is just missed despite some heavy riffing and nice lead guitar playing. "Game Over" is a confused track as well with a chorus that, to be honest, downright angers me with its attempt at something punk…I think. It is also by this time that Flynn's singing / nu metal-esque vocals in certain places start to wear thin as well. Luckily the very interesting instrumental "Imaginal Cells" is a prelude to the very strong album finisher "Take Me Through the Fire," a track that brings back the energy and ferocity of the first half of this album and whose verse riff seems to include a healthy dose of Swedish death metal, something the metal faithful will certainly appreciate.
Overall, despite some experimentation that may leave some fans uneasy given MH's rocky relationship with thinking outside the box, "Bloodstone and Diamonds" is representative of a band still creative and inspired enough to take risks without stripping down past their core and exposing themselves to their own detriment.
Score: 8 /10