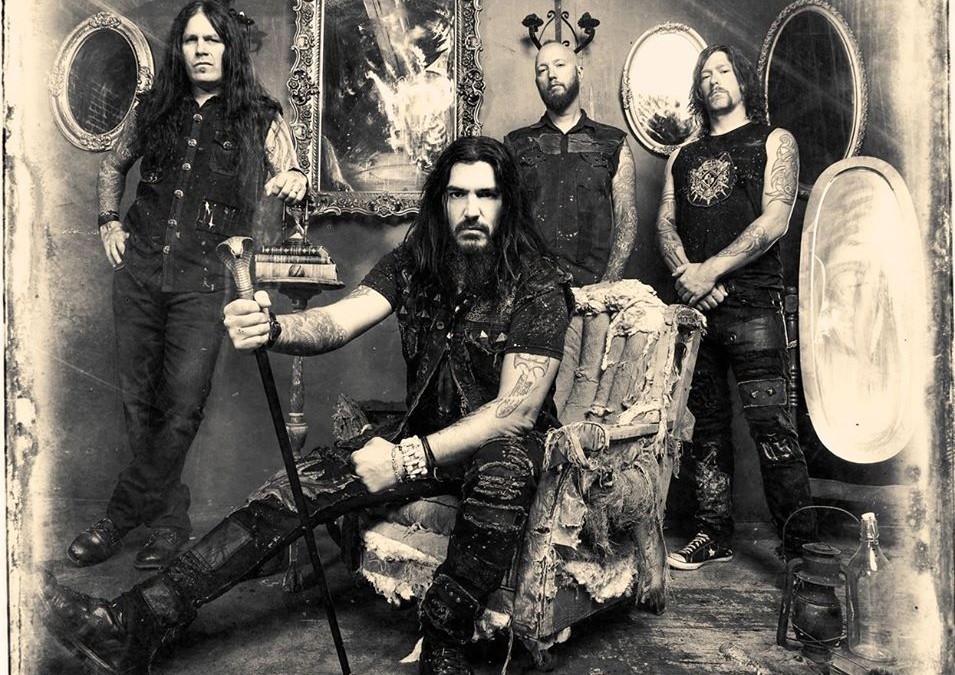 Machine Head post album trailer
29th October 2014
Leviathans of Bay Area metal MACHINE HEAD have just released the first album trailer for their Nuclear Blast Entertainment debut, Bloodstone & Diamonds.  Watch it on the Nuclear Blast YouTube channel:
"I feel like, growing up in the Bay Area, we were exposed to so much amazing music," reveals MACHINE HEAD frontman, guitarist, and songwriter Robb Flynn.  "Everything from this incredible thrash scene to this politically charged punk rock and rap scene… and all of that bled into what MACHINE HEAD became."
Bloodstone & Diamonds was once again produced by Robb Flynn himself and Juan Urteaga (TESTAMENT, VILE) and like the last 7 out of 8 albums, was masterfully mixed by Colin Richardson (CARCASS, BULLET FOR MY VALENTINE, SLIPKNOT, BEHEMOTH). Additional tracking, editing and mixing was done with heavy metal legend Andy Sneap (EXODUS, ARCH ENEMY, ACCEPT, MEGADETH) who also launched his career co-mixing Machine Head's 2nd album 'The More Things Change', and Steve Lagudi.
"I cannot even begin to tell you how proud we are of this album," comments frontman Robb Flynn.  "It's been a heck of a ride, but man, this album is a milestone for us. You're going to love it Head Cases."  
"Without getting too philosophical on ya, bloodstone and diamonds represent two of the hardest materials on earth, it is also a lyric from the opening track of the album 'Now We Die'.  In many cultures the bloodstone has been used as an amulet to protect against evil, and is the symbol of justice. Diamonds and are hardest natural material on earth (which is how we feel about our music), and it also represents the diamond logo I drew 22 years ago (in my wife's apartment on Dover St. in Oakland) that has become the symbol for the band."
Bloodstone & Diamonds track listing:
1. Now We Die
2. Killers & Kings
3. Ghosts Will Haunt My Bones
4. Night Of Long Knives
5. Sail Into The Black
6. Eyes Of The Dead
7. Beneath The Silt
8. In Comes The Flood
9. Damage Inside
10. Game Over
11. Imaginal Cells (instrumental)
12. Take Me Through The Fire
'Now We Die' was recently revealed online and is available to download now from iTunes. Listen to the track:
Catch MACHINE HEAD on tour this December:
06.12. UK London – Roundhouse
07.12. UK London – Roundhouse
09.12. UK Portsmouth – Guildhall
10.12. UK Bristol – Academy
11.12. UK Plymouth – Pavillions
13.12. UK Glasgow – Academy 2
14.12. UK Leeds – Academy
16.12. UK Manchester – Apollo
17.12. UK Nottingham – Rock City
18.12. UK Birmingham – Academy
19.12. UK Dublin – Academy
Buy tickets:  http://bit.ly/MfnHTour​
ORDER 'BLOODSTONE & DIAMONDS':
Standard CD –  http://smarturl.it/MH-BD-NB
iTunes –  http://geni.us/MachineHeadiTunesBlood – order the album now and get the singles 'Now We Die' and 'Killers And Kings' now!