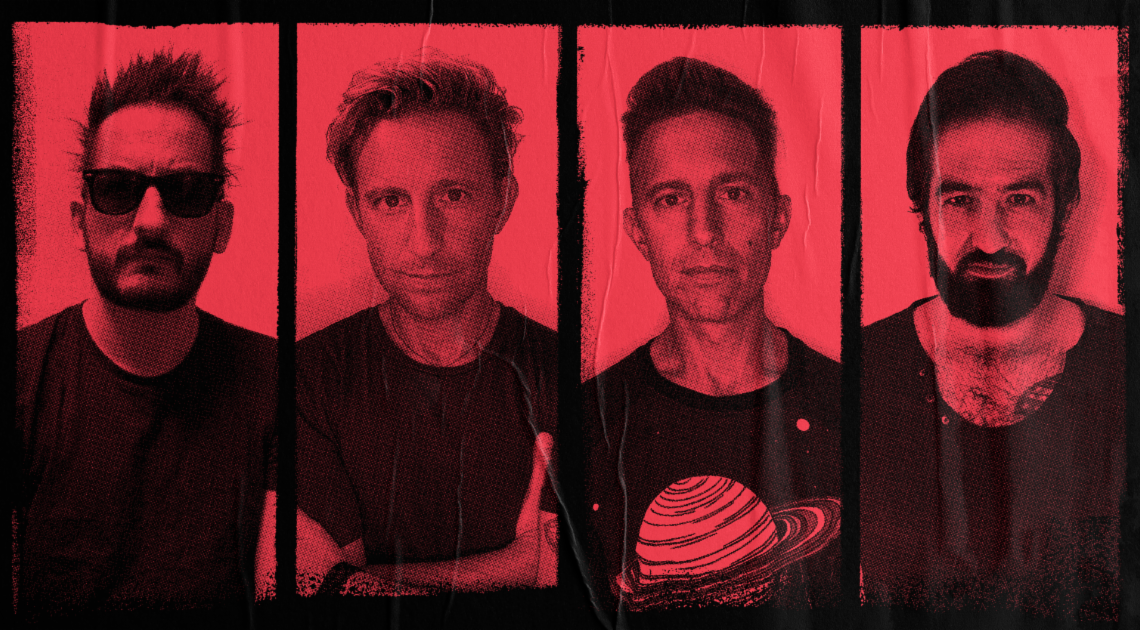 MADINA LAKE share new single 'Love Is War' from forthcoming EP
17th July 2020
Amiable US rockers MADINA LAKE have today shared a brand new single, titled 'Love Is War'. Fans can take a listen / order the song here:
https://orcd.co/obqp2vq
.
Frontman Nathan Leone comments,"There's something about this track that takes me all the way back to Mark Trombino's garage studio in 2005 where/when we made our first record 'From Them, Through Us, To You'. It's gritty and riffy but definitely captures the magic of that time for us." 
His twin brother, bassist Matthew Leone, adds, "'Love Is War' reminds me of my favourite Smashing Pumpkins era when they were writing riffy rock with a magic sparkle over the top and full of landmine "holy shit" moments."
The track is taken from their recently announced, forthcoming EP, 'The Beginning Of New Endings'. The 5-track release is due out on September 4th and was produced by the band's own Mateo Camargo (guitar, programming).
After a long hiatus, in April 2020 with the world locked down amidst a global pandemic, MADINA LAKE suddenly unveiled a ferocious new single, '
Playing With Fire
'. It had been nine years since the release of their third album, 'World War III'. Since then, the charismatic band have also shared new song '
Heart Of Gold
' and intend to unveil a new track each month until the EP's release. 
'The Beginning Of New Endings' track list:
1. Playing With Fire
2. Love Is War
3. Silver Lines
4. Heart Of Gold
5. Tiny Weapons
Pre-orders are available now at
https://madinalake.probitymerch.com/
. All fans who pre-save the EP or pre-order a bundle will receive an extra bonus track on release, as well as instant downloads of existing singles 'Playing With Fire' and 'Heart Of Gold', plus subsequent tracks as they are released once a month. A special bundle edition includes a very limited edition 12" vinyl, poster, collectable laminate, and t-shirt featuring the EP artwork.
MADINA LAKE's last album, 2011's 'World War III', was the third and final instalment of a trilogy. It was released in conjunction with a book that took fans on a six-year journey to ultimately portend a dystopian future, eerily similar to the world we live in today, if our society was to continue on a path of blind faith, vanity, and materialism. Highlights included lead single '
Hey Superstar
' and '
Imagineer
', produced by Billy Corgan (Smashing Pumpkins). The trilogy started in 2007 with the silver-certified, Mark Trombino-produced album 'From Them, Through Us, To You' which spawned hit singles '
House Of Cards
', '
Here I Stand
', '
One Last Kiss
', and '
Pandora
', saw the band named 'Best International Newcomer' at the Kerrang! Awards, and receive an invitation from Linkin Park to join their 'Projekt Revolution' tour. In 2009, MADINA LAKE blasted into the UK Top 50 for the first time, on the release of second album 'Attics To Eden', produced by David Bendeth and including high octane singles '
Never Take Us Alive
' and '
Welcome To Oblivion
'. Selling out tours around the world and dazzling fans with their exuberant live show – including slots at festivals like Download, Summer Sonic, Warped, Slam Dunk, Soundwave, Rock am Ring/Rock im Park, and Reading/Leeds amongst others – the group consistently featured on multiple magazine front covers including Kerrang! and Rock Sound, and were official MTV2 correspondents for 'Road To The VMAs'. Their songs have been licensed by everyone from ESPN, Guitar Hero, and MLB, to MTV Cribs, The Hills, Bully Beat Down, NHL, and WWE,
Once the world opens up again, MADINA LAKE are also pleased to confirm they will perform at a major UK festival in 2021 and intend to follow up with both a UK and US headline tour. Stay tuned for more information soon.