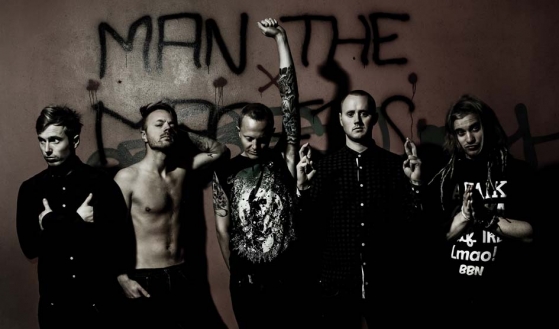 MAN THE MACHETES ANNOUNCE NEW SINGLE 'MAGEPLASK' RELEASED 25TH NOVEMBER VIA INDIE RECORDINGS
23rd October 2013
Norwegian upstarts, Man The Machetes have just unleashed their latest single 'Mageplask' (pronounced Mah-guh-plahssk for those of us not fluent in Norwegian), due for release on the 25th November via Indie Recordings. The track is taken from their most recent album 'Idiokrati' which was released earlier this year.
Check out the video for 'Mageplask' here: http://www.youtube.com/watch?v=JPJ2sXloulE

In a matter of two years, Man The Machetes have gone from playing small venues in their former hometown, Trondheim, to playing prestigious festivals like Pstereo and Hove, being awarded 'Ukas Urørt' by the Norwegian radio broadcasters, NRK P3 (similar to BBC introducing – previous winners include Kvelertak & Blood Command), and support slots with bands like Gallows.
In August 2012, they traveled to Toronto, Canada to work with producer Eric Ratz (Billy Talent, Cancer Bats, Comeback Kid) on their recent album 'Idiokrati' which received excellent review across Europe.
"Norwegian firebrands develop their own line of (kvel)attack."
8/10 Metal Hammer

Starting out as five friends in an old German bunker wanting to play the music they love, they soon started mixing elements of hardcore, Rock n' Roll, metal, and pop to create unique party tunes sparkling with energy. Live, the band has made itself heard, building a reputation as an energetic and dedicated bunch that always give their best. Vocalist Christopher I. is often seen wriggling on the floor at the end of shows, screaming his guts out at everyday stupidity.
"the chunky guitars and growling vocals act like a magnetic force pulling the audience to the front of the stage." – Clash Music at Pstereo Festival in 2011

Catch Them Live In The UK
14th Nov Underworld w/ 36 Crazyfists
18th Nov Underworld w/ 36 Crazyfists
https://www.facebook.com/ManTheMachetes