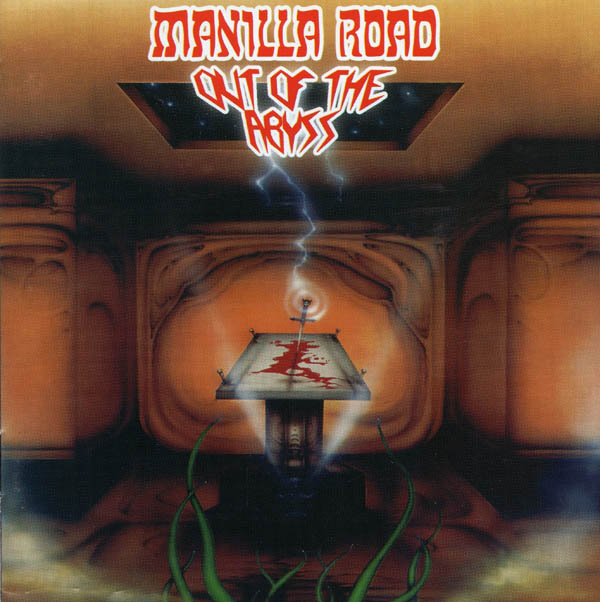 Manilla Road – Out Of The Abyss
28th November 2014
Originally released in 1988, Out Of The Abyss is the seventh studio album from  veteran Kansas metal mob Manilla Road and also the latest release from their back catalogue to be reissued by Shadow Kingdom Records.
Opening cut "Whitechapel" is a dark and uncompromising statement of intent,blending a potent mix of early Slayer circa Hell Awaits with a more traditional heavy metal sound in the vein of groups like Exciter. A gloriously frantic riff and an intense yet extremely catchy chorus set the bar high and the band do not disappoint. Utilising some razor sharp riffs and furiously up tempo drum patterns, all executed with the utmost precision, frontman Mark Shelton leads the charge through this intense aural assault.
"Rites Of Blood" is an altogether different beast, with the band opting for a more considered,restrained approach. Definitely rooted in a more old school metal feel, the band delve into almost proggy territory here, with Mark employing some very King Diamond-esque vocals. Indeed, this track in particular lets him showcase not only his impressive vocal talents, but also some very nice lead guitar work, which makes for some very rewarding listening.
It is this use of musical light and shade which makes Manilla Road somewhat unique and the title track is a really good example of this. There is definitely a big thrash influence here, particularly in the drumming style of Randy Foxe. I think that on this track they have managed to blend their particular style of metal with thrasher, heavier ideas, without sounding clumsy. In fact, it's so well executed that it still sounds fresh more than 20 years later.
My favourite track on the album would have to be "Return Of The Old Ones", which is neither the fastest nor the heaviest track on this album, but it just absolutely reeks of malevolence. Just one of the tracks here written around the Cthulu mythos, it had a great atmosphere and the band sound particularly tight here. The only problem here is that unfortunately the album does suffer from that classic 80's problem, practically non existent bass, which us a real shame because when the  bass does manage to shoulder it's way to the front it's clear that four stringer Scott Park is no slouch!
However, this certainly does not spoil the enjoyment of the music on offer here. Given that at the time of recording this album, the band were a three piece, they create an epic, sprawling sound which ebbs and flows between taut precision and a looser, somewhat progressive feel.
"Midnight Meat Train" is a classic slab of 80's thrash based upon the Clive Barker short story of the same name. Thundering along in just under three minutes, you have very little breathing space before shifting down the gears for the next track, the absolutely sublime "War In Heaven" which has be the catchiest song on the album.
Finishing off the album is the epic "Helicon" which coasts along at a fairly sedate pace, before an absolutely fantastic key change kicks in. Things take a darker twist here, with the band firing off a riff that reminded me a lot of "Do Or Die" by Testament. It's the perfect choice for closing the album and clocking in at just over six minutes, it's one of the longer ones too.
In summary, this is an absolutely great album from a band who are still releasing quality material today.  If you are a fan of classic heavy metal with a healthy dose of thrash, look out for this reissue, it won't disappoint!
Score: 8 out of 10
ALBUM INFO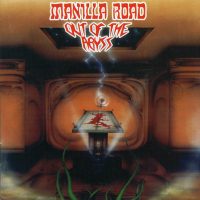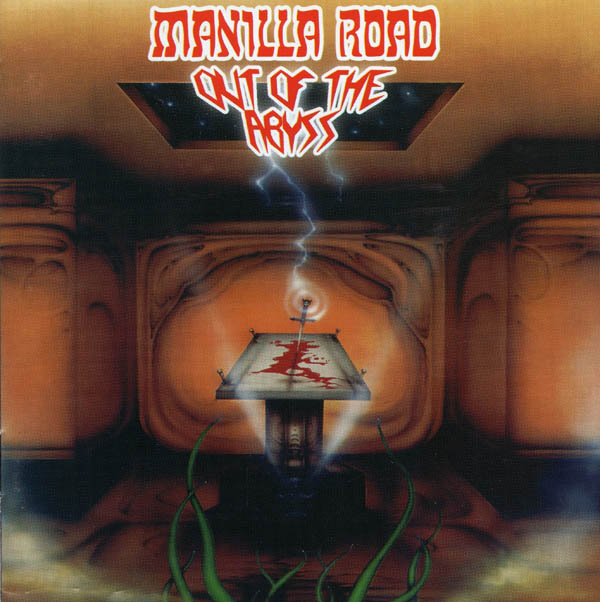 Tracklist
1. Whitechapel
2. Rites Of Blood
3. Out Of The Abyss
4. Return Of The Old Ones
5. Black Cauldron
6. Midnight Meat Train
7. War In Heaven
8. Slaughterhouse
9. Helicon
Record Label
Shadow Kingdom Records
Release Date
Originally released 1988 / Reissue due January 13th 2015
Links
http://www.manillaroad.net
https://www.facebook.com/ManillaRoadOfficial?fref=ts