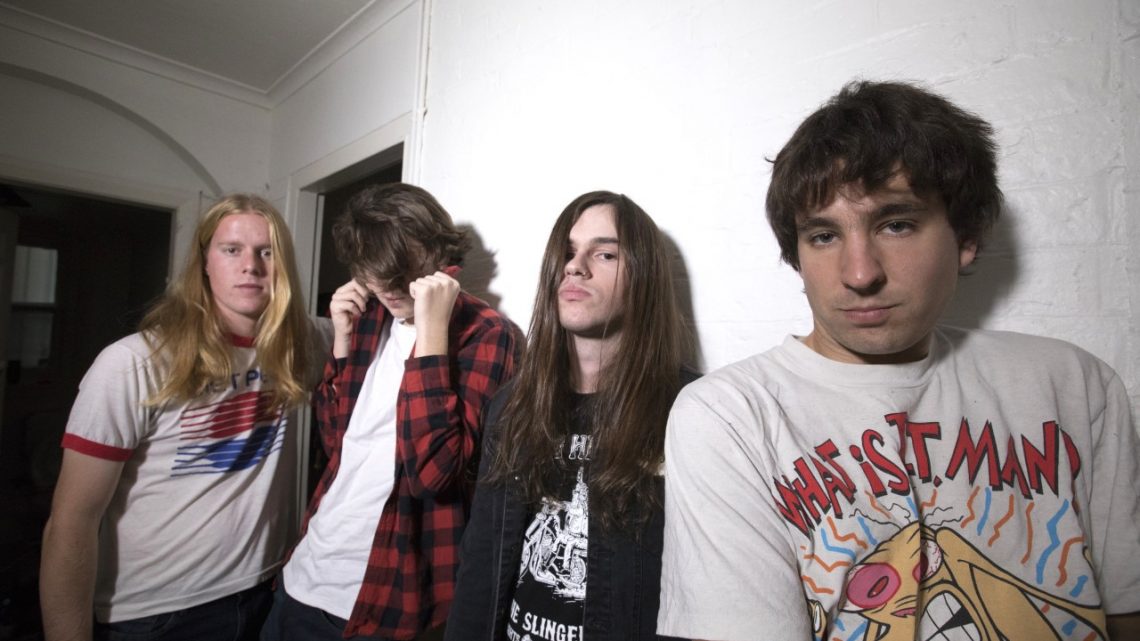 Marcus Of Starcrazy Introduces Taffy
22nd April 2021
0
By
Queen Nikki
Heavy metal Glam Rockers Starcrazy are from Sydney, Australia and the energy they exude is infectious. Starcrazy's vocalist, Marcus Fraser answered some questions with us about his beloved pooch.
At all about the Rock, we consider ourselves pet lovers, which is why we want to know all about yours! How many pets do you have? What are their names and why? How long have you had them? Tell us all about them!
Well, my mother and I own a very cute, white English Staffy with black spots named Taffy. (Named after Taffy Davenport, the daughter of Babs Davenport in the John Waters film, "Female Trouble")
What is the weirdest thing your pet has done or what's the weirdest thing you have done with your pet?
One time, she was so bewildered and miffed by a Brush Turkey (A fat and odd looking native Australian bird), that she broke a tap (that she was tied to) off a wall, and chased it over a fence, you should've seen the look in the turkey's eyes ! 
What is the best trick she can do?
She can sit and lay down and stay but never quite got the hang of roll over. I don't care much for tricks anyways as long as she's a well-behaved little bugalugs.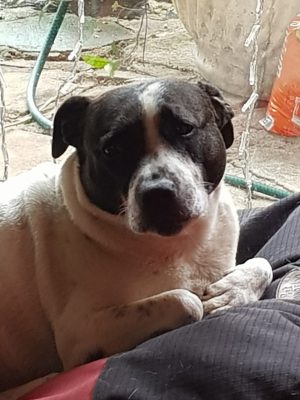 This past year has been pretty manic, so you've no-doubt, like the rest of us, spent a lot of time at home. How has your pet helped being at home for you? Have they been comforting, or have they just been driving you nuts?
Always comforting ! Your best friend in the world ! Could do with less farting though…
Have you always been an animal lover? Have you ever owned any exotic or different pets?
Of course ! I've never owned an exotic animal, though I've always wanted a coatimundi ever since Todd Rundgren got one.
Are you one of those people that puts your pets into costumes? Don't be shy to tell us about their battle vest.
Nah, I mean a vest or something is cool I guess but as for the people that go over the top with costumes to the point where their dog or cat is clearly uncomfortable? Those people should be executed…
Who looks after your pet whilst you're away on tour/holiday?
Mama
 
What a darling. Does your dog like it when you practise at home? Does she seem to prefer any particular genre of music more than another?
She's indifferent most of the time but I have sung her to sleep on occasion which is downright satisfying for both parties.
Speaking of practising, any new music in the pipeline? IF so when is it due and what can your audience expect?
Yeah, plenty of new tunes. It's getting heavier and funkier which we feel is a good thing. We shant be recording 'til mid year but we DO have a gig with Sydney's funkiest cats, Alpha Goose on April 9th at The Great Club, Marrickville. Hit up our socials for more deets…
Have you anything you'd like to say to your fans/followers?
I know that it's easy to get upset about the state of the world right now, but what better time to escape from reality and lose yourself in positive, fun, rock 'n' roll music? Listen to our music, come along to a gig, you won't be disappointed.
Links: 
About the author
"It does not require a majority, but an irate, tireless minority, keen to set bushfires in people's minds." Hail Satan!