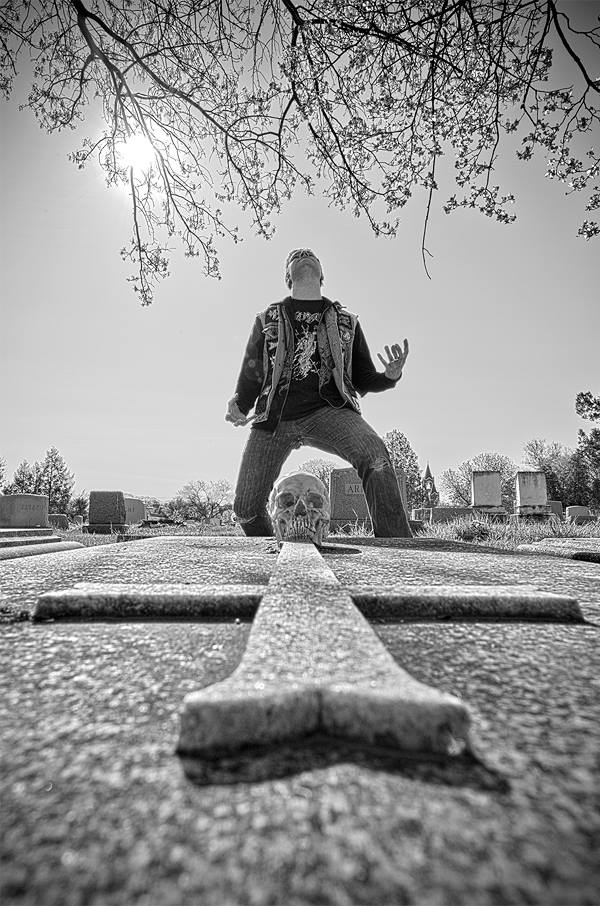 Fetid Zombie: Mark Riddick Interview
11th November 2016
1
By
Fraser
A legend in the metal scene as a whole, and a hero for the underground, the brilliant Mark Riddick was kind enough to take some time to chat to me about his illustrative career and his new Fetid Zombie album, Epicedia. Epicedia is without a doubt one of the best albums of this year.
All About The Rock: Hey Mark, cheers for taking the time to chat today! I hope you're doing well? 
Mark Riddick: Thank you for the opportunity to be featured in your webzine. All is well on my side, just extremely busy with various things as usual.  
AATR: We're getting closer to the release of Epicedia. Are you excited for the album to be released?  
Riddick: Yes, the CDs just arrived to me from Transcending Obscurity this past weekend and I'm very happy with the way everything turned out. It's nice to finally have some strong record label support. Kunal, the owner of Transcending Obscurity, has done a great job promoting, distributing, and publishing the album. Kunal is a hard worker and sincerely cares about his role in the metal scene, his attitude and approach to what he does is commendable. 
AATR: Epicedia is pretty unique compared to the rest of your albums in its structure. Can you tell us about the writing and recording process for the album?  
Riddick: I certainly took a new direction on this album as the songs are lengthier and draw on a broader range of styles. I've spent more time editing and honing each song more so than any previous Fetid Zombie recording. The album was written and recorded during the past year between other split releases, etc. I also worked closely with Josh Fleischer, from local black metal band Svierg, to assist on some of the song-writing. His talent, along with all of the other guest musicians who participated helped to bring the album to fruition. I'm beginning to see myself more as a composer, relying on assistance from other musicians, to help see my vision through. It's rewarding to witness everything come together essentially as I had planned it.  
AATR: Lyrically, what concepts do you explore on each of the tracks of Epicedia? 
Riddick: The lyrics, much like the music, has a very serious tone to it, a far cry from my early discography. In recent years, the focus of Fetid Zombie has turned toward themes of death, dying, disease, and the various struggles that plague existence. The term epicedia loosely translates to a collection of epitaphs, which is embodied by the essence of each song on the album. Lowered Beneath, the introductory track, focuses on the process of dying in terms of the self-realization of one's own mortality. Devour the Virtuous is a song that deals with death by religious persecution and calls out the irrationality that accompanies faith. Devour the Innocent is an ode to those who have died too young. The theme here is dear to me as one of my best friends lost her son at the age of four-years-old due to an abrupt and undetected aneurism. Her son's unexpected death left an impression on me; especially as a parent myself, this is the absolute hardest thing for anyone to have to endure. In closing, If the Dead Could Speak references the wisdom we leave behind after death. As an atheist, the idea of immortality is a limited concept; from my vantage point the actions we achieve in life is all we have to impart on those we leave behind. In addition, the song also encapsulates themes of grief and loss. 
AATR: How did you first get into designing the artwork for death metal bands? 
Riddick: I've been illustrating for underground death metal bands for over two decades. I started doing artwork for bands when I discovered the underground death metal scene in 1991. At the time I began writing to bands, record labels, fanzines, and tape traders via postal mail (before the Internet). After building a network of contacts I began publishing my work on demo tape, record, and fanzine covers. I've continued to do so and have since seen my work published by hundreds of bands over the years, some big, some small, including some work for other media outlets outside of the metal scene altogether. 
AATR: Was it a natural progression from designing the art to playing the music? 
Riddick: I've been publishing music equally as long as I've been illustrating for the underground death metal scene; my music has never received the level of attention my artwork has. My musical efforts have largely gone unnoticed but it's a creative outlet I find much pleasure partaking in nonetheless. 
AATR: Musically, who are some of your biggest influences? 
Riddick: My influences are a rotating door. I'm always seeking out bands who are doing something original and unique with their music. Some of the bands on rotation this very moment, although not necessarily influences, include Cadaveric Fumes, Nox Formulae, Hemotoxin, Howls of Ebb, Nuke, Slaegt, Mercyless, Pestilence, Imprecation, Ripper, Coroner, Forbidden, Blood Incantation, Revel In Flesh, Considered Dead, Dokken, Metal Church, and Queensryche. It's a myriad of bands ranging from hard rock to death metal and spanning from the 80s to now. The core of Fetid Zombie is death metal, although I don't hesitate to bend genres when I feel it's necessary. To me, the most important aspect of writing music is to keep it engaging. I try to avoid some level of redundancy with the songs I write, working with guest musicians enables me to include some variation and ideas outside my own limited style and abilities to help keep the music of Fetid Zombie fresh and current.    
AATR: And what influences you with your illustrative work? 
Riddick: I'm most influenced by artists I followed during the genesis of the underground death metal scene; illustrators like Chris Moyen, Christophe Szpajdel, Alfonso Ruiz, Steven Somers, Paw Nielsen, Dan Seagrave, Kristian Wahlin, Wes Benscoter, etc. I'm also very fond of other artists in the metal community like Daniel Corcuera, Juanjo Castellano, Andrei Bouzikov, Seth Bennett, Mario Lopez, Josh Mclear, Matt Carr, Halsey Swain, Toshihiro Egawa, Zbigniew Bielak, Sawblade, and many others.  
AATR: Your career has spanned 25 years, and you've worked with countless bands. What are some of the pieces you are proudest of? 
Riddick: It's difficult to narrow down personal favorites in terms of overall illustrative quality. I certainly appreciate more of my recent work as I believe I'm always improving as an artist. I do enjoy having the opportunity to work with bands I actually listen to and happen to be a huge fan of. To me, these are the most rewarding experiences illustrating for this genre of music. Having clients such as Grave, Autopsy, Morbid Angel, Nunslaughter, Deceased, Exodus, etc. means a lot to me. 
AATR: When is the planned release date for your newest book, Morbid Visions? 
Riddick: Morbid Visions is scheduled for release before the end of 2016; it happens to be at the pressing plant this very moment. The new book is hard cover and is packed with over 400 pages of illustrations, logos, and sketches; showcasing much of my work from the past five years. The book will be published by Doomentia Press, the same publisher as my previous two books: Logos from Hell and Compendium of Death. My twin brother, Mike, who happens to run a metal music distribution service called Metalhit and is an avid art collector and expert specializing in Renaissance plaquettes, was generous enough to write an extensive introduction to Morbid Visions. His write-up was great, offering much insight into my background as an illustrator.  
AATR: You've hosted gallery exhibitions across the world, are there any plans to bring an exhibition to the UK anytime soon? 
Riddick: I've been invited to various events in the UK however I've had to decline because they required my physical presence. I've never been present at any of my gallery showings (except for one local show) because I'm too preoccupied by my obligations as a husband, parent, and my day job to put forward the time and cost, etc. to attend the events. I only participate in gallery showings by invitation so I only manage a few per year. I do believe it's a nice honor to submit my artwork to such events so I graciously accept when I'm approached for such a thing. 
AATR: Have you any plans to tour with Fetid Zombie in the future? Or is it strictly a studio project? 
Riddick: There are no plans for Fetid Zombie to do any touring; the band is strictly a studio project. 
AATR: What are some of the underground bands that are really grabbing your attention at the moment, both in your local scene and worldwide? 
Riddick: Locally, Deceased have always been a band with strong roots and whose music I've always appreciated. Some newer local bands of interest include Svierg, Dispellment, and Grethor. Lastly, my favorite local band, and one of my favorite bands in general who have received much attention in recent years, is Horrendous. All of the bands I mentioned earlier are certainly worth checking out. Additional bands I've been enjoying quite a bit this year include Sabbatory, Infiltrator, Storhet av Morke, Arryan Path, Onirik, Torture Rack, Nechochwen, Serpent Ascending, Church of Disgust, Skeletal Remains, Rude, and tons more. 
AATR: Thanks for your time today! Have you any parting messages for our readers? 
Riddick: Thank you very much for the feature on your webzine, I'm very grateful for your time and support. If your readers wish to preview my artwork or music, please reference the links below. Metal 'til death! 
RIDDICKART: 
Website: www.riddickart.com 
Online Store: http://riddickart.bigcartel.com 
Facebook: https://www.facebook.com/riddickartillustration 
Instagram: @riddickart 
FETID ZOMBIE: 
Bandcamp
Facebook
How useful was this post?
Click on a thumb to rate it!
Average rating 5 / 5. Vote count: 1
No votes so far! Be the first to rate this post.
Related
About the author
This bearded wildman from North of the wall survives the harsh ever-present winter of Scotland on a healthy diet of thrash, death metal and beer.