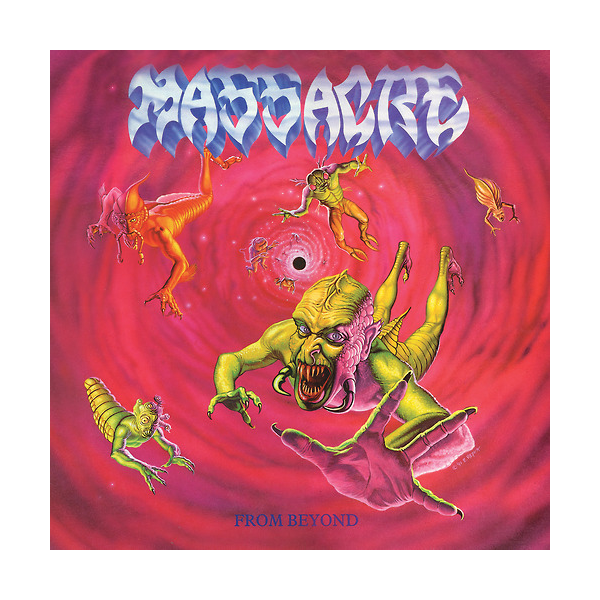 Massacre 'From Beyond' available on limited edition vinyl
20th October 2014
FROM BEYOND, the classic debut album from Tampa death metallers MASSACRE, is available now on limited edition Full Dynamic Range vinyl LP.
Originally released in 1991, FROM BEYOND delivered a perfect example of the Florida death metal sound, featuring legends of the scene including RICK ROZZ, TERRY BUTLER and BILL ANDREWS, who played in DEATH's LEPROSY and SPIRITUAL HEALING line-ups.  The album also features artwork by the legendary ED REPKA (MEGADETH, DEATH, MUNICIPAL WASTE).
FROM BEYOND has been specially remastered from the original tapes in Full Dynamic Range (FDR) audio, allowing the music's nuances to shine through and giving the whole album a more ferocious and dynamic sound than ever before.
FROM BEYOND is available now on Full Dynamic Range vinyl in black, as well as in the following limited edition colours:
200 – Transparent Orange (Germany exclusive)
200 – Transparent Yellow (Sweden exclusive)
200 – Biohazard Splatter
300 – Crimson Spirit
Get the FROM BEYOND Full Dynamic Range vinyl now in Europe at http://webstore.earache.com/massacre or in North America at http://uswebstore.earache.com/massacre
The Full Dynamic Range edition of FROM BEYOND is also available now on iTunes at http://bit.ly/1tETD71
Get more MASSACRE news and info:
Facebook – http://www.facebook.com/MassacreFlorida
Twitter – http://twitter.com/massacreband