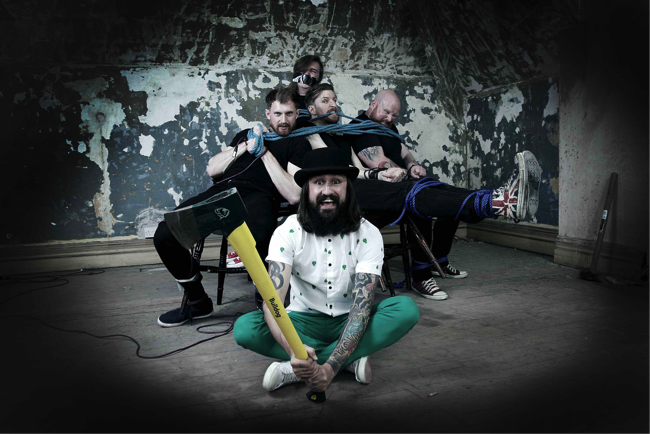 Massive Wagons – "Full Nelson"
9th August 2018
We might be creeping deeper into the 21st century, but over the past couple of years we've seen more bands opt for the old-school when it comes to their sound and style, and despite being the year 2018 'classic' rock is as popular as ever…spearheaded by the popularity of BLACK STONE CHERRY etc., more bands are keeping it simple, raw and real with their writing; appreciating the simplicity of traditional blues based rock 'n' roll over the virtual quagmire of subgenres that exists today. One such band from the UK is Lancaster's MASSIVE WAGONS…initially formed back in 2010 and born from a love of UFO and RAINBOW etc. they slowly but surely grew a hefty underground type cult status among UK's rock demographic, rising in popularity with each tour, festival slot and album. This year sees them make their big-label debut courtesy of Earache Records with their brand new album "Full Nelson"…is the wagon on the right path or are they risking sticking their necks out? Let's have a gander shall we…
We open up with a tag-team of singles from the record starting with "Under No Illusion", and right away we're met with some up-beat guitar, playing alongside clean, melodic vocals…musically having a subtle, light glam rock vibe layered throughout the track and it's tone is an incredibly positive one. Somewhat generic for the most part, it does stagnate rather quickly and does become a victim of its own repetition as the track closes up, spoiling the records first impressions. "China Plates" then follows up and does considerably better with its almost pop-punk inspired approach. Incredibly energetic with some great riffs and enjoyable hooks, it's a jab at the modern age of social media and who your mates really are…a wonderfully tongue-in-cheek track and an early album highlight.
Further real highlights are sadly only dotted sparsely throughout the remainder of this 12-track album as for the most part it's quite lacking in drive, needing a bit of oomph quite frankly…"Northern Boy" is a lovely little rock ballad about the place they call home and the emotional attachments they have; the guitar solos are on point and as a song it's relatable which is always a bonus…while "Last On The List" delivers an almost BON JOVI inspired anthemic rock song…a freshly recorded version of "Back To The Stack" provides a fitting tribute to STATUS QUO's Rick Parfitt who is no longer with us, musically channeling their style well.
Sadly the rest of the album, falls under run of the mill rock 'n' roll or disappoints entirely…"Robot (Trust In Me)" starts off with these wicked, dirty riffs but it's ruined by the brazen, shouted vocal delivery sounding truly awful…"Ratio" suffers similarly with the verses having these incredibly dull vocal displays spoiling some otherwise decent rock, likewise with that initial key-change in "Sunshine Smile", talk about late puberty, those vocals just DROP and it's really not good, before closing track "Tokyo" ends things on another generic and sadly forgettable note; come on guys Godzilla doesn't need any more excuses to obliterate the Japanese capital without you boring him into a rampage. Ultimately for a major label debut, it's been played quite safe and there's nothing about this to really suggest they're more than just another rock band. Massive in name but, on this evidence just another band wagon…
Score: 5 / 10
Track List:
"Under No Illusion"
"China Plates"
"Billy Balloon Head"
"Sunshine Smile"
"Northern Boy"
"Robot (Trust In Me)"
"Back To The Stack"
"Hate Me"
"Last On The List"
"Ballad Of Verdun Hayes"
"Ratio"
How useful was this post?
Click on a thumb to rate it!
Average rating / 5. Vote count: