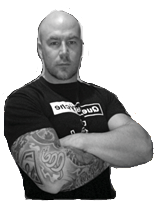 Matt Farrington
7th April 2013
Name : Matt Farrington
Age: 39
Favourite kind of Rock: – Have to say like mostly anything but it has to be melodic
First Album: At the age of 12 I bought Queen  – A Kind Of Magic and then quickly became a Queen freak before leading onto Maiden, the rest is history!
First Concert: Europe at the Manchester Apollo on the "Out Of This World" tour, Dare supported , I was 16 and the gig was amazing – it set the standard of what a gig should be,  if bands can't create a separate atmosphere/put on a show, then you may as well stay at home and listen to the CD!
Who's the most famous person/band you've met?: Megadeth I guess, and yes, Dave Mustaine was a dick, he called somebody's gran a stupid bitch after she'd just bought a 'deth record for her grandson – Not good!
Any embarrassing moments?: I'm glad to say I took our own Craig Hogan to a Slayer gig and took his concert cherry, although he still ribs me to this day as I fell asleep at the gig! – One of the heaviest bands on the planet!
What album changed your life?:  Queensryche,  "Operation Mindcrime" – for about two years I listened to that album at least once a day, it's just sad that after Degarmo ( guitarist ) left that they've mostly just tread water ever since and now with the battle over the band name etc it's just sad.
What's the best Gig you've ever been to? : probably Download 2009, awesome lineup  and a blazing weekend! Also seeing Metallica at the Milton Keynes bowl with Megadeth, The Almighty and Diamond Head was pretty special too.
Instrument of Choice?: Bass guitar
Best thing about "All About The Rock"? : Simply put, it's fans that have built the site and it's purely for the fans, there's loads we've discussed that we want to do to improve what we can and there's exciting times ahead, keep watching!