Matt Mitchell & The Coldhearts step out with sublime debut album and 'Black Diamonds' music video
4th February 2019
The former Furyon and Colour Of Noise frontman describes the new song as being about an "inevitable ending", explaining that "'Black Diamonds' is a metaphor for the loss of beauty/light/energy that occurs in the theoretical final stages of some stars life cycle (Black Dwarf). There were a lot of changes occurring around the time of the writing and demoing stages of this song. It started out as a song called 'I hope you find what you're looking for' though after a re write session it morphed into the song we now know, being 'Black Diamonds'."
'Black Diamonds' was voted Number One in Louder's 'Tracks Of The Week' and received extensive airplay by the likes of Kerrang! Radio, Great Music Stories and more. In addition, Planet Rock Radio has added the song to their prestigious A-List.
Not one to hold back with his writing and performance, the songs on the upcoming album 'Matt Mitchell & The Coldhearts' reflect real human experience, passion and great songs that hold potency, diversity and purpose.
"I'm aware that sometimes an album is just for the love of rock n roll and I do love that. It's on my agenda", explains Matt. "It could be a song about a car, or thunder and lighting. However, the main stories on this album are all about people. The people that have been part of my life, the people that have loved, cared, nurtured, hurt, inspired, broken, stayed strong, lost themselves, found themselves. Family, friends, honesty, dishonesty, music and the music business, integrity and faith. The songs in this self-titled album are inspired by all these things.
Recorded at Rockfield's Quadrangle studio with acclaimed producer Nick Brine (Stereophonics, Thunder, Bruce Springsteen, The Darkness) and featuring the piano that Queen's Freddie Mercury used to record 'Bohemian Rhapsody'; Matt Mitchell & The Coldhearts self-titled debut album delivers an exploration of soundscapes combined with mesmerising art inspired by benchmark "tracks of our lives" tied together with astonishing performances by Matt and the band aligned with innovative, fresh song writing.
'Matt Mitchell & The Coldhearts' is a modern contemporary rock record that holds its own and then some; it digs deep and looks set to be a highlight of the year for rock music.
READ MORE ABOUT THE NEW ALBUM HERE.
'Matt Mitchell & The Coldhearts' debut album is released 19th April.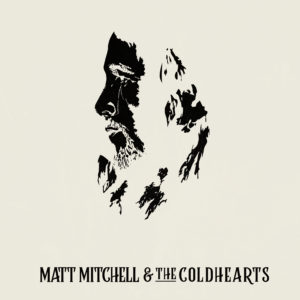 Album Tracklist:
1. Black Diamonds
2. Home
3. On & On
4. Dare You To Watch
5. Kings & Queens
6. Unavailable
7. Do You Wanna Be My God
8. Old Enough & Ugly Enough
9. Wave Goodbye
10. Everything To You
11. Keep Me Safe
12. Waiting For The Sun
Matt Mitchell & The Coldhearts are:
Vocals & Guitars – Matt Mitchell
Guitars – Mauro Laconi
Bass – Dom Ladd
Drums – Matt Cherry
Keys – Stevie Watts
Connect with Matt Mitchell & The Coldhearts:
Official Website: http://www.mattmitchellmusic.com/
Facebook: https://www.facebook.com/mmitchellmusic/
Twitter: https://twitter.com/mmitchellonline
Instagram: https://www.instagram.com/mmitchellmusic/
About Matt Mitchell:
British Singer / Song writer Matt Mitchell (PRIDE / FURYON / COLOUR OF NOISE) has recently had the chance to embark on the journey of recording his long awaited debut solo record.
Matt started out singing and writing songs in his late teens learning his craft in several bands early on, he then found himself as the voice of AOR band PRIDE who released two albums in the mid 2000's on EMI Toshiba / Pointmusic.
FURYON was Matt's next project. Formed out of the demise of PRIDE a heavier style evolved, with much love and praise from the likes of CLASSIC ROCK & METAL HAMMER magazines.
The band had a great run touring UK/Europe and performed at several major festivals including DOWNLOAD, BLOODSTOCK and Poland's gigantic WOODSTOCK festival.
Not long after the release of the second album the band was put on ice so that the band members could spend more time song writing and considering their future.
At this point Matt joined LITTLE ANGELS guitarist Bruce John Dickinson forming the much lighter bluesy sounding COLOUR OF NOISE. A good two year run was had with the band. An album was released, followed by lots of touring and yet more major festival slots.
COLOUR OF NOISE were to leave things on a high in 2017 and with one door closing another soon opened in the shape of Matt's solo project with guest players – MATT MITCHELL & THE COLDHEARTS.