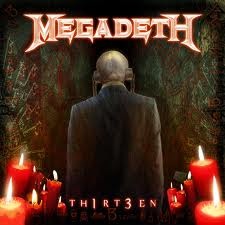 Megadeth – Th1rt3en
12th December 2011
1
By
Craig
Th1rt3en (Thirteen) is the aptly named thirteenth studio album by metal gods Megadeth, the album is comprised of songs that were penned by Dave Mustaine as early as 1991! Some of the songs have either been bonus tracks on previous albums – "Black Swan" was originally released as a bonus track for members of the band's fan club who pre-ordered United Abominations, or have been previously unreleased.
Listening to the album was like taking a tour of the history of Megadeth through the ages. Sudden Death sounds like it came straight from the 'Peace Sells' and 'So Far, So Good, So What' era while Public Enemy Number 1 would have been well placed on the 'Rust in Peace' album.
Even Megadeth's bass player extraordinaire Dave Ellefson has called the song 13 "theatrical", and compared it to "In My Darkest Hour" from 'So Far, So Good…So What'
And so the nostalgic time travel continues right up to present day Megadeth and the album has you wanting for more, more, MORE!!!
When Who's Life (is it anyways) kicked in I couldn't help but dust off the old air guitar and play that bad boy to the insane solo's taking be back to my grotty teenage days. Not since the first time I heard 'Rust in Peace' and 'Youthanasia' have I been as excited by a Megadeth album – don't take that the wrong way, I am a HUGE Megadeth fan but some of their later albums are not as exciting as this album.
Even though each song sounds different to the next, you can't miss the style of playing and Dave's angry growls that this is Megadeth, back doing what they do best…kicking your ass into next week.
The only way to sum up this album is taken from the song Sudden Death "Like a good old fashioned beating within inches of your life". One of the best thrashings I've had in ages!!
My rating 9.5 out of 10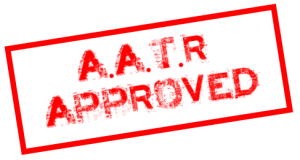 [box_dark]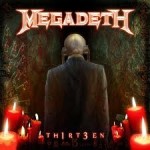 ALBUM INFO
Artist: Megadeth
Album: Th1rt3en
Label: Roadrunner
Released: 1st November 2011
Band Website: www.megadeth.com
Tracklist:
1. Sudden Death
2. Public Enemy No. 1
3. Whose Life (Is It Anyways?)
4. We the People
5. Guns, Drugs & Money
6. Never Dead
7. New World Order
8. Fast Lane
9. Black Swan
10. Wrecker
11. Millennium of the Blind
12. Deadly Nightshade
13. 13
[/box_dark]
How useful was this post?
Click on a thumb to rate it!
Average rating 0 / 5. Vote count: 0
No votes so far! Be the first to rate this post.
Related
About the author
Owner of All About The Rock and just a generally really nice guy...honest!...Ask anyone ;)