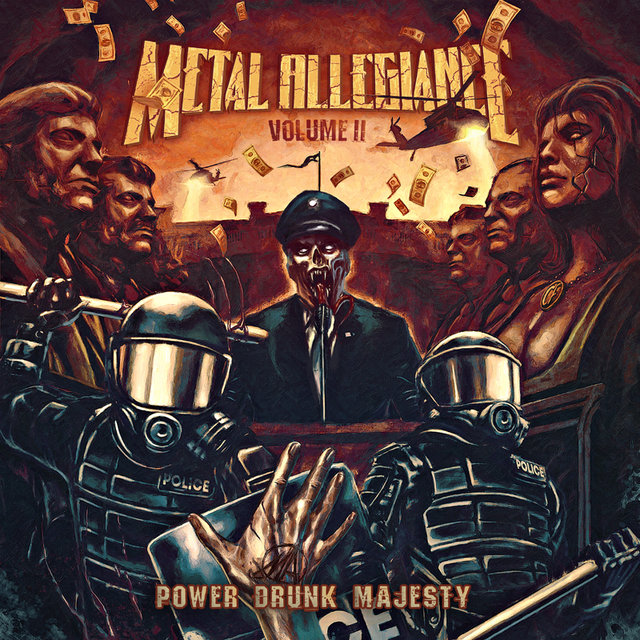 METAL ALLEGIANCE | BAND ANNOUNCE NEW ALBUM VOLUME II – POWER DRUNK MAJESTY + LAUNCH PRE-ORDERS
22nd June 2018
0
By
John Deaux
METAL ALLEGIANCE began as a celebration of heavy metal, powered by the almost tribal bond shared between the extreme music community's most revered trailblazers, armed with a list of contributors onstage (and off) that read like a Wikipedia entry on the genre itself.
The band is proud to announce the release of their sophomore album Volume II – Power Drunk Majesty via Nuclear Blast Entertainment on September 7th, 2018. The thrash worshiping album merges old-school legends with the modern metallers of the scene to produce groove driven, adrenaline soaked anthems while tackling the frustrating state of the world. The list of musicians for Volume II – Power Drunk Majesty include Trevor Strnad (THE BLACK DAHLIA MURDER), John Bush (ARMORED SAINT), Bobby "BLITZ" Ellsworth (OVERKILL), Mark Tornillo (ACCEPT), Max Cavalera (SOULFLY), Floor Jansen (NIGHTWISH) and Johan Hegg (AMON). It also marks the return of Mark Oseguesda (DEATH ANGEL) and Troy Sanders (MASTODON).
Volume II – Power Drunk Majesty was produced by Mark Menghi and Alex Skolnick while Mark Lewis of MRL Studios handled the mixing and mastering. The cover artwork was created by renowned artist Marcelo Vasco (SLAYER, MACHINE HEAD, SOULFLY, HATEBREED) and Rafael Tavares.
The track list racks up as follows: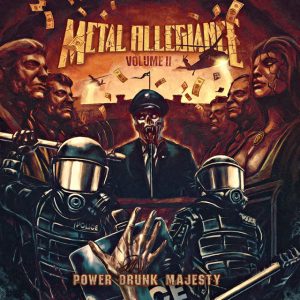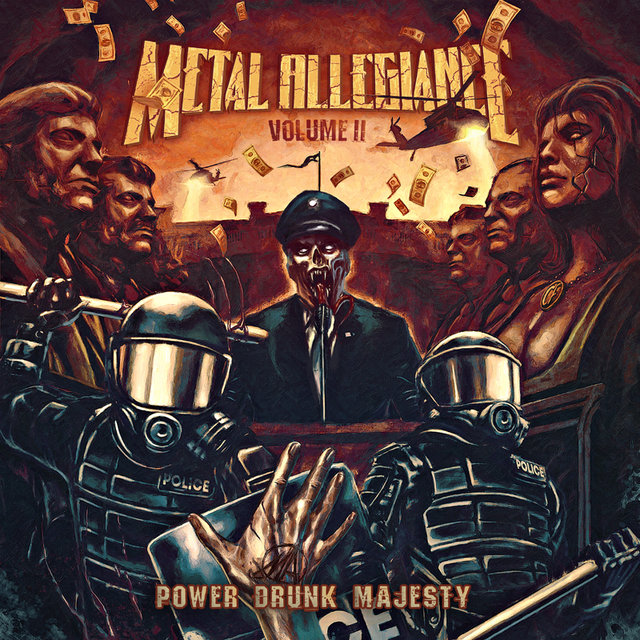 1. The Accuser (feat. Trevor Strnad)
2. Bound by Silence (feat. John Bush)
3. Mother of Sin (feat. Bobby Blitz)
4. Terminal Illusion (feat. Mark Tornillo)
5. King with a Paper Crown (feat. Johan Hegg)
6. Voodoo of the Godsend (feat. Max Cavalera)
7. Liars & Thieves (feat. Troy Sanders)
8. Impulse Control (feat. Mark Osegueda)
9. Power Drunk Majesty (Part I) (feat. Mark Osegueda)
10. Power Drunk Majesty (Part II) (feat. Floor Jansen)
In celebration of the release, the band announced a special release show presented by Revolver at The Gramercy in New York on September 6th. In true METAL ALLEGIANCE fashion, the night will include an all-star line-up that will not disappoint!
The night will feature the core four – David Ellefson, Alex Skolnick, Mark Menghi and Mike Portnoy – as well as Mark Osegueda, Andreas Kisser, John Bush and Bobby "Blitz" Ellsworth. The night will also include Trevor Strnad and Mark Tornillo who are making their METAL ALLEGIANCE debut on Volume II – Power Drunk Majesty.
Direct support for the show is VENOM INC, WEAPONS OF ANEW, FOLLOW THE AWAKENED and TERRORBYTE.
This summer,
METAL ALLEGIANCE
in collaboration with
Barrage Brewing Company
will release a very special premium double IPL (Indian Pale Lager) entitled,
Lager Of Sin
. Named after the first single,
'Mother Of Sin'
, the beer will be released on July 27th followed by a weekend full of festivities!
Stay tuned for more information…
How useful was this post?
Click on a thumb to rate it!
Average rating 0 / 5. Vote count: 0
No votes so far! Be the first to rate this post.
Related
About the author
Some say Yank My Doodle, It's A Dandy! is a biographical movie based on John. Some have even said that his favorite artist is Chesney Hawke! All we really know is he sleeps inside out and his hair tastes like candy floss.