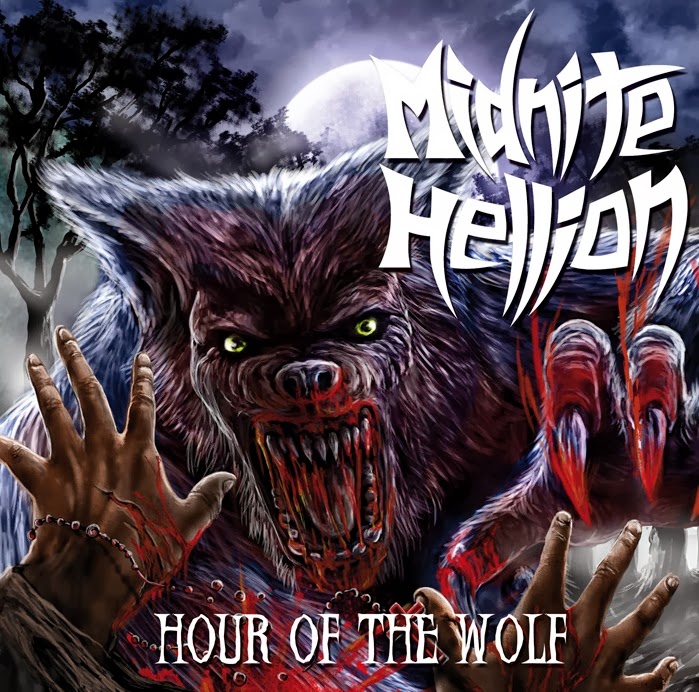 Midnite Hellion – Hour of the Wolf EP
8th February 2014
Next to be reviewed for my loyal fans is 2 track single/EP "Hour of the Wolf" by new Jersey band MIDNITE HELLION. Released in Europe in November 2013 this is the first release to include new vocalist PJ, does she and MIDNITE HELLION deliver with these two tracks?
Well these two tracks are a mix of NWOBHM with an early thrash vibe, these aren't anything new however they are darn good fun! Think IRON MAIDEN, JUDAS PRIEST, SAXON, RAVEN etc and that is MIDNITE HELLION. The music gallops along, the guitar riffs shred, PJ's voice drives the music onwards and will have you singing along and the rhythm section keeps everything tight and the bass solo on 'Hour of the Wolf' is great. This release will have you banging your head and pumping your fist, however they just seem to be lacking that cutting edge. Am sure that the cutting edge will come with future releases. The only problem with this release is you have to really jack the volume up and then on my iPod at full volume it was still quite quiet. The mix seems decent enough and you can hear all the band, but its just the overall volume that suffers.
For a taster this is quite good and enjoyable and I can't wait for the full length release. I have a few concern's, will the album tracks all blend into one another and be generic? Can they sustain the musicianship over the course of an album? Will they create memorable tracks? We will just have to wait and see and 2014 could be their year!
SCORE – 7
TRACKS – both of them…
[box_dark]
ALBUM INFO

Tracklist:

1. Hour Of The Wolf
2. The Morrigan
Record Label: Witches Brew
[/box_dark]