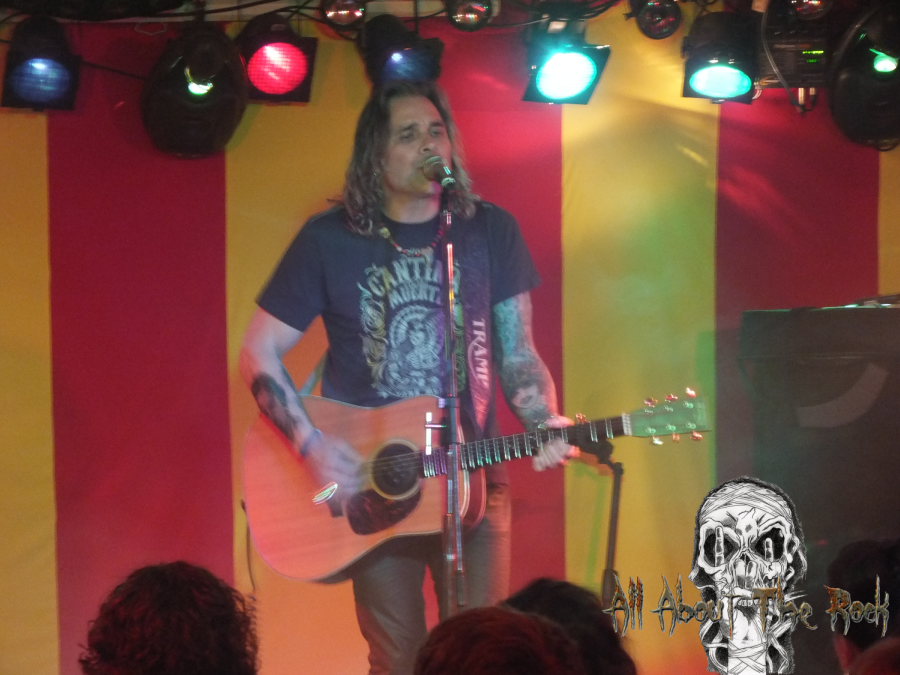 Mike Tramp – The Railway, Bolton
9th June 2013
Mike Tramp – The Railway , Bolton  24.05.2013
The Railway Bolton, is a very cool rock pub that is just on the edge of the town and is holding more and more rock shows, an intimate and homely venue a great benefit for the local rock fans, so if you haven't been already, get down to check it out.
Mike Tramp took to the stage just after 21:30 and played a wide arrange of songs from the back catalogue of self presented albums as well as White Lion and Freak Of Nature, all delivered in the pure and raw form of acoustic guitar, one man, one guitar, no frills, just a night of honest music.
Opener track "Cobblestone  Street" started the show, and for an acoustic show there is always a big risk, some frontmen have a band that can overperform when they underperform, but without that safety net they are critiqued on exactly what they deliver. Mike Tramp quite simply doesn't need anyone else to deliver what he has tonight, and with grace and honesty the songs are given to the audience.
"Cobblestone Street" is the perfect way to open tonight as it represents change and moving forward which Mike embraces, he uses the past for reflection and pride for who he was and what's been done but more importantly he looks forward and encourages us all to do the same in his music.
"Cry For Freedom" follows and shows the more serious side of his thoughts, and then onto crowd pleaser " Love Don't Come Easy". Mike openly admits he doesn't follow his own setlist he just does what feels right, Freak Of Nature's "Rescue Me" and "What am I" are purely awesome delivered acoustically, mixed amongst "Wait" and "little Fighter" whilst new songs "Ain't the Life I asked For" and "New Day" come over perfect.
In between songs Mike openly shares his stories and thoughts and dedicates a song to the incident in London with Soldier Lee Rigby who he dedicates the song "The Soldier Never Started the War"
The ultimate White Lion song "When the Children Cry" has the audience singing along, and tonight is an overall triumph. Tonight wasn't just a gig, tonight was special and I for one was glad to be a witness……