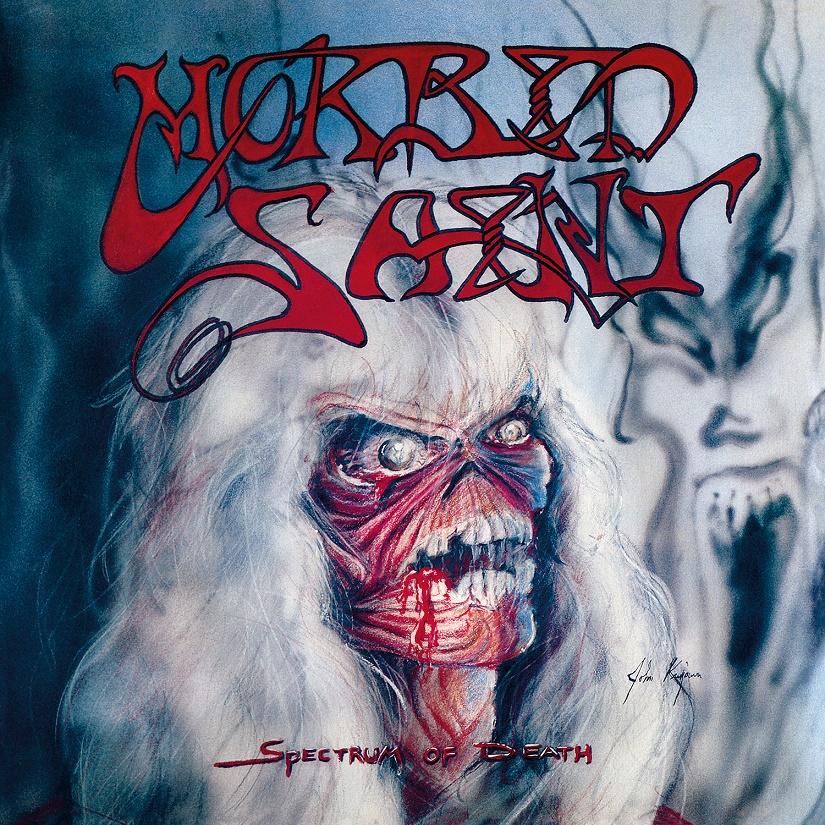 Morbid Saint – Spectrum of Death
15th June 2016
0
By
Joe Denby
Morbid Saint's Thrash cult classic "Spectrum of Death" although not as essential an album as Reign in Blood, Master of Puppets and the like. However for the well initiated and Thrash connoisseur it is a hidden gem in the genre and has become over time a collector's item. On whatever your chosen internet music outlet you weren't going to pay less than £45 for an original copy. So now we have a long overdue beautifully presented re-release with plenty of extras to dig into.
The album was produced by Eric Greif during his short but strong run as a producer. (he's mainly known today as Death/ Chuck Schuldiner's manager) It has that classic late 80's, early 90's rawness and rough energy. What I like about Morbid Saint is that they were one of those bands that just stood on the line that divided Thrash and Death Metal. Bands such as Solstice, Dark Angel, Kreator, and Demolition Hammer etc. Spectrum of Death is 32 minutes of wall to wall brutality. It just had that feeling where you could picture the band playing live or in a rehearsal space and it's so fast and so tight and yet it feels that one slight missed note or beat and the whole thing could fall apart like a house of cards at any second. Pat Lind's scratchy vocals that sound like he's going to cough up blood when the albums band stop playing. It's one of those perfectly imperfect albums that you simply don't get anymore. Just listen to the track "Damien."
What makes this release so special is what comes with it. I'd have been happy with just the album but on the second disc you get the even more infamous second album that was recorded but was never properly mixed or officially released. Again you could only get "Destruction System" via bootleg or every now and then a small label would put out a small batch, Destruction System" saw the band take massive leaps forward in their song writing, although still heavy they didn't rely as much on speed. This time the songs had a bit groove and overall more structure. Also thrown in you get the bands original 1992 Demo and thrown in is 4 brand new songs recorded in 2011, so you get the band's entire studio recordings which adds up to roughly 90 minutes of music. Also the booklet is filled with photos and flyers and an in depth interview with guitarist Jay Visser.
It's a fantastic package, it's everything a reissue should be and it's obviously put together with love. If you're a fan this is an absolute must and a worthy purchase if you are new to the band. Lastly, yes the albums cover with its Eddie rip off qualifies for both best and worst album artwork ever!
Score: 9 out of 10

ALBUM INFO:
Track List:
Disc One
1. Lock Up Your Children
2. Burned at the Stake
3. Assassin
4. Damien
5. Crying for Death
6. Spectrum of Death
7. Scars
8. Beyond the Gates of Hell
Destruction System 4-track demo (recorded in 1992)
9. Destruction System
10. Disciples Of Discipline
11. Sign Of The Times
12. Living Misery
Disc Two:
Destruction System rough mix (recorded in 1992)
1. Intro
2. Destruction System
3. Darkness Unseen
4. Depth of Sanity
5. Disciples of Discipline
6. Spectrum of Death II
7. Halls of Terror
8. Living Misery
9. Sign of the Times
10. Final Exit Recordings 2011
11. Intro / Death Before Dawn
12. Thrashaholic (first song ever written by the band back in 1985)
Recordings 2010
13. Dying Day
14. Life's Blood / Outro
Record Label: Century Media
Release Date: March 11 2016
For fans of…  Dark Angel, Slayer, Death, Kreator, Demolition Hammer, Exodus
How useful was this post?
Click on a thumb to rate it!
Average rating 0 / 5. Vote count: 0
No votes so far! Be the first to rate this post.
Related
About the author
Covering Rock and Metal from every end of the spectrum and all in between. AC/DC to Akercocke from Zyklon to Zeppelin Remember Your record collection is NEVER complete!