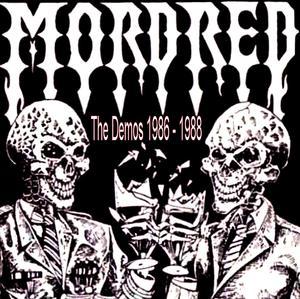 Mordred – The Demos 1986 – 1988
17th August 2014
What a year 2014 is shaping up to be for fans of crossover-metal band Mordred !   Not only do we have the UK and Ireland tour kicking off next week, we've also had some new music with the amazing single, The Baroness, and now we have some old music – in the form of the official release of the band's demos: Demo 1, Demo 2, and the Fool's Game Demo !
This album features a number of tracks that are unavailable elsewhere, as well as original or different versions of tracks from the Fool's Game album.  Not only that, but the physical version of The Demos 1986 – 1988 comes with a full cover CD booklet containing photos and lyrics to all the tracks.
The first 3 tracks are from Demo 2 and feature 2 tracks that never appeared on any of the band's full length releases – 'In Cold Blood' and 'The Scars Remain'.  These are both full-on thrash numbers, lacking the funk elements that would appear on the Fool's Game album, but still sounding like classic early Mordred.
The next 4 tracks are from the Fool's Game demo and feature another otherwise unavailable track, 'Nowhere Fast', a very cool fast moving thrash number.  The other three tracks are slightly rawer sounding than the final versions that would appear on Fool's Game, but they still sound cool as fuck and are different enough that they will be of interest to those who already have the finished album versions.
The final 4 tracks make up Demo 1 and are, as you'd probably expect, much rougher in terms of recording quality, but the song writing is still pretty damn good.  Scott Holderby doesn't sing on these however, so the tracks don't quite contain the full Mordred vibe – but it's cool that they've been included here to show the band in its infancy.
As a huge fan of Mordred, finally getting my hands on a copy of the much sought after demos is a dream come true – and the fact that it's been released officially and has been so professionally produced is a fantastic bonus.
Do yourself a massive favour and order yourself a copy of this now – see the links below !!
Score: 10 out of 10
ALBUM INFO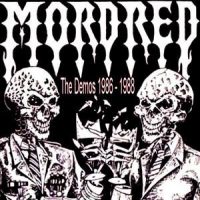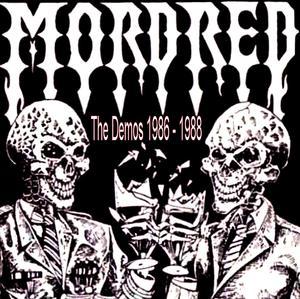 Tracklist
01  Reckless Abandon
02  In Cold Blood
03  The Scars Remain
04  The Artist
05  Spectacle of Fear
06  Nowhere Fast
07  Sever and Splice
08  Sever and Splice
09  Mordred
10  The Chains are off but the Scars Remain
11  Spellbound
(01 to 03 Demo 2, 04 to 07 Fool's Game Demo, 08 to 11 Demo 1)
Record Label
Battle Cry Records & GOM Records
Release Date
July 2014
Links
http://mordred.bigcartel.com/category/albums
http://www.battlecryrecords.de/index.php/en/