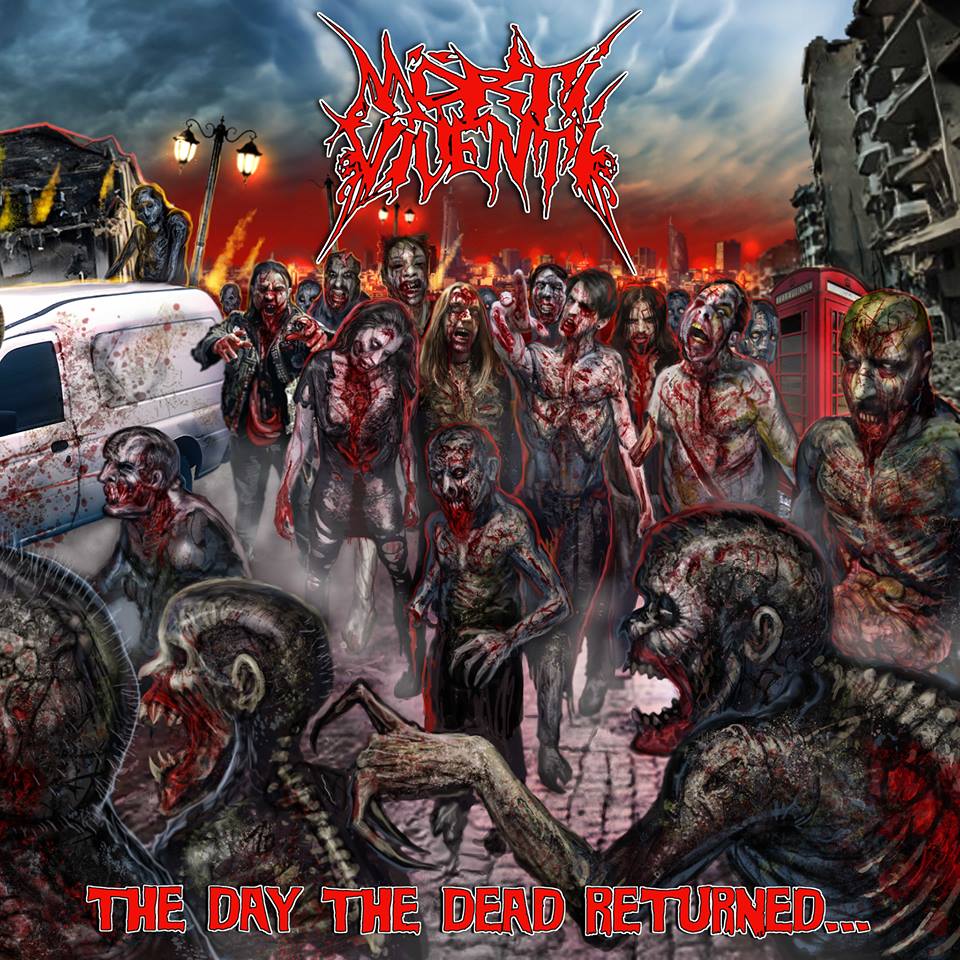 Mörti Viventi Interview
24th July 2016
Here at All About The Rock, we love the underground. Yes, of course, we love top-tier bands, but there is certain unchained ferocity found in the underground of our beloved genre, and the UK underground scene is as strong as ever. One of my personal favourite artists from the UK underground is a one-man project called Mörti Viventi – pure, blinding thrash. I picked up the debut, The Day The Dead Returned…, a couple of years ago and it has been repeated and listened to more times than I can count, so a couple of weeks ago I reached out to the mastermind behind the project, AJ Heathershaw for a chat!
All About The Rock: Hey AJ, thanks for taking the time to chat today! I hope you're doing well?
AJ: Hey! I'm doing good thanks!
AATR: For anyone unfamiliar with your music, can you give us a brief introduction to what Mörti Viventi is all about?
AJ: Mörti Viventi is a project I put together as a one-man project after I'd been in a few bands that had fallen apart. I felt really frustrated so I just decided to move things forward by recording an album by myself. I've always wanted to have my own band so I guess this is it… But there's only me in the band! Musically it's thrash metal and certainly very horror inspired on the debut album. You can read into the lyrics in other ways though, there's some metaphoric stuff in there!
AATR: It's been almost two years since you released The Day The Dead Returned…, how has this time treated you?
AJ: It's been great and I'm still trying to get the message out there about the music. The internet has been a great help for this. Without the internet I'd be pretty stuck! It's nice that I can finally have the music out there for people to listen to. It seemed to take forever to get it out there and it was a bit of a relief to have finally finished and released it (albeit a bit nerve-racking at the time!).
AATR: And how was the album received, critically speaking?
AJ: I've had some really, really great reviews. Even a few 9 out of 10s which I was particularly pleased with!
AATR: What are the difficulties and advantages you have found in being a one-man band?
AJ: As a one man band you have complete control over everything, the music, the lyrics, the concept, what should be on the cover, everything. Right down to whether or not you should even bother to get out of bed in the morning and do some recording… Disadvantages though is that you miss out on the live scene (unless you are prepared to play along to backing tracks) which limits your exposure and you miss out on the good fun you can have as a band, the camaraderie! One of the ways of getting your music out to people is playing live and without that I've found that I'm limited to pushing it on the internet or just letting people know via word of mouth.
AATR: Have you considered bringing more musicians into the fold, either to join the band or as live members so you can get gigging?
AJ: Definitely. The more I think about this the more I want to do it. Watch this space…
AATR: The Day The Dead Returned… has a very strong horror theme – particularly zombies. But can you walk us through the lyrical influences for the individual tracks?
AJ: A lot of the lyrics are horror inspired as I'm a big fan of horror in general. Sometimes I like to use horror as a commentary or metaphor for a deeper meaning. The opening track Hell On Earth I'm exploring the bad side of humanity, people giving up hope, the end of civilization and people not looking out for those in need. The Day the Dead Returned… is written from the perspective of someone early on in the zombie apocalypse. There's something about zombies, I've been a big fan for many years now! In Whorehouse of the Undead the lead character is 'Alucarda' is a vampire queen who needs blood. Lots of it. Looking at this song another way, be careful what you might be being lured into despite how wonderful something may seem, you never know what you are going to get. Maniac/Face The Shape is the story of someone going completely mad and going on a killing spree. The Shape comes from how Michael Myers is referred to on the credits of the movie Halloween. Spawn of Another Kind is a gruesome tale of alien invasion. A far superior race have come to replace mankind! Everything has to come to an end at some point… Thrash or Die is inspired by the feelings and great times I've had so far listening to metal and going to gigs. That great feeling of when you arrive at a gig and everyone is in the zone, there for the same reason. Great times! Don't let anyone tell you that the music you listen to is crap.
AATR: And what was the inspiration behind the instrumental, The Arrival of the Anti-God?
AJ: There's a particular conversation in the John Carpenter movie 'Prince of Darkness' between two characters (actors Victor Wong and Donald Pleasence) discussing the anti-god. It's seriously eerie! If you haven't seen the movie then check it out. I really like the concept. Quantum physics and religion combined! Crazy stuff. Musically, I wanted to create an instrumental, similar to the instrumentals that I first head when I was getting into metal, Metallica and Sepultura come to mind, and then throw in a few more musical influences on top and see what happens. It turned out to be pretty long and that's exactly what I wanted. An epic instrumental!
AATR: Have you started working on a follow-up to The Day The Dead Returned…, or is there nothing in the pipeline?
AJ: Yes, I'm working on some lyrics and riffs at the minute. I do like to take my time with song writing though. I'm a bit of a perfectionist… I think I have decided on the title track but I'm not giving anything away on that yet!
AATR: For future releases, would you continue this zombie theme, or are there other lyrical concepts you want to explore?
AJ: There will be at least a couple of zombie themed tracks on the next album but I would like to explore some other topics though. What exactly though I'm not sure yet!
AATR: Imagine the perfect tour for Mörti Viventi to play on – what other bands would be playing, and which musicians from the worldwide metal scene would you have to play the other instruments in Mörti Viventi, if you could conscript anyone?
AJ: That's a tricky one as there are so many great musicians out there that I'm a fan of! Here's a few off the top of my head…  Jon Schaffer on the guitar, Paul Bostaph on drums,  Jason Newsted on the bass.. Can I add another guitarist? Let's have Marty Friedman as well in there for a triple axe attack!!! The perfect tour would consist of Slayer, King Diamond, Mercyful Fate and Iced Earth! Yeah!!
AATR: You recorded, mixed, mastered and produced The Day The Dead Returned yourself. Have you worked with any other bands in your studio, or is it purely for Mörti Viventi?
AJ: It's mainly for Mörti Viventi but the first proper recordings I did were when I was working on material for a previous band that I was in at that time. The album was never finished unfortunately as the band dissolved at the same time. I recorded a few tracks for the band DVP but other than that it's just been my own stuff I've recorded.
AATR: What thrash bands are you really enjoying at the moment, either in your local scene or worldwide?
AJ: Thrash-wise at the minute I'm listening to Hirax, Hexen, Toxic Holocaust, Annihilator, Slayer and Vio-lence. Slayer and Vio-lence I listen to pretty regularly actually!
AATR: What does the future hold for Mörti Viventi?
AJ: There will definitely be more music from Mörti Viventi. I'd really like to expand on the foundations that have been set and do another album, get some more content on YouTube and hopefully do a vinyl release! I mentioned earlier about playing live. I'm really thinking about that more and more too…
AATR: Cheers for your time today AJ! Have you any parting messages for our readers?
AJ: Stay true and stay heavy! Thanks a lot for the interview and thanks for checking out Mörti Viventi!