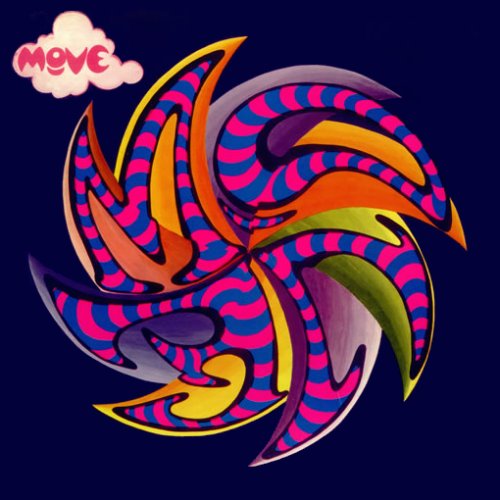 The Move – The Move – Remastered & Expanded Edition CD REVIEW
11th April 2016
The Move originally released their debut album back in 1968.  The 29th April sees an amazing remaster & expanded version of this classic record.
Boasting 3 discs of material & a lot of it previously unreleased this set is the bollocks.
This really is The Moves debut album as you've never heard it before.
Disc 1 features You're The One I Need, Winter Song & The Fugitive as bonus tracks. These little beauties have been restored from the only surviving acetate disc & are obviously previously unreleased.
In fact the amount of previously unreleased material that's spread over these 3 discs is truly outstanding & there are too many gems to even mention.
I was a fan of the original vinyl but this is truly magnificent & (if possible) I'm even more of a fan of this album. Especially as CD1 contains the original singles (both A&B sides) as the bonus tracks.
The packaging is outstanding a 5 panel fold out sleeve & a beautiful poster of the original artwork & printed on the back is some great black & white newspaper articles.
The 20 page colour booklet is sublime. Amazing liner notes by Mark Paytress.
It has been lovingly put together & the 24 bit remastering makes this album truly pop. The EQ is great & every nuance is present.

For fans of Psychedelia, ELO, Roy Wood, Wizzard

released via Esoterric Records 29th March & available from all the usual good & bad outlets.

Track List:
Disc: 1 – The Mono Mix Remastered
1. Yellow Rainbow
2. Kilroy Was Here
3. (Here We Go Round) the Lemon Tree
4. Weekend
5. Walk Upon the Water
6. Flowers in the Rain
7. Hey Grandma
8. Useless Information
9. Zing Went the Strings of My Heart
10. The Girl Outside
11. Fire Brigade
12. Mist on a Monday Morning
13. Cherry Blossom Clinic
14. You're the One I Need
15. Winter Song (Previously Unreleased)
16. The Fugitive (Previously Unreleased)
17. Is It True
18. Too Many Fish in the Sea (Previously Unreleased)
19. Respectable
20. Don't Hang Up (Previously Unreleased)
21. I Can't Hear You No More
22. Night of Fear
23. Disturbance
24. I Can Hear the Grass Grow
25. Wave the Flag and Stop the Train
26. Vote for Me
Disc: 2 – Stereo Mixes & Alternate Takes
1. Night of Fear
2. Don't Throw Stones at Me
3. Move Intro
4. Move
5. Yellow Rainbow (Enhanced Stereo Version)
6. Kilroy Was Here
7. Here We Go Round the Lemon Tree
8. Weekend
9. Walk Upon Water
10. Flowers in the Rain
11. Useless Information
12. Zing Went the Strings of My Heart
13. The Girl Outside (Alternate Take)
14. Fire Brigade
15. Mist on Monday Morning
16. Cherry Blossom Clinic
17. Vote for Me (Alternate Take)
18. Night of Fear (Alternate Take)
19. Disturbance (Un-Dubbed Version)
20. Fire Brigade (Un-Dubbed Early Piano)
Disc: 3 – BBC Sessions
1. You Better Believe Me
2. Night of Fear
3. Stop, Get a Hold of Yourself
4. Kilroy Was Here
5. Interview With Carl Wayne (Previously Unreleased)
6. I Can Hear the Grass Grow
7. Walk Upon Water
8. Morning Dew
9. Interview With Carl Wayne (Previously Unreleased)
10. Stephanie Knows Who
11. Flowers in the Rain
12. So You Want to Be a Rock N Roll Star
13. Hey Grandma
14. Cherry Blossom Clinic
15. Fire Brigade
16. Weekend
17. It'll Be Me
18. Walk Upon Water (Previously Unreleased)
19. Useless Information
Line up:
Bev Bevan – drums, vocals
Trevor Burton – guitar, vocals
Chris 'Ace' Kefford – bass, vocals
Carl Wayne – vocals
Roy Wood – guitar, vocals
Score 10/10