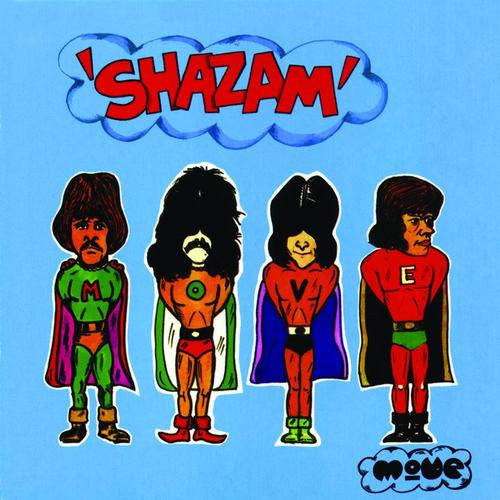 The Move – Shazam – Deluxe Edition CD Review
11th April 2016
Another deluxe edition re-issue. This time it's The Moves 2nd album Shazam which was originally released back in 1970.
This contains the original albem completely remastered & a 2nd disc of out-takes & BBC Sessions.
As with the re-issue of their 1st album, Disc1 contains the original A&B sides of the singles along with alternative mixes.
The 2nd disc is quite brilliant & contains a whole wealth of material that is previously unreleased.
The packaging is lavish again. A 4 panelfold out case & contains both discs, colour poster of the artwork & on the back newspaper articles & a 20 page colour booklet with extensive liner notes.
The EQ is just perfect & the punch of the tracks is superb. I was never fond of how the vinyl sounded but this is something else. So much more character & a great addition to any audiophiles collection.
A great addition to anyones collection & a must own album, especially now it's been expanded upon.

For fans of ELO, Wizzard, David Bowie, T-Rex & Glam Rock.
Track Listing
Disc: 1
1. Hello Susie
2. Beautiful Daughter
3. Cherry Blossom Clinic Revisited
4. Fields of People
5. Don't Make My Baby Blue
6. The Last Thing on My Mind
7. Wild Tiger Woman
8. Omnibus
9. Blackberry Way
10. Something
11. Curly
12. This Time Tomorrow
13. Hello Susie (Abridged Us Single Version)
14. Second Class (She's Too Good for Me)
15. Wild Tiger Woman (Stereo Mix)
16. Omnibus (Full Version)
17. Curly (Alternate Mix)
18. This Time Tomorrow (Demo Version)
Disc: 2
1. Something (Demo Version)
2. Beautiful Daughter (Reduced Mix)
3. Interview With Carl Wayne
4. Higher and Higher
5. Kentucky Woman
6. Interview With Bev Bevan
7. Wild Tiger Woman
8. Long Black Veil
9. Piece of My Heart
10. Going Back
11. Blackberry Way
12. California Girls
13. Christian Life
14. Bev Bevan Interview (Previously Unreleased)
15. Beautiful Daughter (Previously Unreleased)
16. Going Out of My Head (Previously Unreleased)
17. Evil Woman (Previously Unreleased)
18. Carl Wayne Interview (Previously Unreleased)
19. Curly (Previously Unreleased)
20. Sound of Silence (Previously Unreleased)
21. Abraham, Martin and John (Previously Unreleased)
22. Open My Eyes (Previously Unreleased)
23. Hello Susie (Previously Unreleased)
24. Walk Right Back (Previously Unreleased)
25. Fields of People (Previously Unreleased)

Line Up
Roy Wood – lead vocals, guitars; keyboards.
Bev Bevan – drums, percussion.
Carl Wayne – lead vocals; guitars.
Rick Price – vocals, bass.
Tony Visconti – bass on "Beautiful Daughter"
"Beautiful Daughter" features an uncredited string quartet.
Score 10/10