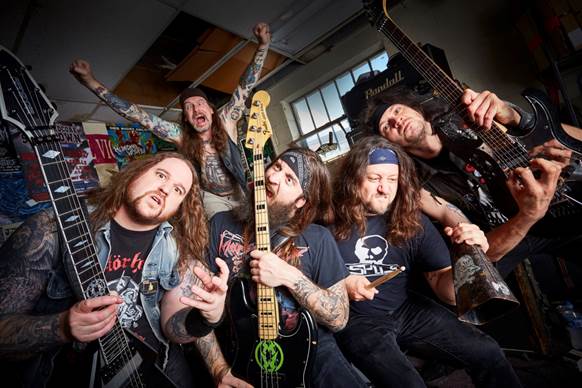 MUNICIPAL WASTE Announced for London show alongside Agnostic Front & Suicidal Tendencies
2nd August 2016
Richmond Virginia's speed metal punks Municipal Waste have today been confirmed for the 2017 instalment of the infamous Persistance Tour – which will bring the five piece to London venue The Forum on 29th January 2017 – as part of an 11 date European run. The tour will kick off on January 18th in Berlin, Germany – taking the band across 6 countries before wrapping up at the renowned north London venue. They will be playing alongside New York hardcore legends Agnostic Front, the 'fathers of crossover thrash' Suicidal Tendencies and Detriot metallic hardcore veterans Walls Of Jericho.
More bands to be announced!
You can purchase tickets for the London show here:
29th January – London, The Forum
Municipal Waste recently announced the addition of brand new member Nick Poulos to their ranks – playing second guitar!
Guitarist Ryan Waste commented: "Nick joining the Waste is a big deal for us, we couldn't just add anyone to the fold. It had to be a close friend, and he's one of our best buds in fact. It doesn't hurt that he can play his ass off too! He gets our style and totally adds to it, making us an even heavier force to be reckoned with. We're all having a blast working together, cooking up new tunes and pulling out some classic Waste cuts."

Nick Poulos added: "I couldn't be more thrilled about teaming up with the Waste! We're no strangers when it comes to making music together and when they asked me to join on second guitar, there was zero hesitation. The history of this band and watching the growth has not only made me proud but excited for the future."
Municipal Waste's most recent release and fifth studio album, 'The Fatal Feast' was released in 2012 via Nuclear Blast.
Their first record to feature contributions from invited guests; Steve Moore of Zombi penned the intro to the title track and the spacey 'Waste In Space', while John Connelly of Nuclear Assault's vocals grace 'Unholy Abductor', and singer Tim Barry of Richmond punk legends Avail jumped in on 'Standards And Practices'.
You can order Municipal Waste's latest record, 'The Fatal Feast' here:
'The Fatal Feast' Limited Edition CD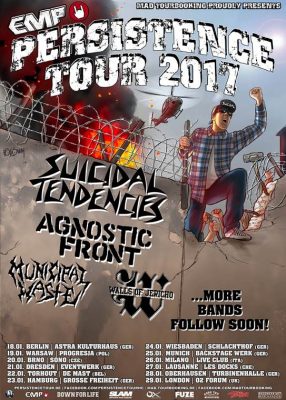 Rising from the squalor of a cursed punk house for their live debut at a New Year's Eve keg party welcoming in 2001, founding members Ryan Waste and Tony Foresta quickly embraced a DIY ethic to spread the word about their band and graduated to booking shows out-of-state and even in Mexico. After a self-titled EP and the 'Waste 'Em All' debut album in 2003, bassist Phil 'LandPhil' Hall and drummer Dave Witte were ushered into the fold. This line-up went on to record three full-length albums for Earache Records (2005's 'Hazardous Mutation', 2007's 'The Art Of Partying', and 2009's 'Massive Aggressive').  
Dedicated to keeping the spirit of the 1980's cross-over scene alive, it was with their uncontrollable mirth and succinct songs that lead Municipal Waste to reap the rewards of their hard work. By the time they signed with Nuclear Blast in 2011, they had proven themselves as die-hard road warriors who could tour and perform with bands outside their genre such as Suicidal Tendencies,The Casualties, 7 Seconds, Circle Jerks, Sick Of It All, GWAR, Lamb Of God, Children Of Bodom, and At The Gates and win over their crowds.
Here they are 15 years later and their rabid fan base – which includes fans of metal, punk, and hardcore – continues to expand. The fact is, no one could argue against Municipal Waste's reputation as the ultimate feel-good party band.
Municipal Waste Links:
Facebook
Twitter
Youtube