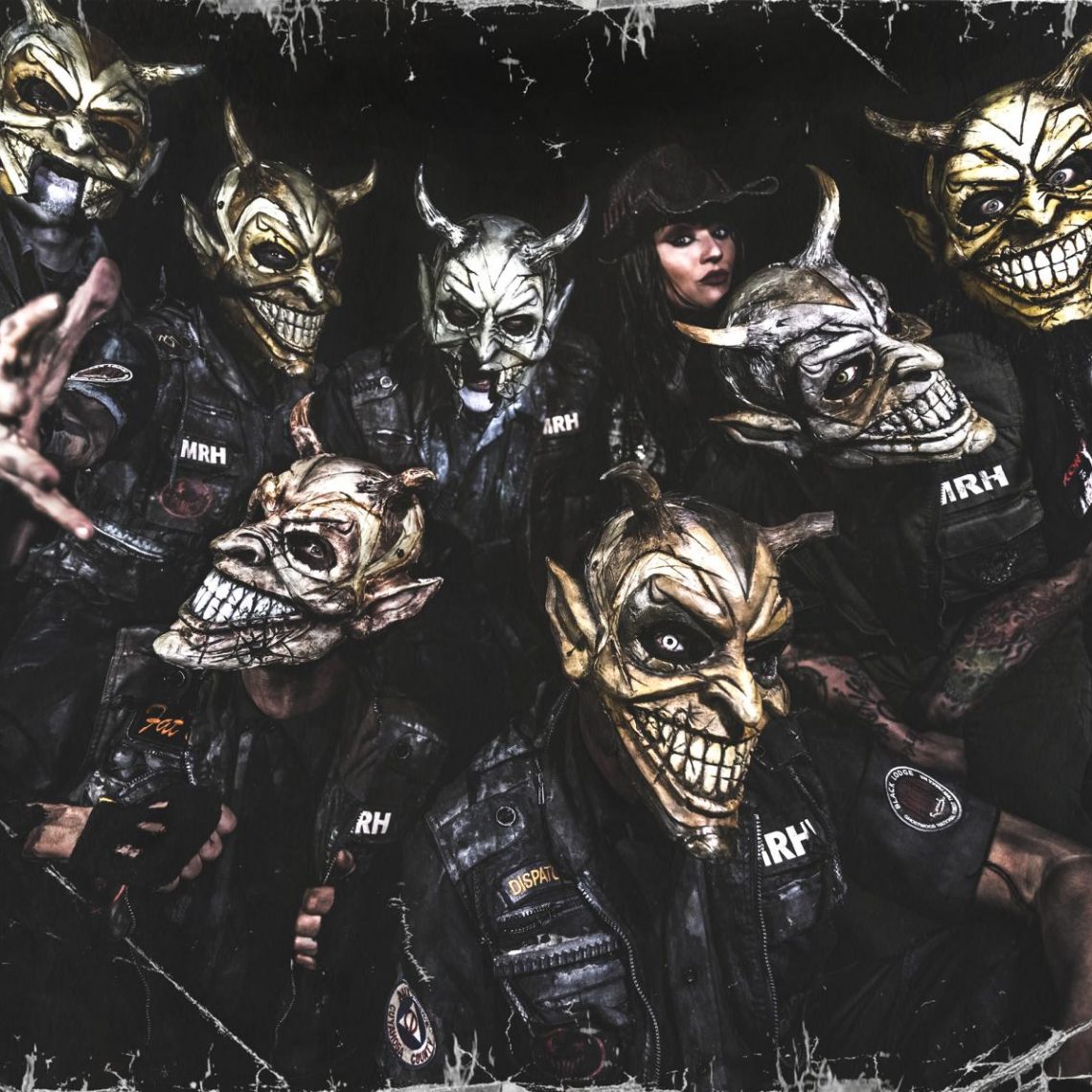 MUSHROOMHEAD – Signs Worldwide Record Deal With Napalm Records!
4th April 2019
Cleveland Ohio's MUSHROOMHEAD have signed a worldwide recording deal with Napalm Records.
MUSHROOMHEAD are one of the most unique and adventurous alternative metal bands working today. Known for their stunningly theatrical live show and artsy masks, this innovative band has forged new ground in the rock world and influenced many other bands to push the envelope and bring art into rock. Formed in the early-1990s in Cleveland Ohio, the band's combination of metal, rock and atmospheric elements has struck a chord with thousands of fans worldwide.
Drummer Skinny on signing with Napalm Records:"We are grateful for the opportunity to be part of the Napalm roster! None of this would be possible without all of the support we've received over the last 25 years.. To the ALL the band members, the road crews, the labels, our families, our friends & our fans.. Thank you all.
"Napalm Records CEO Thomas Caser comments:"They are one of the most exciting acts in the metal world!  The conceptual MUSHROOMHEAD, who've always had their finger on the pulse, will shock the world with their upcoming releases and tours. We are extremely proud to partner with this incredible act!"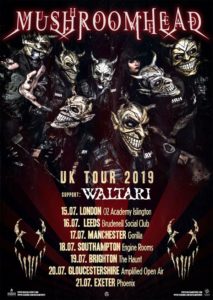 Be sure to check out MUSHROOMHEAD on tour in Europe and stay tuned for more news on their upcoming album!
Line Up:
Mr.Rauckhorst – Vocals
Amann – Vocals
Ms.Jackie – Vocals
Dr.F – Keyboards & Bass guitar
Tankx – Guitar
Stitch – Keyboards & Samples
Diablo – Drums/Percussion
Skinny – Drums/Percussion
More about MUSHROOMHEAD:
MUSHROOMHEAD have been performing incognito since 1993, when drummer Skinny founded the band. The band was meant to be a side-project so they wore masks to go unrecognized, but after only a few shows they developed a rabid and loyal fan base in Cleveland. MUSHROOMHEAD released their 1995 self-titled debut album independently and it went on to became an underground hit. This was history in the making because the band really had no proper distribution.
Superbuick followed in 1996 and M3 in 1999, all released via an underground street effort. After the band felt its image and hyper-melodic, heavy style of music was being diluted by other bands jumping into this space, the band started to change their look to reflect nothing out there.
After a brief stint on Eclipse Records, a move to Universal Records saw the release of XX (a combination of the past independent releases) in 2001 and XIII in 2003.
The band's last album sold over 200,000 units in the USA alone. MUSHROOMHEAD released Savior Sorrow for the pioneering rock label, Megaforce Records (Metallica, Anthrax, Ministry, Warren Haynes, Bad Brains) in 2006. MUSHROOMHEAD released Beautiful Stories for Ugly Children in the Fall of 2010 and it debuted at #44 on Billboard charts.It can be said that MUSHROOMHEAD's musical ascendance was a singular, original, aesthetic of eight guys decked out in matching jumpsuits and artsy masks, playing unbelievable, unsettling music. No other band was wearing masks and jumpsuits and purveying this type of ultra-melodic, ultra-dynamic music at the time – MUSHROOMHEAD sounded like nothing else. The band's merging of metal, atmospheric elements, rock, and theatrics mixed with a punk DIY attitude has inspired and spawned other bands. Even though MUSHROOMHEAD's music is rock-leaning in thought, the group remains firmly committed to pushing the envelope and trying new things. Influences range from the driving rhythms and breakneck turns of Pantera, to the dark melodies of Faith No More, to the atmospheric stylings of Pink Floyd, but all done in MUSHROOMHEAD style.MUSHROOMHEAD Discography:
SELF TITLED – 1995
SUPERBUICK – 1996
REMIX ALBUM – 1997
M3 – 1999
XX{ECLIPSE RECORDS} – 2001
XX {UNIVERSAL RELEASE} – 2001
XIII – 2003
VOLUME 1 DVD – 2005
SAVIOR SORROW – 2006
VOLUME 2 DVD – 2008
BEAUTIFUL STORIES FOR UGLY CHILDREN – 2010
THE RIGHTEOUS & THE BUTTERFLY – 2014For More Info Visit:
http://www.mushroomhead.com/
https://www.facebook.com/mushroomheadofficial/
https://www.instagram.com/mushroomheadofficial/
https://twitter.com/mushroomhead
https://open.spotify.com/artist/18absyD7lQaXUDBXnyzU8M
https://en.wikipedia.org/wiki/Mushroomhead
https://www.youtube.com/channel/UCP2HiJh3Uus1s4hNza08NRA
Napalm Records:
https://napalmrecords.com
https://www.facebook.com/napalmrecords/
https://twitter.com/NapalmRecords
https://www.instagram.com/napalmrecordsofficial