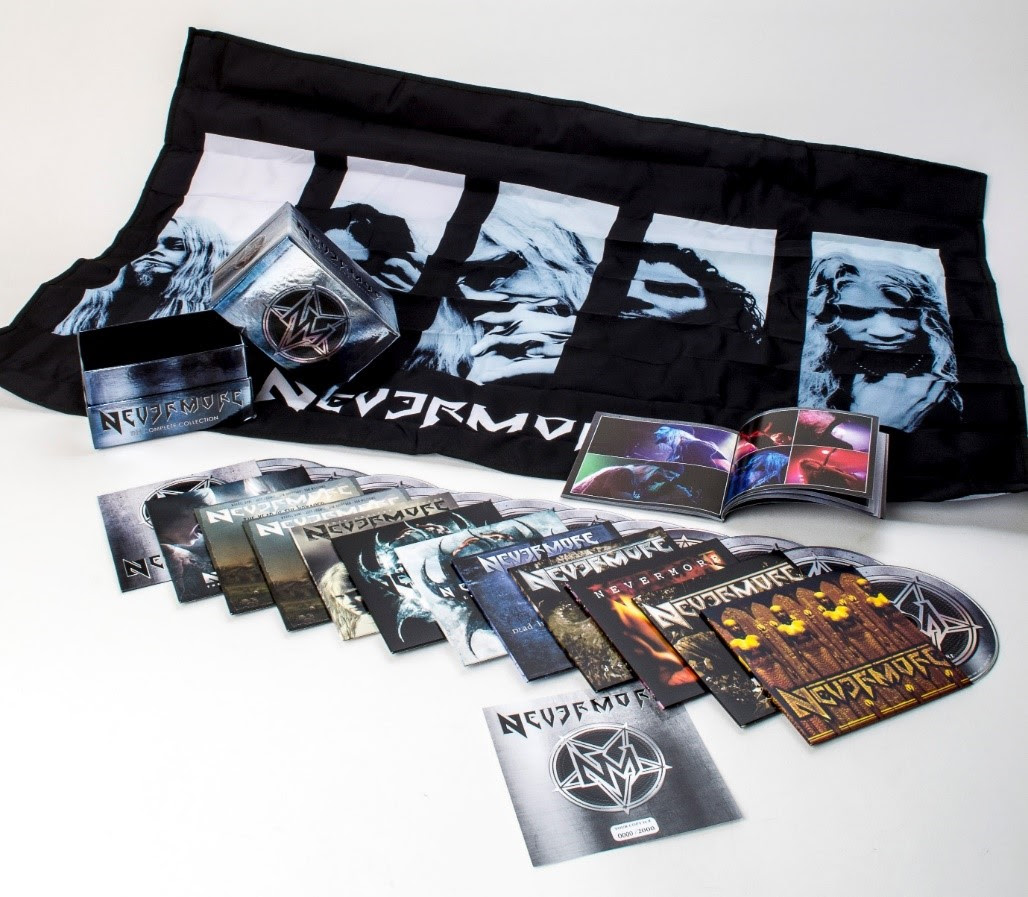 NEVERMORE Announce "The Complete Collection" Release Date and Vinyl Reissues
5th March 2018
On 09 March 2018, Century Media Records will release "The Complete Collection" by NEVERMORE, an impressive 12-disc CD box set including all studio releases, the "Year Of The Voyager" live album, as well as a disc of rarities.
Limited to 2,000 copies, it also includes a numbered collector's certificate, an 80-page booklet (with lyrics, photos, liner notes) plus a poster flag depicting the band's line-up on 2005's masterpiece "This Godless Endeavor". Guitarist Jeff Loomis and drummer Van Williams have been involved in this project since early October 2017, with Williams also creating the artwork for this set.
Originally, "The Complete Collection" was supposed to be an attractive format celebrating one of Century Media Records' finest bands on time with the label's 30th anniversary in 2018.
Unfortunately, it now marks the first release coming out after vocalist Warrel Dane passed away on 13 December 2017 – his death was not only a shock to his family, fans, friends, and fellow musicians, but also to the many current and former employees at Century Media Records who had been working with him since the early 90's. At this time, however, all parts of the box set were already being manufactured, except for the booklet, which was completed in early 2018.
Featuring quotes from historical interviews with main songwriters Jeff Loomis and Warrel Dane, "The Complete Collection" offers a detailed journey through one of metal's most consistent and inspired discographies, but it was never meant to be a tribute.
Furthermore, Century Media Records announce the following NEVERMORE vinyl releases in 2018:
 
11 May 2018 – "Enemies Of Reality (Remixed & Remastered)"
Black / limited colored LP+CD & Poster
First ever vinyl edition of the Andy Sneap remix/remaster created in 2005.
15 June 2018 – "This Godless Endeavor (Reissue 2018)"
Black / limited colored Gatefold 2LP+CD & Poster
This album has never been repressed since its original release back in 2005.  
Century Media Records fully understands that some people might be upset by seeing releases related to Warrel Dane and his past bands coming out, but they consider it mandatory to treat his artistic works with utmost respect and, in cooperation with his former band members, will keep his body of work available.
"He is a tremendous loss. His lyrics changed the way I view the world. He was one of a kind and his bigger than life character will always be with us …all we have to do is listen!" – Jim Sheppard
NEVERMORE "The Complete Collection" track-listing is as follows: 
Disc 1: Nevermore (1995)
1. What Tomorrow Knows
2. C.B.F.
3. The Sanity Assassin
4. Garden Of Gray
5. Sea Of Possibilities
6. The Hurting Words
7. Timothy Leary
8. Godmoney
– Bonus tracks –
9. The System's Failing
10. The Dreaming Mind (Demo 1992)
11. World Unborn (Demo 1992)
12. Chances Three (Demo 1992)
13. Utopia (Demo 1992)
Disc 2: In Memory (1996)
1. Optimist Or Pessimist
2. Matricide
3. In Memory
4. Silent Hedges/Double Dare (Bauhaus cover)
5. The Sorrowed Man
– Bonus tracks –
6. The Tiananmen Man (Demo 1996)
7. The Seven Tongues of God (Demo 1996)
8. Passenger (Demo 1996)
9. This Sacrament (Demo 1996)
10. 42147 (Instrumental Demo 1996)
Disc 3: The Politics Of Ecstasy (1996)
1. The Seven Tongues Of God
2. This Sacrament
3. Next In Line
4. Passenger
5. The Politics Of Ecstasy
6. Lost
7. The Tiananmen Man
8. Precognition
9. 42147
10. The Learning
Disc 4: Dreaming Neon Black (1999)
1. Ophidian
2. Beyond Within
3. The Death of Passion
4. I Am the Dog
5. Dreaming Neon Black
6. Deconstruction
7. The Fault of the Flesh
8. The Lotus Eaters
9. Poison Godmachine
10. All Play Dead
11. Cenotaph
12. No More Will
13. Forever
Disc 5: Dead Heart In A Dead World (2000)
1. Narcosynthesis
2. We Disintegrate
3. Inside Four Walls
4. Evolution 169
5. The River Dragon Has Come
6. The Heart Collector
7. Engines Of Hate
8. The Sound Of Silence (Simon & Garfunkel cover)
9. Insignificant
10. Believe In Nothing
11. Dead Heart In A Dead World
Disc 6: Enemies Of Reality – Original Mix (2003)
1. Enemies Of Reality
2. Ambivalent
3. Never Purify
4. Tomorrow Turned Into Yesterday
5. I, Voyager
6. Create The Infinite
7. Who Decides
8. Noumenon
9. Seed Awakening
Disc 7: Enemies Of Reality – Remix & Remastered (2005)
1. Enemies Of Reality
2. Ambivalent
3. Never Purify
4. Tomorrow Turned Into Yesterday
5. I, Voyager
6. Create The Infinite
7. Who Decides
8. Noumenon
9. Seed Awakening
Disc 8: This Godless Endeavor (2005)
1. Born
2. Final Product
3. My Acid Words
4. Bittersweet Feast
5. Sentient 6
6. Medicated Nation
7. The Holocaust Of Thought
8. Sell My Heart For Stones
9. The Psalm Of Lydia
10. A Future Uncertain
11. This Godless Endeavor
Disc 9: The Year Of The Voyager (2008) live album – CD1
1. Final Product
2. My Acid Words
3. What Tomorrow Knows/Garden Of Gray
4. Next In Line
5. Enemies Of Reality
6. I, Voyager
7. The Politics Of Ecstasy
8. The River Dragon Has Come
9. I Am The Dog
10. Dreaming Neon Black
Disc 10: The Year Of The Voyager (2008) live album – CD2
1. Matricide
2. Dead Heart In A Dead World
3. Inside Four Walls
4. The Learning
5. Sentient 6
6. Narcosynthesis
7. The Heart Collector
8. Born
9. This Godless Endeavor
Disc 11: The Obsidian Conspiracy (2010)
1. The Termination Proclamation
2. Your Poison Throne
3. Moonrise (Through Mirrors of Death)
4. And The Maiden Spoke
5. Emptiness Unobstructed
6. The Blue Marble and the New Soul
7. Without Morals
8. The Day You Built the Wall
9. She Comes in Colors
10. The Obsidian Conspiracy
Disc 12: Rarities & Demos
1. Temptation (The Tea Party cover)
2. The Purist's Drug
3. Crystal Ship (The Doors cover)
Recorded during the "The Obsidian Conspiracy" sessions
4. All The Cowards Hide
Recorded during the "Dreaming Neon Black" sessions
5. Chances Three
Recorded during the "Dead Heart In A Dead World" sessions
6. Love Bites (Judas Priest cover)
Recorded during the "The Politics Of Ecstasy" sessions
7. Termination Proclamation (Live in London 2010) – previously unreleased
8. Your Poison Throne (Live in London 2010) – previously unreleased
9. Emptiness Unobstructed (Live in London 2010) – previously unreleased
10. The Obsidian Conspiracy (Live in London 2010) – previously unreleased
Recorded on May 18th, 2010 at the O2 Academy in London, UK
11. Dead Heart In A Dead World (Demo 2000) – previously unreleased
12. We Disintegrate (Demo 2000) – previously unreleased
13. Insignificant (Demo 2000) – previously unreleased
14. Engines Of Hate (Instrumental Demo 2000) – previously unreleased
15. Acoustic Instrumental (Demo 2000) – previously unreleased
Rough demo versions recorded in 2000