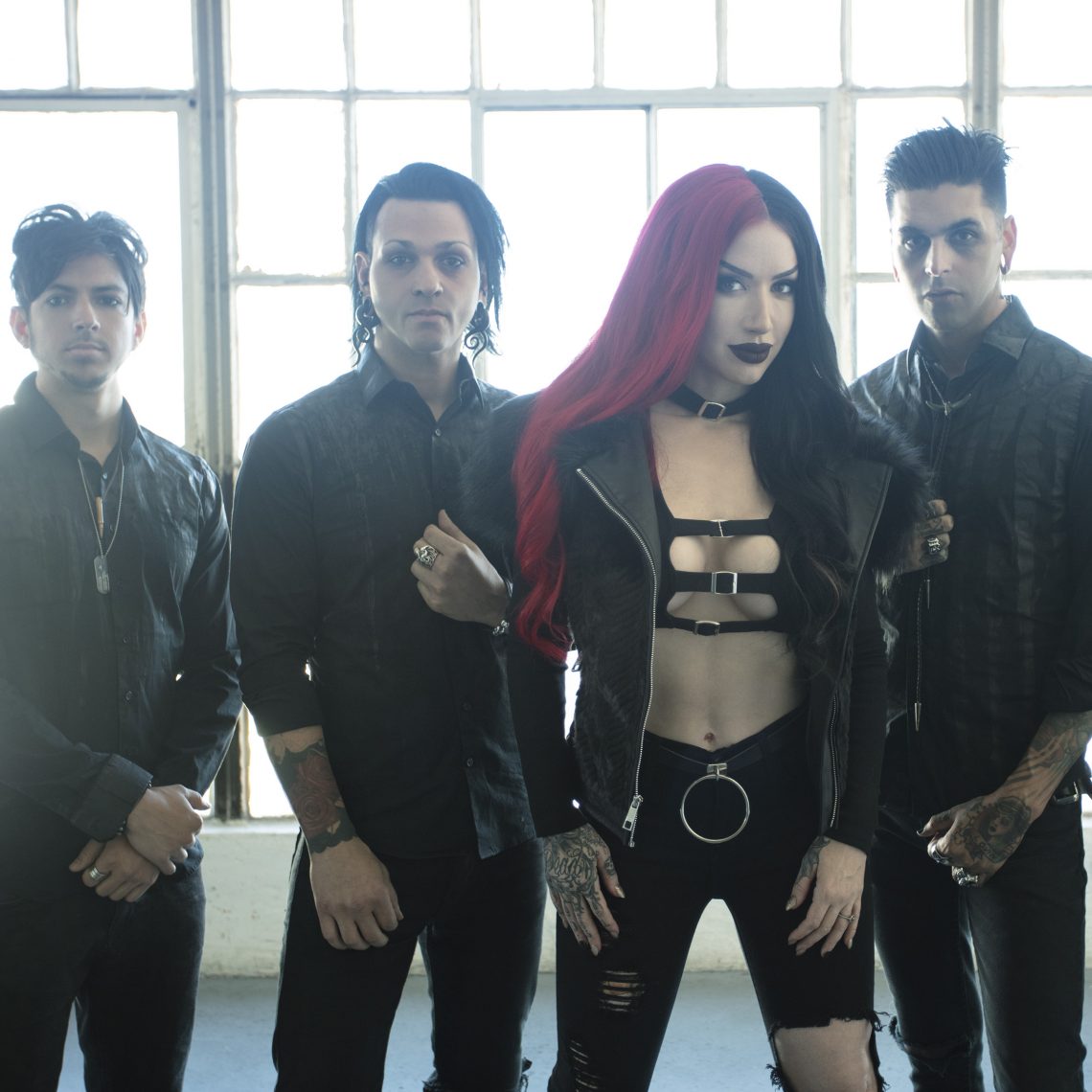 NEW YEARS DAY Release New Lyric Video For "Skeletons"; Kick Off First UK & European Headline Tour
17th February 2020
Right before embarking on their European tour
NEW YEARS DAY
have released a lyric video for the song "Skeletons", watch it here:
NEW YEARS DAY previously toured Europe in November of last year supporting Halestorm and In This Moment. Don't miss the full NEW YEARS DAY experience on their first European headlining tour with support coming from Lowlives.
 
NEW YEARS DAY
Support: Lowlives
18.02.2019 (UK) Leeds – The Key Club
19.02.2019 (UK) Southampton – 1865
21.02.2019 (UK) London – Islington Academy
22.02.2019 (UK) Manchester – Club Academy
23.02.2019 (UK) Glasgow – Garage
25.02.2019 (UK) Birmingham – O2 Academy 2
26.02.2019 (UK) Bristol – Fleece
28.02.2019 (FR) Paris – La Maroquinerie
29.02.2020 (NL) Amsterdam – Melkweg OZ
01.03.2020 (DE) Hamburg – Bahnhof Pauli
02.03.2020 (DK) Copenhagen – Pumpehuset
04.03.2020 (DE) Cologne – Luxor
05.03.2020 (DE) Berlin – Musik & Frieden
06.03.2020 (AT) Vienna – Arena Small Hall
07.03.2020 (DE) Munich – Backstage Halle
08.03.2020 (IT) Milan – Legend Club  
The band is touring their current album, "Unbreakable".
NEW YEARS DAY released the following visually stunning video clips from the album:
"Shut Up":
"Come For Me":
"Unbreakable", produced by Mitchell Marlow (All That Remains, In This Moment) and Scott Stevens (Halestorm, Shinedown, American Authors), is out now via Century Media Records/RED MUSIC.
 
Press Raves for "Unbreakable":
"California metallers NEW YEARS DAY update themselves on expansive fourth album."
– Kerrang!  
"As 'Unbreakable' shifts between super-charged anthems and rock-radio polish, everything feels undeniably bigger in the merry misfits' arsenal."
– Metal Hammer UK  
"Four albums in, NEW YEARS DAY keep up with their gothic roots on 'Unbreakable', including horror-like synths and passion from a broken heart. Songs such as 'Shut Up' and 'MissUnderstood' show off deep-cutting lyrics and vocalist Ash Costello's resiliency to prevent life from destroying her spirit. Backed by a mix of punk, rock and metal, the album is a reinvention of the outfit's discography—still in your face but with more pop grit."
– (The 50 Best Albums Of 2019 In Alternative, Punk, Alt-Pop and beyond) Altpress  
Co-cover of Orkus! Magazine (DE) + 4 page feature + album of the week  
"'
Unbreakable' is a punch to the throat and the band's best offering to date. This record is utterly flawless and will be noted as NEW YEARS DAY's official entry into the upper echelons of rock royalty.
" – Outburn  
 "The best album from the band to date." –
Tattoo.com  
Formed in Orange County, Calif. by Ashley Costello, NEW YEARS DAY shook the scene with their Century Media debut, "
Victim to Villain"
, in 2013 featuring their breakout single "Angel Eyes." The five-piece later cemented their place in the heavy music landscape with their
Epidemic
EP and critically-acclaimed "
Malevolence"
full-length in 2015, clocking more than 20 million views on YouTube. The band has since become the most visually-captivating group in modern rock, playing for millions of fans around the world, sharing the stage with Ozzy Osbourne, Halestorm, Nine Inch Nails, Escape The Fate, Hellyeah and Five Finger Death Punch while also headlining the longest-running touring festival, Vans Warped Tour, in 2017.  
NEW YEARS DAY online:
https://nydrock.com/
https://www.facebook.com/nydrock/
https://www.instagram.com/nydrock/
https://twitter.com/NYDrock