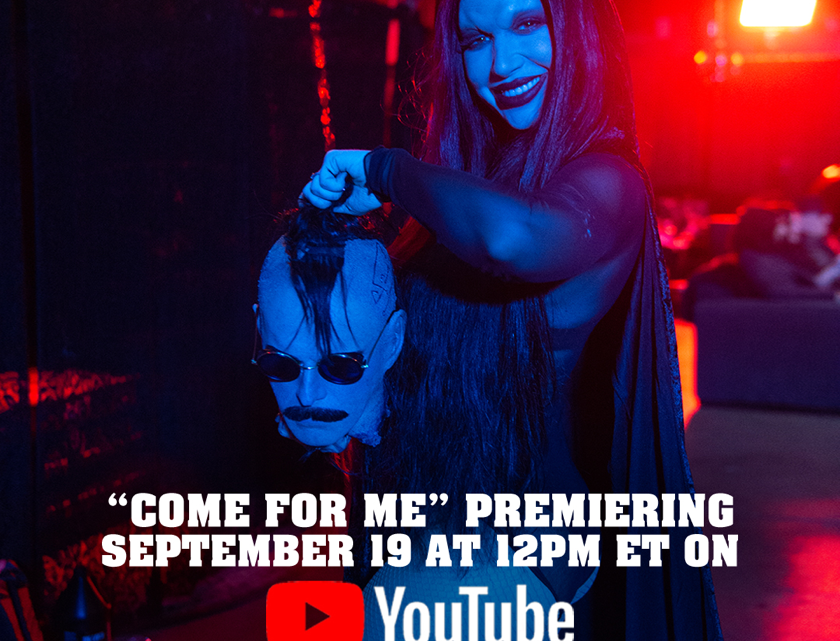 NEW YEARS DAY to premiere official music video for "Come For Me" tomorrow (19th September 2019)
18th September 2019
Ash & Co. enlist Caity (SiriusXM Octane), Spencer (Ice Nine Kills), Trey (Gear Gods & In Virtue) and label mates Lex (3TEETH), Juan of the Dead (Body Count), Nishad & Spencer (The Offering) & Alex (Witherfall) for the ultimate video to kick off Halloween season! Tune in to find out who makes it out in the end!
NEW ALBUM UNBREAKABLE, FEATURING THE HIT SINGLE "SHUT UP" & NEW SINGLE "COME FOR ME" OUT NOW!
EXCLUSIVE TRAILER, MERCHANDISE & MUSIC TO PURCHASE FROM NEW YEARS DAY, 3TEETH, BODY COUNT, THE OFFERING & WITHERFALL
HERE
New Years Day
fans expect top tier cinematic music videos from Ash Costello & co. and on
Thursday, September 19
at
12PM ET
, fans will experience the band's biggest production to date exclusively on
New Years Day
's
YouTube channel
. The fan demanded music video for the band's newest single "Come For Me" will satisfy everyone. The video is a delectable blend of comedy, horror, gore and glam – everything that they have come to expect from rock music's breakout band. Check out a sneak peek of "Come For Me"
here
.  
New Years Day
enlisted longtime director Robyn August ("
Defame Me
", "
Kill Or Be Killed
", "
I'm About To Break You
") & Matt Phelan of Chisel Pixel Productions) to bring Ash's vision to life.  
Ash Costello
states:
"Music videos are a very big part of what New Years Day stands for. We really put who we are as people and artists into every single detail and I think the video for COME FOR ME is New Years Day truly becoming something above and beyond visually than we ever have before. It's no secret that I am highly driven by movies, specifically horror and cult movies, one of my favorite directors is Quentin Tarantino, and COME FOR ME is my nod to some of my favorite Quentin Tarantino movies. Including, "Kill Bill", "Planet Terror", "Pulp Fiction" and "From Dusk Till Dawn". Whether he directed, produced or acted in the movie, everything he's been involved in as highly shaped who I am as a visual artist. COME FOR ME needed something fun and in your face to match the vibe of the song. My entire goal with the storyline of this video is to make you think of 3 words…. bad mother fucker."
The official video for "Come For Me" follows New Years Day's epic reimagining of 'American Psycho' for "Shut Up". If fans are wondering how New Years Day can top taking an axe to
SiriusXM's Jose Mangin
, then they need to tune in to see who makes it out of "Come For Me" alive.  
Meet the cast of "Come For Me"
Photos by Stephanie Cabral
 
 
NEW YEARS DAY:
 
FEATURING:
"What an honor it was to be asked to take part in this video! Not only is the song a favorite on Octane, but how cool is it that I got to be in it?! Such a cool thing to be a part of. Good vibes, and good people all around! Can't wait to tell my listeners that I have a special cameo in this video! What a great day with amazing people! Rock on. To be part of such a unique music video is really awesome. I love this song, and thanks to Ash I got to smash a bottle over some dudes head!"
– Caity Babs (SiriusXM Octane)
"It was like being on the set of "From Dusk Till Dawn"…but with even more blood and strippers. The song is catchy as hell and it was a pleasure to be involved with my good friends in NYD"
– Spencer (ICE NINE KILLS)
"Getting to play a loathsome slime ball killer onscreen when I'm such a goodie-two-shoes in real life is pretty much the dream, and shooting this video was a total hoot. The director really nailed the Rodriguez/Tarantino vibe and I'm so happy the band let me be a part of it!"
– Trey Xavier (Gear Gods & In Virtue)
"I had always dreamed of getting decapitated during a lap dance" – Lex (3TEETH)
"It was a pleasure to be part of and work with Director Robyn August and Chisel Pixels on the NEW YEARS DAY "Come For Me" music video. The director's vision along with the creativity of Ash produced for a wild and outrageous setting. The moment I walked into the dark underground dwelling; I felt right at home. The cast and crew were awesome to hang with. Check out the video! Lots of blood, horror, deranged twisted imagery, and killer music!"
– Juan of the Dead (Body Count)
"Spencer and I were beyond ecstatic when we were asked to lend a helping hand with our fellow label-mates and friends…this is the fun stuff that we live for.  Give credit where it's due to the New Years Day family and the production crew for keeping cool heads and sticking to their artistic vision in the midst of a huge operation; it was our pleasure to be a part of. Cheers to many more from these guys and gal." – (The Offering)
"It was a great time hanging out on set with Ash, NYD, and our many label mates on Sony and Century Media. Going in, I actually did not know to what expect at all but I left itching to see what the final video will look like. I think it will be safe to say though, it's going to be a bloody good time!"
– Alex (Witherfall)
 
About "Come For Me":
"Come For Me", Ash's fight song received immediate love from editors and fans when it was released. Spotify added the song to New Music Friday, New Metal Tracks, Rock Hard and Heavy Queens playlist. The lyric video quickly surpassed over 1 million views on YouTube with fans demanding to have this song be the next single – their push is what is making "Come For Me" a movement. The single is climbing the US Active Rock chart & at 3 million global streams.
 
About New Years Day:
Formed in Orange County, Calif. by Ashley Costello, New Years Day shook the scene with their Century Media debut, Victim to Villain, in 2013 featuring their breakout single "Angel Eyes." The five-piece later cemented their place in the heavy music landscape with their Epidemic EP and critically-acclaimed Malevolence full-length in 2015, clocking more than 20 million views on YouTube. The band has since become the most visually-captivating group in modern rock, playing for millions of fans around the world, sharing the stage with Ozzy Osbourne, Halestorm, Nine Inch Nails, Escape The Fate, Hellyeah and Five Finger Death Punch while also headlining the longest-running touring festival, Vans Warped Tour, in 2017. As new challenges and new worlds beckon, the band released their most recent EP, Diary of a Creep, in January to pay tribute to the artists who shaped them thus far. The EP featured renditions of Garbage's "Only Happy When It Rains," New Order's "Bizarre Love Triangle," No Doubt's "Don't Speak" and their original track "Disgust Me".
 
Tomorrow, the band kicks off their second ever headline tour with DED. Tickets are available for purchase on the band's website HERE. The band has been touring nonstop this year in support of their newest full length album, Unbreakable. They kicked off the year touring with Falling In Reverse and have gone on to support Godsmack and perform a handful of North American headline shows. Make sure to catch the band on the road the rest of 2019 for their Fall headline tour and their tour supporting In This Moment.
 
Their flawless release, Unbreakable produced by Mitchell Marlow (All That Remains, In This Moment) and Scott Stevens (Halestorm, Shinedown & American Authors) trended #1 on the iTunes rock chart, celebrated over 15 weeks on Billboard's Current Hard Music Albums Chart. The album surpassed 16 million global streams, establishing New Years Day as a force to be reckoned with. New Years Day celebrates a 10+ year career with over 60 million global streams, 38 million YouTube views & top 20 Billboard Mainstream Rock Charting hits.
 
NEW YEARS DAY TOUR DATES
Headline Dates w/DED
September 19 – Fort Smith, AR – Temple Live
September 20 – Oklahoma City, OK – Diamond Ballroom
September 21 – Lawrence, KS – Granada Theater
September 23 – Colorado Springs, CO – Black Sheep^
September 25 – Des Moines, IA – Wooly's
September 29 – Charleston, SC – Music Farm^
October 1 – Orlando, FL – The Social
October 3 – Pensacola, FL – Vinyl Music Hall
October 6 – Springfield, MO – Outland Ballroom
October 7 – Chicago, IL – The Forge
October 10 – Flint, MI – Machine Shop^
 
w/In This Moment
September 6 – North Myrtle Beach, SC – House of Blues
September 10 – Dothan, AL – The Plant
September 12 – Houston, TX / House of Blues
September 13 – Corpus Christi, TX – Concrete Street Pavilion
September 15 – San Antonio, TX – Aztec Theater
September 27 – Louisville, KY – Louder Than Life*
September 28 – Greensboro, NC – Greensboro Coliseum Complex Piedmont Hall
October 8 – Peoria, IL – Peoria Civic Center
October 12 – Manchester, TN – Exit 111 Festival*
October 16 – Niagara Falls, NY – The Rapids Theatre
October 19 – Philadelphia, PA – Franklin Music Hall
 
w/Halestorm
November 13 – Paris, France – Pleyel
November 14 – Cologne, Germany – Palladium
November 16 – Munich, Germany – Tonhalle
November 18 – Offenbach, Germany – Capitol
November 19 – Hamburg, Germany – Grobe Freiheit
November 20 – Amsterdam, Netherlands – AFAS Live
November 24 – Glasgow, United Kingdom – The SSE Hydro
November 25 – Nottingham, United Kingdom – Motorpoint arena
November 27 – Cardiff, United Kingdom -Motorpoint Arena Cardiff
November 28 – London, United Kingdom – Alexandra Palace
*festival dates
^No DED