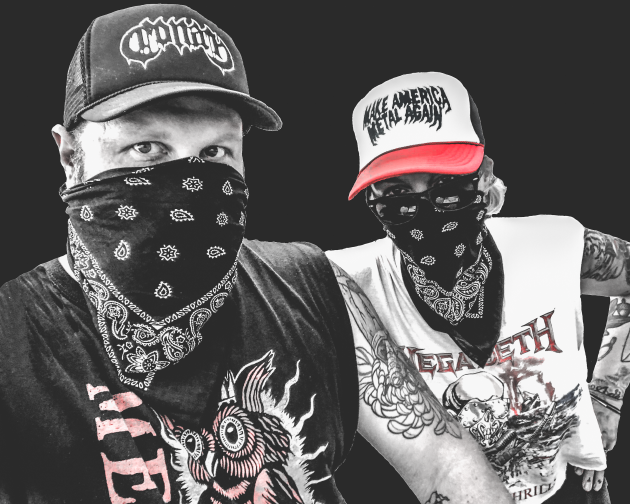 New York Doom Heavyweights WITCHKISS Announce Crushing Remix Album And Share Brand New Video Clip!
17th March 2021
Even the darkest times of a world's lockdown won't stop bands and artists around the globe to stay restless, creative, and inventive. And so does Hudson Valley, NY trio WITCHKISS, who has just announced the release of a crushing, electronic version of their highly acclaimed, 2018- debut album!
With countless tours under their belts, including support shows for the UK's mighty Conan and appearances at such festivals like Maryland Doom Fest, Indianapolis Doomed & Stoned, New England Stoner and Doom Fest or Descendants of Crom, WITCHKISS have quickly become an important part of a growing movement in the world of crushingly loud and punishing music. The metal scene is buzzing about these rising heavyweights just as much as the bands admirers in publications like Decibel, Metal Injection or The Obelisk, to name just a few. Building on the interplay between eerie female vocals and crushing growls, the groove driven WITCHKISS can't help but to fascinate. Their articulate, elegant and ridiculously fucking heavy tunes are build around raw emotion, sonic poetry and a sense of longing for something greater, there is a haunting majesty to the band's work. Fusing the sounds of bands like Subrosa, Yob and Neurosis create dark sounds of the soul, and soon WITCHKISS will unleash a fresh take on this melancholic music.
As they are gearing up to release six enthralling electronic versions of the songs on their debut album, The Austere Curtains Of Our Eyes, retitled, It's Curtains For Us All! The album will come out via Argonauta Records digitally on April 2nd, 2021. This re-imagining of their titanic debut comes in partnership with an anonymous producer known only as "Bleakest." It's a fresh look into the deep layers of the bands sound. But give ear, as WITCHKISS has just unleashed a music video for the song Spirits Of The Dirt (Bleakest Mix)! Join the band on this punishing aural assault, like you have never heard them before
"With a whole lot of time on your hands you might find yourself thinking about what an electronic reimagining of your first album would sound like…. " WITCHKISS reveals. "And this past year we had a whole shitload of time on our hands, so we got together with an anonymous producer known only as "Bleakest" and we made it happen. For your listening pleasures we present you with six EDM (Electro Doom Music) inspired versions of the songs on "The Austere Curtains Of Our Eyes" now aptly titled for these Bleakest of times "It's Curtains For Us All" It will be available on our Bandcamp and through Argonauta Records digitally on all major platforms on April 2nd, 2021. We hope you enjoy the other side of our musical minds…. And don't worry we will be back with some METAL soon enough. But for now, pump up the volume and dance around your living room in your socks and underwear to our new old shit. Hail Satan."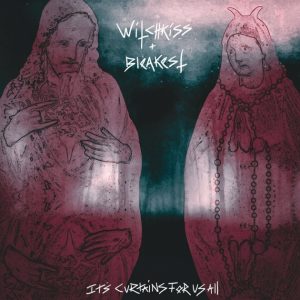 Album Tracklist:
1. A Crippling Wind (Bleakest Mix)
2. Blind Faith (Bleakest Mix)
3. Death Knell (Bleakest Mix)
4. Spirits Of The Dirt (Bleakest Mix)
5. Seer (Bleakest Mix)
6. A Harrowing Solace (Bleakest Mix)
It's Curtains For Us All will be out as digital formats on April 2nd through Argonauta Records, the pre-sale is now up at THIS LOCATION!

For More Info Visit:
www.facebook.com/witchkissband
www.instagram.com/witchkissband
www.witchkiss.bandcamp.com
www.argonautarecords.com