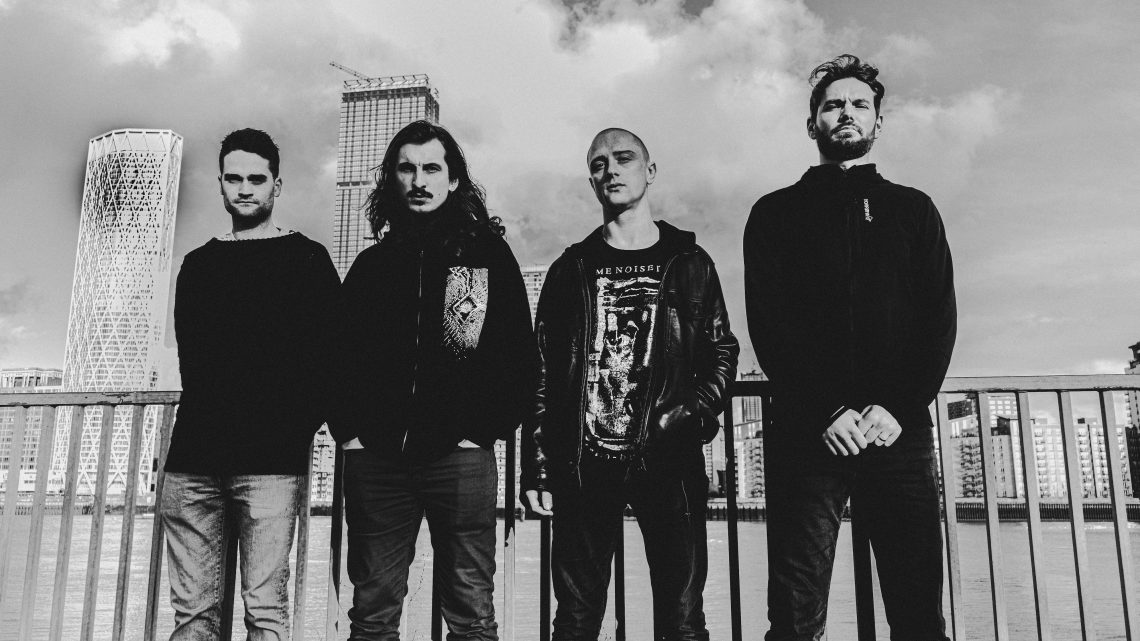 Nihilistic sludge metallers BEGGAR perform debut Compelled To Repeat live in studio session video
31st March 2021
Sludge-meets-extreme metal nihilists Beggar have announced their live studio session for debut album Compelled To Repeat, premiering on Thursday 1st April at 8pm BST via the APF Records Youtube channel.

Bookmark the
Beggar
premiere / tune into the full studio session on
Thursday 1st April
at
8pm BST
One year ago almost to the day, as the world was gripped by news of the emerging Covid-19 pandemic, Beggar were readying themselves for the release of their critically acclaimed debut album Compelled To Repeat on 3rd April 2020 via APF Records. Unable to tour, unable to fulfil their booked album launch shows, the band, along with the rest of the world, stood still and then retreated to their homes to enter lockdown. As reality dawned that their hopes and dreams of touring their debut release were shattered, the band fuelled by frustration and determined to play tracks that had never been performed live before, entered Buffalo Studio, London in December 2020 to record a live session of the whole album. With live engineer JB Pilon at the helm, shot by Sam Finney and mixed and mastered by Wayne Adams (of Petbrick with Igor Cavalera), the result on this first anniversary of the album's release is an inside look at what a real, raw live in-studio Beggar performance looks like. 
Beggar vocalist and bassist Charlie Davis commented: "We made this video to celebrate what we love about playing music. We had some pretty bad timing when we released Compelled to Repeat last year because it was completely crunched by lockdown, which landed pretty squarely a week before the release date. Our album launch tour bit the dust along with all of our other gigs in 2020, and we ended up in different places, doing different things, unable to play together.
"So we wanted to grab what time we could with each other towards the end of 2020 and make something to celebrate the fact that we managed to get the album out in the first place. Working on and releasing Compelled to Repeat was a really positive time for us and we wanted to punctuate the dead year that followed with something cool to take away from it – and we hope this comes across. We had invaluable help from Sam Finney who expertly shot and edited the footage, from JB Pilon at Buffalo Studios where it was all filmed and recorded, and from Wayne Adams who mixed and mastered the audio. All things considered it looks and sounds awesome and was a ton of fun to make!" 
Beggar – Matryoshka Brain (Live At Buffalo Studios)
(taken from Compelled To Repeat Live Studio Session)
Debut album Compelled To Repeat is a devastating listening experience and was recorded with Wayne Adams (responsible for recent works by Green Lung, 11Paranoias and Terminal Cheesecake) at Bear Bites Horse, London and mastered by the master of noise himself, James Plotkin (Sunn O))), ISIS, Pelican and Earth). A fuming tornado of aggression and frustration which offered a glimpse into a new sphere of savagery, the album received critical acclaim worldwide upon its release. 
Impossible to fit within the stoner bracket, Beggar's sound nonetheless nods to the huge monoliths of tone that such a tag implies. More multi-faceted than the death metal or hardcore genres would allow, Beggar still use the sheer brutality and visceral dynamics of those styles as their primary means of propulsion, seeking to leave the listener with real scars from raw, honest music.
Comprised of Charlie Davis (vocals/bass), Abe Whitworth (guitars), Jake Leyland (guitars/vocals) and Bertrand Sautier (drums, formerly of French deathgrind outfit Sedative), Beggar have shared stages with the likes of Eyehategod, Slabdragger, Elephant Tree, The Obsessed and appeared at Bloodstock Festival in 2019.
Buy Compelled To Repeat here: https://thusspokethebeggar.bandcamp.com/album/compelled-to-repeat
Find out more about the band 
Facebook || Bandcamp || Spotify || Instagram || APF Records