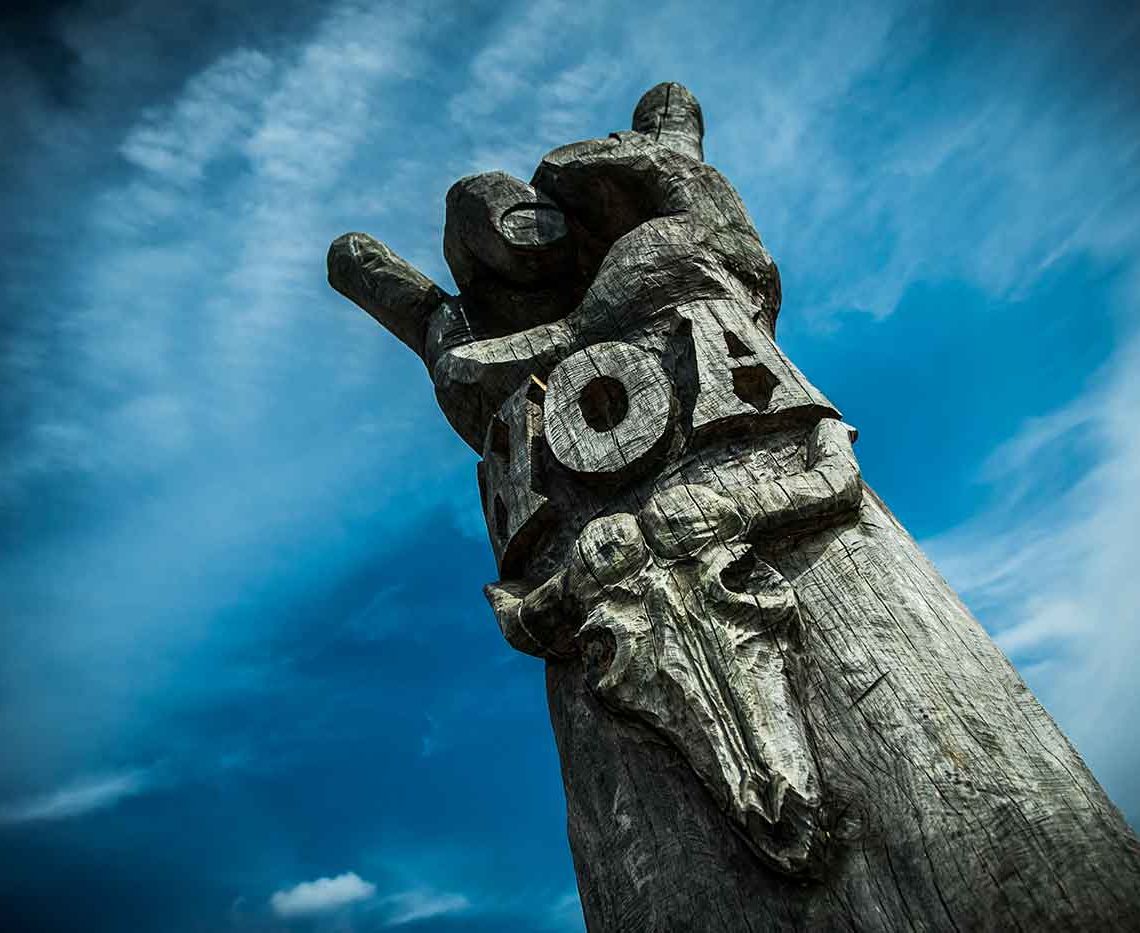 Nikki Goes To Wacken 2018 Part 2 (Friday – Saturday)
18th August 2018
Friday suddenly appeared at Wacken Open Air festival 2018 and seemed very promising, but little did I know, it would end in a dramatic trip to the medic tent. Now the German drinking game of 'Flunky ball', or 'Leg Ball' as our crew calls it, has definitely found its permanent home on the campgrounds of Wacken. Over the years the ball in this game has been substituted for many bizarre items, but on this morning, we awoke to join our neighbours in a game like no other. At first the hilarity of an enormous, black horse dick dildo which was used as the ball was too much to bear. The dildo would awkwardly hit the ground, bounce around in the dirt then spring back up to smack a player in the face. But the second item bought this game of Flunky ball to the extreme, these bastards produced a fricken car tire! We were surprised no one lost an eye to be honest, our team had no chance, so of course they left shit faced. Only in Germany. Meanwhile, the Mexicans brought out the mescal and an electrocution device, then the party really got started. To watch a large group of people screaming for more, all drunk on Mescal, holding hands in a circle, sharing electric shocks, while a Mexican in a roaring velociraptor mask is in control of the dial, is just utter pandemonium. Even just this sentence is one of the most ridiculous I've ever written.
Walking through the Wasteland, we visit our friends the Wasteland Warriors, all kitted out in their Mad Max garb. They do a car drive through the festival screaming at passers-by and wielding their axes and chainsaws. They run cage fights during the day, where fighters rip each other apart and fight for their lives for public view. This was the hottest year so far for me, with temperatures soaring above 30 degrees, every time we hit the bar, I'd order a billion cold beers and beg them to hose me down with water. One of our crew even ended up on an IV drip in the medic tent with heat stroke. Although it was hard to cool down and the dust was in your every orifice, I'd still say it was way better than the knee-deep mud and torrential rain from every other year.
We decided we should probably go and see some bands, although the rest of the festival was entertaining in itself. The queen of Wacken Doro rocked her Wacken anthem in the infield, for her annual performance and celebrating her 35th anniversary. She is not only a true ambassador of metal but she is a staple of this festival, a Wacken without Doro would be a sad time. Other highlights of the day were Swedish soul babes Blues Pills, who turned the Bullhorn city circus tent into a 70's dance party. German two piece Mantar killed it with the absolute bedlam they create on stage and were my main highlight of the festival.
The late night headliners of the day playing to a booze filled crowd at 1:45am were pop hymn lovers, Ghost. Now by this late in the night I'd be lying if I said I didn't have to pump myself full of Jäger bombs to stay alive, but we had somehow managed to keep most of our group together and it was my favourite moment of the entire festival. All of us were there, watching Ghost, finally play at Wacken, smiles from ear to ear and absolutely shit-faced. All was going well until one drunk friend tried to put another drunk friend on his shoulders and well, lets just say it wasn't very well executed. Somehow in the madness I got a swift kick to the face which knocked me to the ground. I looked down and I was pouring out blood that was probably 95% alcohol by this point. I was not leaving. I put a tissue to my nose and held my blood soaked horns high in the air and continued, screaming "I'm fine! I'm fine." That is until my friend made me go to the medic, considering everyone in a metre radius of me was getting covered in my blood. Metal! You may be bleeding everywhere, but if you have Ghost, you have everything! I got walked passed the stage, by security and drunkenly tried to flail around, waving at Ghost. The next hour in the medic tent was a mix of tears and laughter as I tried to flirt with the German doctors, my friend filled out my paperwork, laughing at my misfortune but suddenly coming to the realisation that my nose was broken and I had a split lip. There was a lot of drunk-laugh-crying. Arriving back at camp to find the boys in drag makeup and the Mexicans still drinking mescal, I pumped myself full of codeine and went to bed with an icepack on my face.
No it wasn't a bad dream, it happened, more upset that I missed the last few Ghost songs, I powdered my nose with makeup and wiped off the dry blood for the last day of the Festival. This was it. Having a camp in such a central location in the same spot every year, means people know where to find you. Every time I came back to camp, friends had left me deliveries. I had daily snus deliveries from my Norwegian pals not to mention the glorious melted TimTams and Vegemite deliveries from the Aussies! Having the country flags up always attracts attention too, an Aussie guy found his way to our camp and after chatting we realised we knew each other in Brisbane ten years ago!
Nothing prepares you for the madness of Wacken, nor can you be as prepared as you need to be, so you just have to let go of creature comforts and enjoy the ride. I mean this year I thought I was so prepared, I even organised a camp toilet and tent for those early morning painful piss breaks and all was well until someone took a shit in it! Anything goes here in our mini metal city, one night at camp, I went to buy a cocktail and a group of nudists had decided to strip off for some unknown reason. They were just walking around naked, drinking sangria and convincing others to join their naked, Wacken cocktail cult. Whatever floats your boat I guess!
The last day of Wacken is when you remember all of the things you said you would do this year, First stop, the post office across from our camp to send Wacken postcards to anywhere in the world. Did you buy too much merch and worried about getting it home? No stress, you can send it home from the in-festival shipping and parcel office! Band highlights of the day were about to get started. We put on our pirate eye patches and earrings and told everyone to Get fucked with an anchor with Alestorm. Twenty of my dickhead friends sat in the dirt and rowed in an imaginary rowboat, some guys crowd-surfed in a blow up boat and some absolute legends crowd-surfed the entire length of the Wacken crowd with one guy standing/ surfing on another guys stomach.
Steel Panther were hilarious as usual, with the set consisting more of banter and on-stage antics than songs. Stix pulled out a great impression of one-armed Def Leppard drummer, Rick Allen by drumming with one arm hidden inside his shirt, while the rest of the band did a great job getting girls to show their boobies. 17 Girls in a row, turned into about 100 topless girls on stage, taking selfies and dancing like strippers, the band couldn't even move on stage, it was out of control! Biggest surprise of the day was three piece Kiwi teens, Alien Weaponry, who played to a mammoth crowd in the Wasteland. The pit was a total dust bowl and the punters loved their Maori take on sludgy thrash metal. The atmosphere was manic, the flame throwers were so high, I think I lost an eyebrow. Imagine being 16 years old, already being signed to Napalm Records and now playing a late night slot on the last night of Wacken Open Air, I mean, where do you even go from there? Bigger I say, these guys are one to watch, they are going places.
Final headliners of this years festival German heavy metal pumpkin lovers Helloween, played on the Harder stage and harder than ever before. Performing for their Pumpkins united tour, reuniting past members Kai Hansen and Michael Kiske, I have no idea how they kept their energy up for a two and a half hour set. After coming out for two encores, they finally said goodnight with I Want Out, which was a perfect soundtrack to the fireworks that shot into the sky from behind the stage. The searchlights were gleaming into the night, the bullhorn shined bright and dozens of oversized pumpkin balloons were being bounced on thousands of glowing heads in the infield.
Heading back to camp to drink the last of the booze with our buddies before we go back to being normal humans again and it all becomes some weird dream. For most that return to the holy land, this place is the pinnacle. There is no bigger celebration of metal in the world. This is it. We celebrate being the black sheep, the losers in high school, being the weird ones in our work office or even being an outcast in the eyes of society. This place, this dirty cow field somewhere in the North of Germany is our break from the normality of mundane life and for one week every year, becomes our home. A place to release, let go and a place where differences are celebrated rather than judged. If you haven't been to Wacken, remember when you're there that your time is what you make it, meet everyone you can, burn all the fucks that you give in everyday life and just get involved and I assure you, you will have the time of your life. There is a reason why Wacken Open Air is sold out every year.
As I'm off to go get a Wacken tattoo, I shall leave you with the words of our Doro;
"We are, we are the metalheads
You think we're crass, but we kick ass,
We are, we are the metalheads
Don't wanna sound like you 'cuz our life is true!"

For all things Wacken related, click HERE and to read part one, click HERE