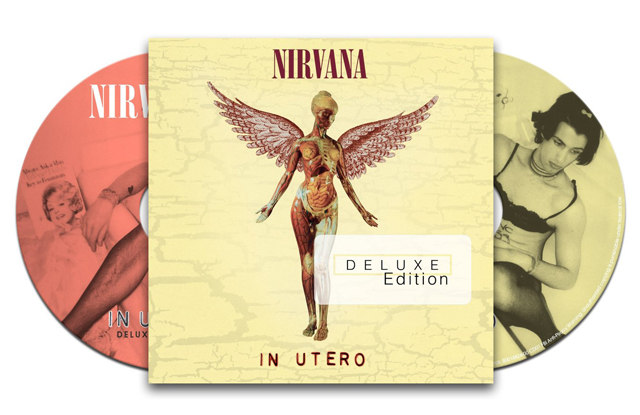 Nirvana – In Utero (20th Anniversary)
12th September 2013
Nirvana were undoubtedly THE biggest band to come out of the Seattle grunge movement in the 1990's and when I first started this website I never thought I would be reviewing a Nirvana album (for more than 1 reason) but I guess I thought wrong because here you are reading this Nirvana review of the 20th Anniversary of In Utero.
So, what do you get with this release? Well, you get a total of 60 songs and a DVD containing their complete set at "Live & Loud" show at Seattle's Pier 48, on the 13th December 1993 which is another 29 songs – a staggering total of 89 songs!
The liner notes are really good, containing photos of the band, recording costings, letters from PR people to Nirvana and more – these are the "War and Peace" of liner notes.
I cant tell much difference between CD1 and CD2 (Remastered and 2013 mix), I'm sure there are differences to the original recording and this would have been better placed than having both a remastered and 2013 mixes. None the less, the quality of the recordings is good and the concert is also good. I never got to see them live, although I was due to see them in Manchester on the tour that Kurt took his own life so this now is the closest you or I will get to see/hear them live.
Apart from not telling a difference in sound between CD1 & 2, this is a well put together CD, the liner notes are good and as of writing this review Amazon have it for pre-order at £14.99 which is an absolute bargain!
Score 7.5 out of 10
[box_dark]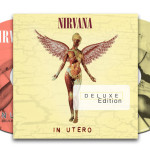 ALBUM INFO:
Band: Nirvana
Album: In Utero (Deluxe Edition – 20th Anniversary)
Record Label: Universal
Release Date: 23rd September 2013
Band Website: www.nirvana.com
Track Listing:
CD1 (Original album plus all B-sides & bonus tracks recorded at Pachyderm):
01 "Serve The Servants" (Albini mix/original release)
02 "Scentless Apprentice" (Albini mix/original release)
03 "Heart-Shaped Box" (Litt mix/original release)
04 "Rape Me" (Albini mix/original release)
05 "Frances Farmer Will Have Her Revenge On Seattle" (Albini mix/original release)
06 "Dumb" (Albini mix/original release)
07 "Very Ape" (Albini mix/original release)
08 "Milk It" (Albini mix/original release)
09 "Pennyroyal Tea" (Albini mix/original release)
10 "Radio Friendly Unit Shifter" (Albini mix/original release)
11 "tourette's" (Albini mix/original release)
12 "All Apologies" (Litt mix/original release)
13 "Gallons Of Rubbing Alcohol Flow Through The Strip" (ex-U.S. bonus track)
14 "Marigold" (B-side; "Heart Shaped Box)
15 "Moist Vagina" (B-side; "All Apologies")
16 "Sappy" (No Alternative compilation track)
17 "I Hate Myself And Want To Die" (The Beavis & Butt-Head Experience compilation track)
18 "Pennyroyal Tea" (Litt mix)
19 "Heart-Shaped Box" (Albini mix/unreleased)
20 "All Apologies" (Albini mix/unreleased)
CD2 (2013 album mix plus pre-album demos):
01 "Serve The Servants" (2013 mix)
02 "Scentless Apprentice" (2013 mix)
03 "Heart-Shaped Box" (2013 mix)
04 "Rape Me" (2013 mix)
05 "Frances Farmer Will Have Her Revenge On Seattle" (2013 mix)
06 "Dumb" (2013 mix)
07 "Very Ape" (2013 mix)
08 "Milk It" (2013 mix)
09 "Pennyroyal Tea" (2013 mix)
10 "Radio Friendly Unit Shifter" (2013 mix)
11 "tourette's" (2013 mix)
12 "All Apologies (2013 mix)
13 "Scentless Apprentice" (Rio demo)
14 "Frances Farmer Will Have Her Revenge On Seattle" (Laundry Room demo)
15 "Dumb" (Word Of Mouth demo)
16 "Very Ape" (Rio demo)
17 "Pennyroyal Tea" (Word Of Mouth demo)
18 "Radio Friendly Unit Shifter" (Word Of Mouth demo)
19 "tourette's" (Word Of Mouth demo)
20 "Marigold" (Upland Studios demo)
21 "All Apologies" (Music Source demo)
22 "Forgotten Tune" (Rehearsal)
23 "Jam" (Word Of Mouth demo)
CD3 (Live & Loud: Live at Pier 48, Seattle, WA – 12/13/93):
01 "Radio Friendly Unit Shifter"
02 "Drain You"
03 "Breed"
04 "Serve The Servants"
05 "Rape Me"
06 "Sliver"
07 "Pennyroyal Tea"
08 "Scentless Apprentice"
09 "All Apologies"
10 "Heart-Shaped Box"
11 "Blew"
12 "The Man Who Sold The World"
13 "School"
14 "Come As You Are"
15 "Lithium"
16 "About a Girl"
17 "Endless, Nameless"
DVD (Live & Loud: Live at Pier 48, Seattle, WA – 12/13/93):
01 "Radio Friendly Unit Shifter"
02 "Drain You"
03 "Breed"
04 "Serve The Servants"
05 "Rape Me"
06 "Sliver"
07 "Pennyroyal Tea"
08 "Scentless Apprentice"
09 "All Apologies"
10 "Heart-Shaped Box"
11 "Blew"
12 "The Man Who Sold The World"
13 "School"
14 "Come As You Are"
15 "Lithium"
16 "About A Girl"
17 "Endless, Nameless"
EXTRAS:
18 "Very Ape" (Live & Loud Rehearsal)
19 "Radio Friendly Unit Shifter" (Live & Loud Rehearsal)
20 "Rape Me" (Live & Loud Rehearsal)
21 "Pennyroyal Tea" (Live & Loud Rehearsal)
22 "Heart-Shaped Box" (Original Music Video + Director's Cut)
23 "Rape Me" (Live on "Nulle Part Ailleurs" – Paris, France)
24 "Pennyroyal Tea" (Live on "Nulle Part Ailleurs" – Paris, France)
25 "Drain You" (Live on "Nulle Part Ailleurs" – Paris, France)
26 "Serve The Servants" (Live on "Tunnel" – Rome, Italy)
27 "Radio Friendly Unit Shifter" (Live in Munich, Germany)
28 "My Best Friend's Girl" (Cars cover) (Live in Munich, Germany)
29 "Drain You" (Live in Munich, Germany)[/box_dark]