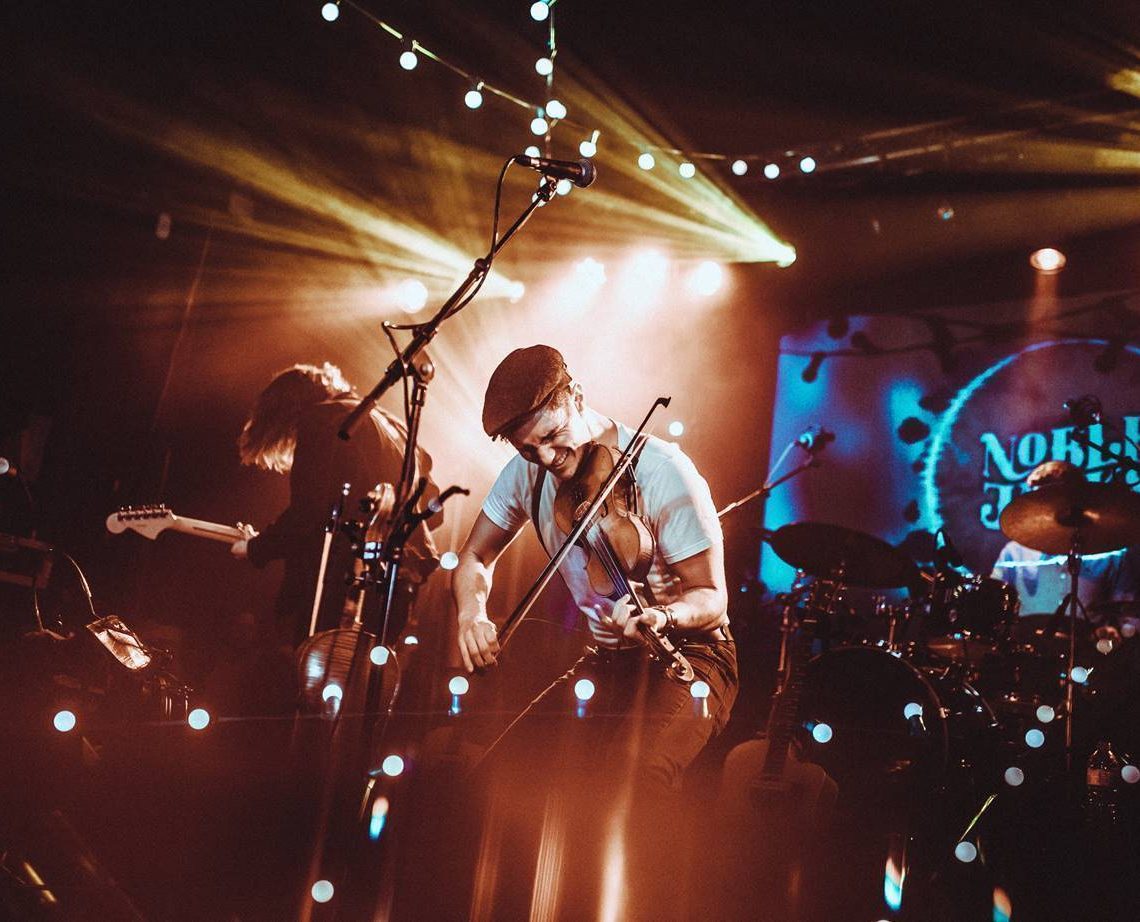 Noble Jacks Reveal the New Lyric Video for Their Latest Track, 'This Is Real',
6th December 2019
Brighton-based, high-energy roots, folk and Americana band, Noble Jacks are delighted to reveal the brand-new lyric video for their track, 'This Is Real'. Taken from Noble Jacks' 2019 album 'Stay Awake', '
Check out This Is Real here –
Noble Jacks have also been touring relentlessly throughout 2019, strengthening their profile and rep, and at the end of November completed their UK Autumn tour – including an incredible sold-out London show at The Black Heart in Camden.  The Jacks' Will Page has also been nominated for the UK Instrumentalist of The Year award in the UK Americana Awards 2020.
"We just had an absolute blast on our UK Autumn tour, seeing so many friendly faces and new!" say band members Will Page and Matty Deveson, "We love the adventure of touring the UK, and were blown away by the numbers that turned out to our shows, including of course our sold-out show in London! It's so warming to have such supportive friends and fans coming out for a good stomping night with Noble Jacks!"
'This Is Real' is taken from Noble Jacks' 10-track second album, 'Stay Awake'. The band's follow-up album was released in Spring 2019, went straight into the Top 10 Official Album Charts, and was unveiled at a sold-out launch party at Brighton's #1 live music venue Concorde2, before the Jacks took the liveliest show around out on the road, with a full UK tour covering all points of the compass, plus their appearances at festivals.
Of 'This Is Real', Will and Matty say, "We're really excited to share this new video, which shows a slightly alternative side to Noble Jacks. The song is really about meeting your hero and plucking the courage to talk to them, fantasizing about befriending them. It's about realizing we're all just human, and the come down to earth: a bit like when we get home from awesome shows across the country.  The song also reminds us of late night drives back to Brighton, on our way home from shows, so we incorporated a bit of this in the video too. We love our home city, and it turns out Brighton looks pretty great at night!"
Watch the video and you'll see the Noble Jacks roaming Brighton by night: beaches, road, streets and lanes, shrouded in night but often bejeweled with bright white and colorful lights, as you'd expect of the country's most famous seaside resorts. And throughout the song unfolds, along with the Jacks' jaunty, jangling riffs.
Website:  https://www.noblejacks.com/