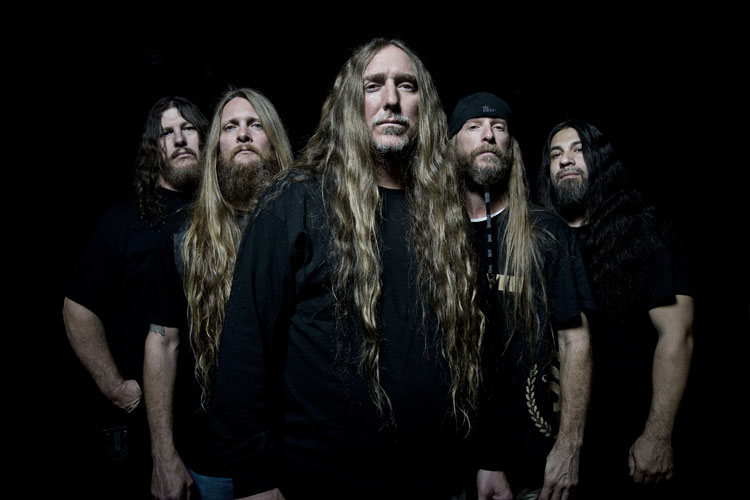 Obituary Artwork and Track Listing Revealed
7th August 2014
Video ID not provided: Please check your shortcode.
Death metal legends OBITUARY make their Relapse debut with Inked In Blood, their 9th full length LP.  Almost three decades in, Inked In Blood stands out as one of the finest moments in OBITUARY's already godlike discography. Inked in Blood will be released October 28th in North America (UK/World October 27th and Germany/Benelux/Finland on October 24th) via Relapse Records. Today the artwork and track listing have been revealed. Pre-orders for Inked in Blood will be available soon!
The riffs, groove, snarl and rage are as fierce as ever, putting most all other contemporary death metal bands to shame. OBITUARY are THE definitive death metal band, and Inked In Blood is an instant classic among their already storied catalog. OBITUARY are both the originators and the torchbearers of the genre!  Inked In Blood is the sound of true death metal kings reclaiming their throne!!!
The band is currently wrapping up a festival circuit in the UK and Europe and nowOBITUARY have been confirmed as direct support for the upcoming "Death (DTA Tours) with Massacre and Rivers of Nihil in North America.  Additional UK tour dates will be announced shortly.  A complete list of dates can be found below.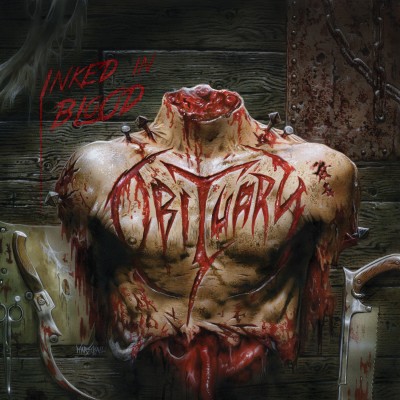 1. Centuries of Lies
2. Violent By Nature
3. Pain Inside
4. Visions in my Head
5. Back on Top
6. Violence
7. Inked in Blood
8. Deny You
9. Within a Dying Breed
10. Minds of the World
11. Out of Blood
12. Paralyzed With Fear
OBITUARY European Tour
8/7: Jaromer, CZ @ Brutal Assault Festival
8/9: Schlotheim, DE @ Party San Open Air Festival
8/10: Derbyshire, UK @ Bloodstock Festival
8/14: Rasnov, RO @ Rockstadt Extreme Fest Festival
8/16: Dinkelsbühl, DE @ Summer Breeze Festival
8/17: Vannes/Saint-Nolff, FR # Motocultor Festival
OBITUARY on The Death to All Tour, w/ Massacre and Rivers of Nihil
11/14: Los Angeles, CA @ Club Nokia
11/15: Ramona, CA @ Ramona Mainstage
11/16: San Francisco, CA @ DNA Lounge
11/18: Seattle, WA @ Studio Seven
11/19: Vancouver, BC @ The Rickshaw Theater
11/21: Calgary, AB @ MacEwan Ballroom
11/22: Regina, SK @ Riddell Centre
11/23: Winnipeg, MB @ Park Theatre
11/24: St. Paul, MN @ Amsterdam Bar & Hall
11/25: Chicago, IL @ Metro
11/26: Cleveland, OH @ Agora Theater and Ballroom
11/27: Toronto, ON @ The Opera House
11/28: Montreal, QC @ Le National
11/29: Allston, MA @ Brighton Music Hall
11/30: New York, NY @ Best Buy Theater
12/3: North Springfield, VA @ Empire
12/4: Charlotte, NC @ Tremont Music Hall
12/5: Atlanta, GA @ The Masquerade
12/6: Tampa, FL @ Orpheum
12/7: Miami, FL @ Grand Central
Obituary Band Photo Credit: Ester Segarra