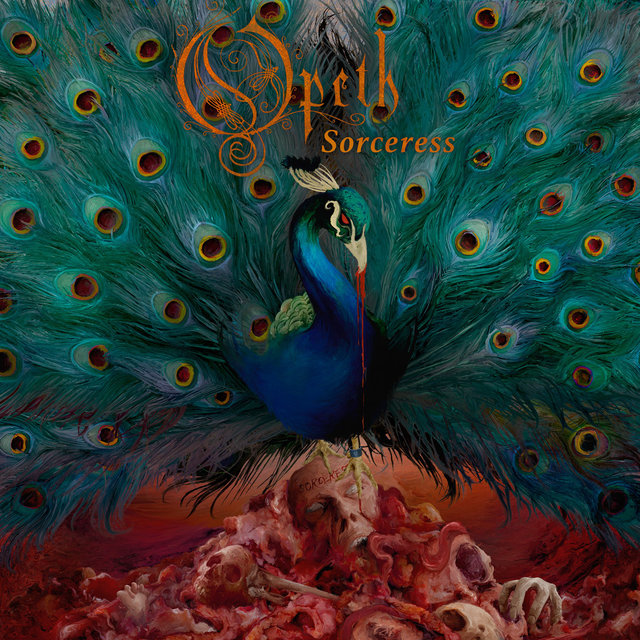 OPETH reveal album title track, 'Sorceress' & lyric video
1st August 2016
As the heavy rock scene braces for one of the year's most anticipated albums, experimental prog pioneers OPETH have declared the wait over.  Today, the band has unveiled the first new song and title track, 'Sorceress,' from their upcoming 12th studio album due out 30th September via the band's imprint label, Moderbolaget Records through Nuclear Blast Entertainment.
Listen to 'Sorceress' and read an exclusive interview with Mikael Åkerfeldt now at RollingStone.com: http://www.rollingstone.com/music/features/opeth-on-how-romantic-mindf–ks-obscure-prog-inspired-new-lp-w431901
Comments OPETH frontman/guitarist, Mikael Åkerfeldt, "Here you go kids!  Here's the title track, 'Sorceress,' combined with the now obligatory lyric video.  Why not eh?  We're happy with the tune.  It's heavy, a bit 'meat and potato,' but what the hell…we love it!  Hope you do too!"
Additionally, a variety of physical copies of 'Sorceress' can be pre-ordered from today.  The record will be available in an array of formats & limited editions including a standard CD, 2CD Digipak, 2LP vinyl (in various colours at 180 gram) and a Deluxe Edition Wooden Box Set.   Details and e-stores are listed below.
Nuclear Blast Store: http://www.nuclearblaststore.co.uk/shop/nuclearblast/products.php?cat=4894 (coloured vinyls & box set)
OPETH Store (Euro): http://store.moderbolagetrecords.com/ (exclusive silver vinyl available)
Digital pre-orders will be available tomorrow via iTunes: http://nblast.de/OpethSorceressIT, Amazon: http://nblast.de/OpethSorceressAMZMP3 and Google Play: http://nblast.de/OpethSorceressGP.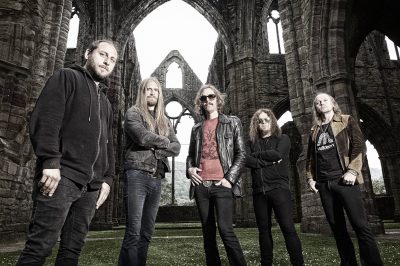 UK fans can catch OPETH live at the SSE Wembley Arena on 19th November.  Tickets are available at http://www.livenation.co.uk/artist/opeth-tickets. 
Sorceress Formats:
Standard CD:
1. Persephone
Sorceress
The Wilde Flowers
Will O The Wisp
Chrysalis
Sorceress 2
The Seventh Sojourn
Strange Brew
A Fleeting Glance
Era
Persephone (Slight Return)
2CD Digipak:
CD 1
1. Persephone                                                                                              
2. Sorceress                                                                                                        
3. The Wilde Flowers                                                                                  
4. Will O The Wisp                                                                                      
5. Chrysalis                                                                                                      
6. Sorceress 2                                                                                                
7. The Seventh Sojourn                                                                              
8. Strange Brew                                                                                            
9. A Fleeting Glance                                                                                          
10. Era
Persephone (Slight Return)                                                                

CD2 (bonus)
1. The Ward

Spring MCMLXXIV
Cusp Of Eternity (live)
4. The Drapery Falls (live)
5. Voice Of Treason (live)

2 x LP vinyl (180 gram, various colours):
Side A
1. Persephone                                                                                              
2. Sorceress                                                                                                        
3. The Wilde Flowers                                                                                  
4. Will O The Wisp                                                                                      
Side B
5. Chrysalis                                                                                                        
6. Sorceress 2                                                                                                
7. The Seventh Sojourn                                                                                
Side C
8. Strange Brew                                                                                            
9. A Fleeting Glance                                                                                          
10. Era                                                                                                                
11. Persephone (Slight Return)                                                                
Side D
12. The Ward (Bonus Track)
13. Spring MCMLXXIV (Bonus Track)

Deluxe Wooden Box Set:
* Sorceress red & beige colored 2LP / 180g
* Sorceress 2CD digipak w/ bonus tracks
* Sorceress 5.1 mix DVD in slip sleeve
* Peacock quill (pen style)
* Notepad
* 12" poster of cover artwork
* Lenticular
* Pin of artwork
* 12" signed photocard w/ Opeth promo photo
* Hand number 0001 – 20000 box. /short: numbered certificate
* Parchment paper with Opeth logo watermark

Retail Box Set (Europe Only):
* Sorceress rosewood colored 2LP / 180g
* Sorceress 2CD digipak w/ bonus tracks
* Sorceress 5.1 mix DVD in slip sleeve
* 12" poster of cover artwork.
* 12" photocard w/ Opeth promo photo
* Parchment paper with Opeth logo watermark
https://twitter.com/OfficialOpeth
https://www.facebook.com/Opeth
https://www.instagram.com/officialopeth
https://www.youtube.com/user/OpethOfficial