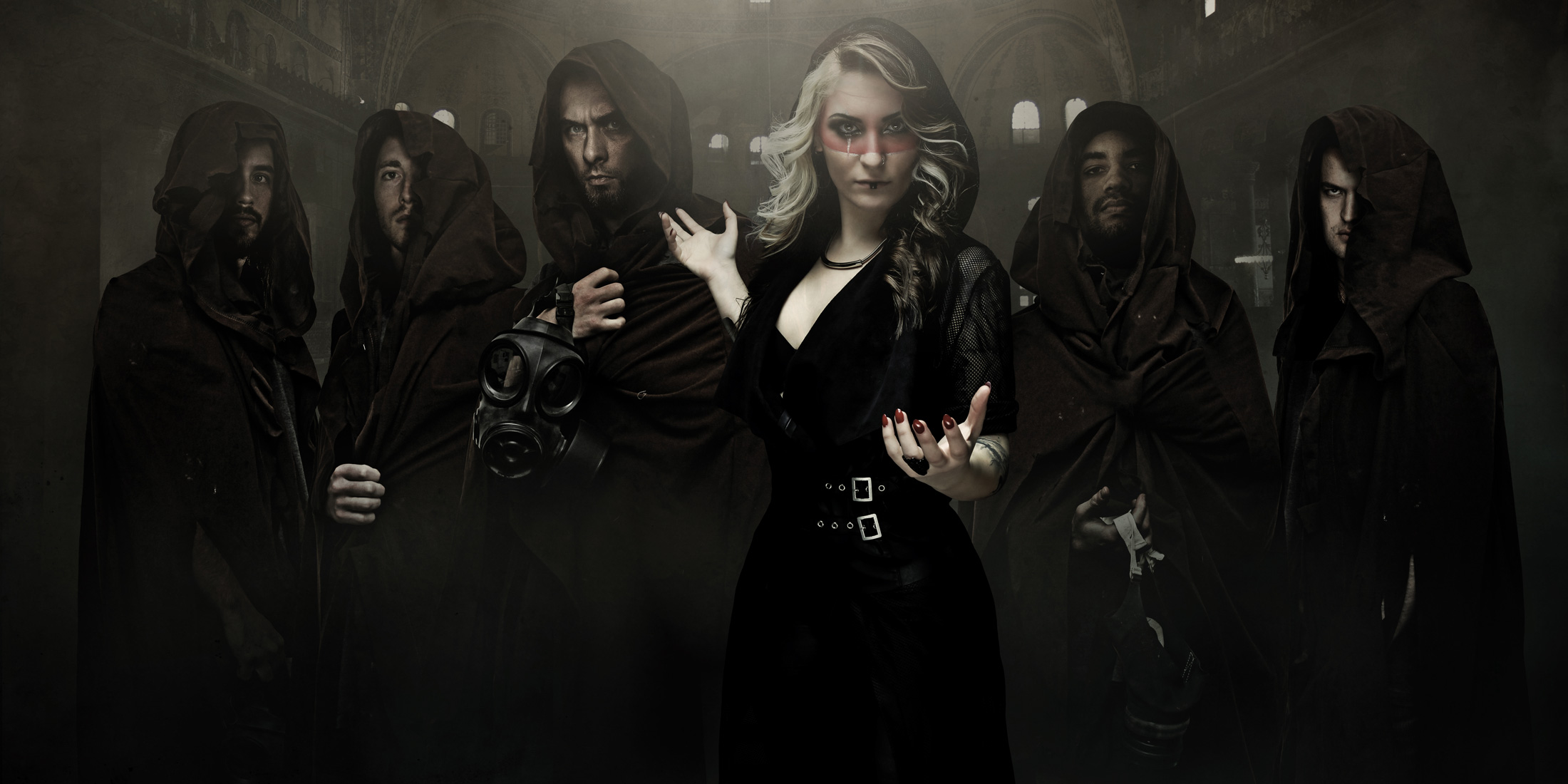 Oracles: Sven de Caluwé Interview
26th June 2016
After reviewing Oracles' brilliant debut, Miserycorde, I was able to have a chat with the legendary Sven de Caluwé – frontman of both Oracles and Belgian death metal heroes Aborted.
All About The Rock: Hello, thanks for taking the time to chat today! How are you all doing? 
Sven de Caluwé: It's going great thanks for asking, I think we should be more worried how you should be feeling right now honestly with all this Brexit talk that's going on! But honestly we are just excited to have our first album out, which hopefully will change our lives in a very defining way… or maybe not… or will it?

AATR: For anyone unfamiliar with Oracles, can you introduce yourselves please? 
Sven: Hi! We are Oracles, we play songs, very weird songs with lots of stuff in them, these, chansons, if you will, have been crafted over the last few years from what remained from another orchestra called System Divide. We have members from other bands, we even have a Greek singer which we actually got for free due to the crippling debt of Greece to the EU – fortunately she has quite the pipes and can handle a note or two! As for the music, imagine it some sort of avant garde (Fancy words, I know right!) yet eloquent and brutal mixture of anything out there in metal, going from symphonic to brutal to groovy to technical. It has a certain 'je ne sais quoi' as the peasants would say… or it doesn't, it's really just a bunch of musicians having a good time with music and trying to create something unique.

AATR: So we're gearing up to the release of Miserycorde! Are you excited for everyone to hear it? 
Sven: Oh boy are we! I think mainly Sanna is now urinating uncontrollably on a daily basis and is running up the walls to get this puppy out. As for the rest of us, yes sireeeee! We are all kinds of excite! It actually took a good 2-3 years from start to finish and so much blood, sweat, tears and the eventual drop of semen went into this record, so it's a great feeling of release (harhar) to finally get it out to the world, hopefully people will enjoy it!

AATR: Can you walk us through your creative process? 
Sven: It all starts in the kitchen, always, because food. Period! Other than that most of the record has been written by Mendel, Ken wrote some stuff too and then the whole band was involved when it came to structures and finishing up the writing. Sanna  joined in last and added her spunk to the mix as well, once all the band stuff was written we had our friends Rob from Toxic Grind Machine and Alex from Highway Superstar throw on most of the samples and here we are!

AATR: What inspired the lyrics on this record? 
Sven: Our wonderful society, it really IS a never-ending source of inspiration. All of the joy and great things that are happening right now, form such a delightful view of the world and what we can talk about. You can say many things about humans, but you can't say they're not trying their best to fuck their own lives up any given day. It's quite shocking to me that people seem so distracted by other people's problems and so focussed on immigration issues and religion that they seem to forget to actually look for what makes them happy, rather than swallow a load of crap about what makes them unhappy.

AATR: And are there any lyrical concepts you want to explore in the future? 
Sven: Well our first album is about to come out, so eh, I am sure we won't run out of steam on lyrical topics when looking around what's happening and all that, so plenty of issues to discuss hahaha!

AATR: You had a few big names guest on the album – how did that come about? 
Sven: I know Mendel Bij De Leij is quite a mouthful but he really is a kind fellow. Oh the guests! Yes! Well we knew all of them, they were friends and happy to contribute actually: Aborted toured with The Black Dahlia Murder and we just asked Ryan on the spot of he wanted to do a guest solo and he agreed. With Ryan being one of Mendel's favourite guitarists, it was definitely something special for him. Per, we knew as well he came out to a few aborted shows in the past and bought the entire town of Gothenburg kebabs that one night, so a guest appearance wasn't so much of a stretch for us. Jeff, we got in touch with since Dirk, who is a good friend of mine, did drums on his record and introduced us, we also met him during one of the Aborted US tours as we shared some crew members. And actually ex-System Divide guitarist Greg Macklin was playing for Loomis for a while, so small world!

AATR: What are your favourite tracks on Miserycorde? 
Sven: Uhh that's tough, since it's been in the works for 2-3 years we've all well heard it by now hahaha! I would say probably Body of Ineptitude, Scorn, Catabolic (I Am) and perhaps We The Indifferent.

AATR: Are there any plans in the works to tour the album? Can we expect a run of dates in the UK anytime soon? 
Sven: Not sure, we are playing a few summer festivals and then going to play a festival in Norway this October. It is hard to schedule in Oracles shows due to our location and the busy schedule of Aborted, we have to plan around everything, not every member is also as available all the time so when we do have a show we try to make the most of it. We are also not the kind of band that want to play long ass tours for no reason all year long, if we tour, it will have to be something that we are 100% behind and motivated to do.

AATR: And how would you, Ken and Mendel feel about pulling double duties – Aborted and Oracles on tour together? 
Sven: We are pulling double duties on the festivals, as far as touring goes, we have done it with System Divide in the past and honestly both bands musically don't mash up too well to begin with, tis a whole different experience and I think we would be fine just playing once every day.
AATR: How have you found working with Deadlight for this release? 
Sven: Well the release is around the corner so we are about to find out! So far Alex has been really cool and supportive, he only works with bands he likes and believes in so that's a good thing to work with someone passionate and still a music fan in the first place!
AATR: What bands do you feel have had an impact on your sound? 
Sven: Hmmm. that's  tough one, I would say for sure Septicflesh, Fleshgod Apocalypse, Periphery, Veil of Maya, Meshuggah, Katatonia and even bands like Epica and Lacuna Coil and so on.

AATR: What does the future hold for Oracles?
Sven: Right now, just focus on this album and promoting it, hopefully playing a bunch of cool shows and see what the future brings us!

AATR: Are there any underground bands you're really enjoying at the moment? 
Sven: Lots of up & coming local bands like Coma 7, Phantom Pain, Walkways, Ferium, Bear, our buddies in Whatever It Takes, Steak Number Eight, Off the Cross, Djerv…
AATR: Thanks for your time today! Have you any parting messages for our readers? 
Sven: Thanks for your killer review and the positive vibes/words! Thanks for your support and everyone reading this, check it out, I am sure the album is available for streaming by now so have a listen at it and if you like it, support the band!
How useful was this post?
Click on a thumb to rate it!
Average rating / 5. Vote count: