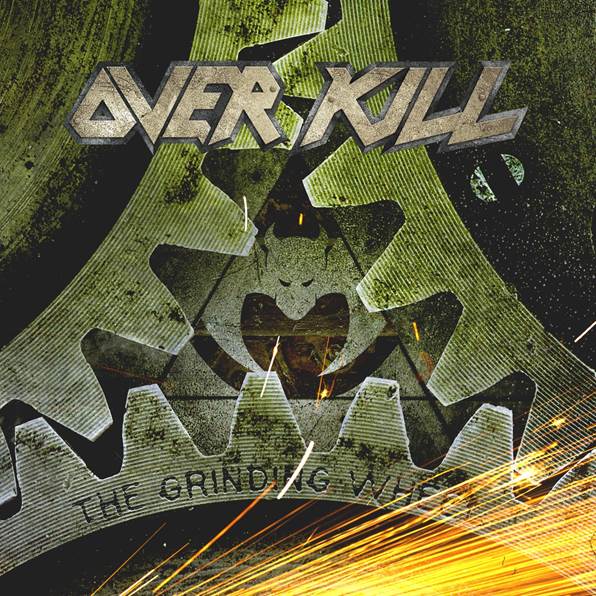 OVERKILL Announce their 18th studio album!
16th November 2016
Today, legendary New Jersey thrashers, OVERKILL, have announced their upcoming eighteenth album, 'The Grinding Wheel'.
The album will be released on February 10th, 2017 via Nuclear Blast.
Bobby 'Blitz' Ellsworth comments:
"Grinding on! Here we come again kids, strapped to the Grinding Wheel! Bang your head."
'The Grinding Wheel' was produced by the band and mixed by Andy Sneap (Testament, Exodus, Accept). The artwork was created again by Travis Smith (Nevermore, Opeth, Soilwork, Death…).
Below is the track listing for 'The Grinding Wheel':
1. Mean Green Killing Machine
2. Goddamn Trouble
3. Our Finest Hour
4. Shine On
5. The Long Road
6. Let's All Go To Hades
7. Come Heavy
8. Red White And Blue
9. The Wheel
10. The Grinding Wheel
Recently, the band released 'Our Finest Hour'. Enjoy an impression of the mighty thrash inferno with this lyric video and prepare to bang your heads even wilder in 2017:

You can purchase the 'Our Finest Hour' single digitally right now – available here:
https://itunes.apple.com/gb/album/our-finest-hour/id1169500425?i=1169500723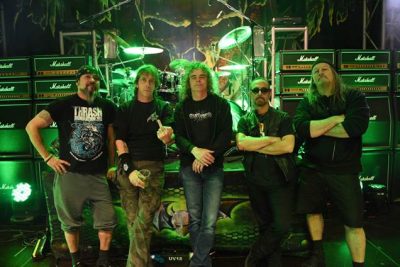 Although everybody seems to have a different account of who came first in the world of New York/New Jersey area thrash metal, it seems certain that New Jersey's Overkill have stayed around the longest, and have never let their fans down by remaining musically consistent and true to their roots for an impressive 35 years with an unprecedented 18 studio albums under their belts.
The massive contribution to thrash by heavy metal partners in crime Bobby "Blitz" Ellsworth and bassist D.D. Verni (who cofounded Overkill the same year Ronald Reagan was elected President) is undeniable and remains unchallenged by those in the know. Overkill were formed about one year before Slayer and Anthrax and a couple of years ahead of Metallica, with all of the aforementioned bands pushing forward a new style of music drawing from NWOBHM, hard rock and punk.
Through much hard work and a slew of infamous live performances at New York area clubs like L'Amours, Overkill established a reputation as a blue-collar, working man's metal band. After the band released a self-financed EP in 1984, Overkill broke onto the scene in 1985 with 'Feel The Fire', a crushing thrash assault. The self-proclaimed 'Wrecking Crew' – originally consisting of vocalist Bobby "Blitz" Ellsworth, bassist D.D. Verni, guitarist Bobby Gustafson, and drummer Rat Skates – were on a tear, borrowing heavily from punk rock roots while adding a venomous metal crunch that allowed them to compete favourably with peers like Testament, Anthrax, and Megadeth. The guys have been part of the Nuclear Blast family now since 2009 and are one of the most successful East Coast thrash bands in history.
Overkill Links: