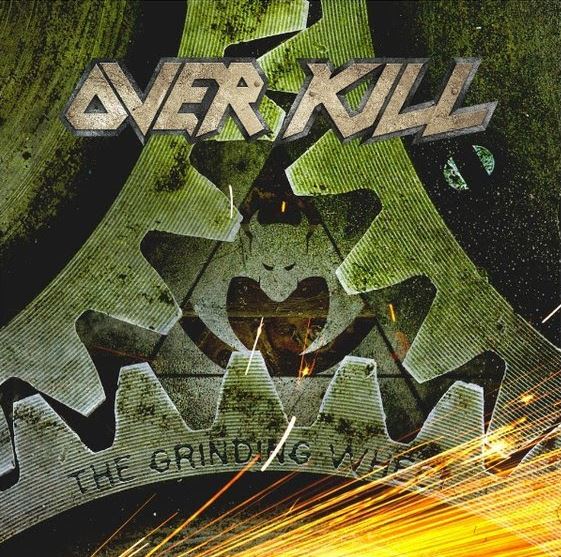 Overkill – The Grinding Wheel Album Review
28th January 2017
Let me set the scene for you. I'm 13/14 and I'm just getting into Heavy Metal music. I've got short but shaggy hair (you know the stage, you're growing it because you want it long but it's got a loooong way to go) and I'm reading an interview with Metallica and they're talking about bands that they'd been influenced by and who had come about on the Thrash scene before they did etc and I remember one of those names Overkill.
Just the name screams that the music is going to kick you right where you don't want it! So with my dial-up internet I get online and I look up this band, I find out what they're about and I look to the internet for guidance as to which album I should buy. I ended up with Horrorscope and from the first few haunting bars of Coma I knew this was going to be a band I could "rot my brain" with.
Fast forward 16 years and I'm sat listening to Overkill's latest offering – The Grinding Wheel – and although the line-up is different to that which put out Horrorscope the Overkill sound is there! This is as much down to Bobby "Blitz" Ellsworth's vocals as much as the guitar riffs and drumming. For a band to keep their sound and style for 30+ years can be seen as either a magnificent achievement in that they haven't bent to the wills of record labels who are looking for "newer" or "fresher" acts… or it can be seen as a bit like a band is stuck in its ways and left behind. The former definitely applies here. Some of their albums have had flavours of other styles where band members have changed and brought some of their own influence into the writing, but all-in-all Overkill are what they started as, a straight up Thrash Metal band.
This album starts off well with the song that has been available for a few months "Mean, Green, Killing Machine" which until the vocals start coming through could be mistaken for one of those beloved early Metallica riffs and shows the strength of the musicianship of this band. The album in itself consists of 10 songs and is 1 hour and 15 minutes long and I highly recommend listening to it! Overall I don't see it being a game-changing album. I don't mean this in a disrespectful way because I really like it. There is something in there for most metal fans I'd think. As mentioned earlier, you've got "Mean, Green, Killing Machine" which starts off and sounds like it would sit comfortably on a Metallica album and then you've got "Come Heavy" which has got a cool groove to it which has a bit of a Pantera-esque feel to it. The album doesn't bring anything revolutionary to the party, it just picks up where they leave off, delivering high-quality Thrash Metal.
All in, I'd give the album a 7 out of 10. This is due to my previous comments that it isn't a game changer, but it is definitely a strong album.
Score: 7 out of 10
Overkill – The Grinding Wheel Info
Track list:
Mean, Green, Killing Machine
Goddamn Trouble
Our Finest Hour
Shine On
The Long Road
Let's All Go To Hades
Come Heavy
Red White and Blue
The Wheel
The Grinding Wheel
Record Label:
Nuclear Blast
Release Date
10th February 2017
Band Website
https://www.facebook.com/OverkillWreckingCrew/