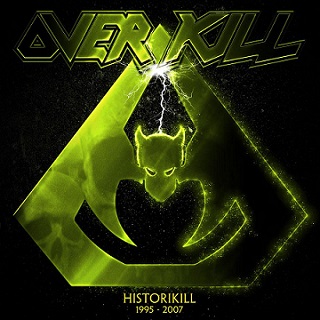 Overkill – Historikill 1995-2007 Boxset Review
17th October 2015
This stunning box set arrived this morning & it's more than I ever hoped for.
The box itself is incredibly well made & very sturdy & houses all the albums perfectly.
Speaking of the albums & comparing them to my old vinyl & old CDs, to my ears they have been upgraded sonically & sound as terrifyingly awesome as they did when they were all originally issued.
This box contains 9 studio albums, 2 live albums, a best of & a bonus disc of rare material, all in all 14 CDs & the majority of them come with a really nice booklet (apart from the bonus CD) & every case is a Digipak which is not what I was expecting at all.
Nuclear Blast & Overkill I tip my hat to you for creating a very nice product that looks a lot more expensive than it really is.
The bonus CD itself runs for just over 36 minutes & contains demos of Bloody Money, Horrorscope & Soulitude all from the Horoscope era that unfortunately is not covered by this box. (for a fuller explanation of why the earlier albums are not in this set please refer to our earlier interview with Blitz https://allabouttherock.co.uk/overkill-bobby-blitz-ellsworth-interview/)
The 1st 3 demos from Horoscope sound great, Not much different to the original release but it's an honor to hear the writing process behind (what I consider) to be the best Overkill album.
The next demo Killogy is taken from the I Hear Black sessions & has more of a bite to it that the original release.
Overkill have never been a "remix" act BUT there are 2 remixes on the bonus CD.
1st up is Old School which sums up Overkill in a no bullshit song & really should be their intro tape every night.

2nd remix is Skull & Bones which throws a whole new light on the track & it kinda proves that if Overkill were to become a remix band then it would work.
Under One is a tracking mix taken from the W.F.O era & is a great look behind the scenes of one of the most prolific bands in the studio.
The final track is The Man In Black which is a cover version of the Johnny Cash Classic & it's a slice of fun. Overkill play Country (which, if you're reading this guys. could be a new direction for you)
If you're a new fan to Overkill then you won't be disappointed to hear some great thrash & some of the finest musicianship in this genre.
If you're an old school fan then you know exactly what you're getting.
It's worthy of a purchase to retire your vinyl & upgrade the CDs.
So what albums are we getting?
I hear you cry.
1.1 Disc one: Wrecking Your Neck (1)
1.2 Disc two: Wrecking Your Neck (2)
1.3 Disc three: The Killing Kind
1.4 Disc four: From the Underground and Below
1.5 Disc five: Necroshine
1.6 Disc six: Coverkill
1.7 Disc seven: Bloodletting
1.8 Disc eight: Hello from the Gutter: The Best of Overkill (1)
1.9 Disc nine: Hello from the Gutter: The Best of Overkill (2)
1.10 Disc ten: Wrecking Everything Live
1.11 Disc eleven: Killbox 13
1.12 Disc twelve: ReliXIV
1.13 Disc thirteen: Immortalis
1.14 Disc 14: Bonus Disc
To say I love this box set is an understatement. Amazing value for money & for old & new school thrash fans it's a no brainer purchase
All in all I'm going to give this box 9/10 (falls short of the 10 as the bonus disc is just not long enough)
But it's still