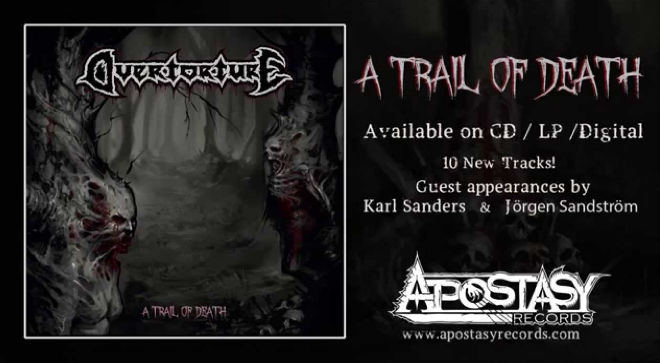 Overtorture – A Trail of Death
26th February 2015
Although Tampa, Florida is considered the mecca of death metal, Stockholm, Sweden is definitely its sister city across the pond with arguably just as rich of a tradition in churning out gritty and ugly death metal with a signature muddy guitar tone via the BOSS HM2 Pedal and plenty of frosty adult beverages.
Overtorture is a Stockholm style death metal band. Most of you reading this know exactly what to expect before you even spin one of these ten tracks and that is in no way a bad thing. No frills, no girl jeans, no overproduced vocals, no intention of winning over the American kids at the mall here. This is as much of a statement about what death metal should be as it is a homage to Entombed, Dismember, Grave, and God Macabre. Per the norm with this brand of sickness, the guitar is up front and stands out boldly in the mix with sheer ugliness.
Double bass infused drums lead the rhythmic charge to destruction and harken back to a time when the blast beat was still a tool yet to be mastered by punks like Septic Death and upstart bands like Repulsion. Although this style has seen quite a rejuvenation in the last few years with bands like Mammoth Grinder, Black Breath, and Trap Them unapologetically citing and celebrating the Entombed-esque style of guitar work and approach, Overtorture doesn't merely try to incorporate this into a body of work aimed (or seemingly aimed) at something unique and opts to simply recreate what they feel Dismember would be making if Dismember hadn't broken up.
Overtorture will not win any points in the originality category and I, as well as them I'm sure, couldn't care less. The music critic in me should deduct points for this, but I'm a fan before I am a journalist and let me be perfectly clear. This absolutely rips.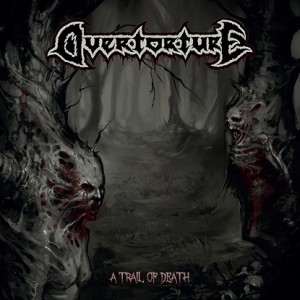 ALBUM INFO
Track List:
1. Embrace the End
2. Mirrorkin
3. Deep Dark Darkness
4. Razor Twilight
5. A Trail of Death
6. The Night Sky
7. Primitive Impulse
8. Maggots in Her Heart
9. Slither Inside
10. To Rend the Flesh
Release Date:
March 6th, 2015
Label:
Apostasy Records
For Fans of:
Entombed, Dismember, Grave, God Macabre, "Soulside Journey" by Darkthrone, Sweden, Mountains, Snow, Fjords, Vikings, Ikea, and Pippi Longstocking.