Planet Of The Dead – New Zealand Doom Band Stream Entire New Album "Pilgrims" At Doomed & Stoned
21st July 2021
New Zealand stoner and doom four-piece band Planet of the Dead are now streaming their entire second full-length album  "Pilgrims", just a few days ahead of its release, this Friday July 23rd. 
The full album is now playing in its entirety at Doomed & Stoned, who commented "A good album should do that to a person, draw you into its storytelling and musical colour. It has me listening to it immediately from beginning to end, then end to beginning. If you wanna give it a shot, Planet of the Dead's monsterpiece will definitely reward your back-to-back listens."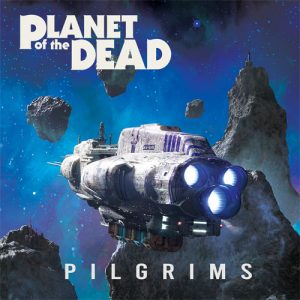 Listen to "Pilgrims" here. 
Watch the video for "Pilgrim here. 
Produced by James Goldsmith at The Surgery, Wellington, NZ and mastered by Brad Boatright at Audiosiege, Portland, US, the follow to "Fear of a Dead Planet" debut album set for release on July 23rd and sees Planet of the Dead churning out supermassive and megalithic riffs inspired in creepy tales of classic science fiction and horror. Pre-orders are now available here. 
If you missed it, watch the video for "Escape from Smiths Grove" at this location and the video for "Directive IV" here.  
https://planetofthedead.band 
https://www.facebook.com/planetofthedeadband 
https://planetofthedead.bandcamp.com 
https://www.instagram.com/planetofthedeadband