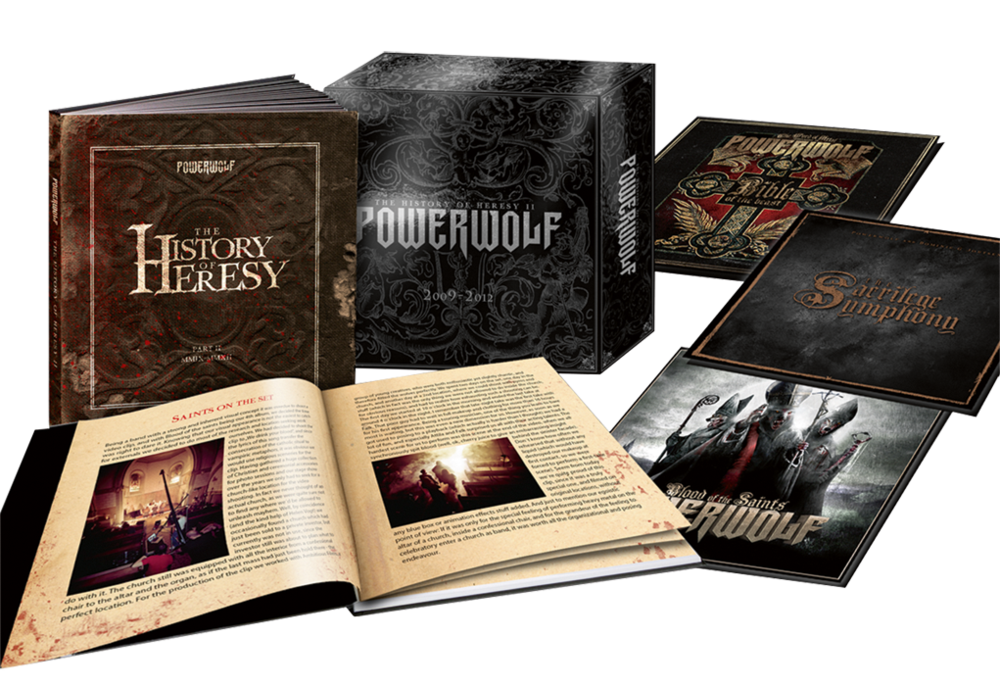 Powerwolf – History of Hersey II
19th January 2015
Right let's get straight to the point…just exactly what do you get in the History of Hersey II boxset? Well you get the bands 3rd and 4th albums ("Bible of the Beast" and "Blood of the Saints"), the EP The Sacrilege Symphony and it's all presented in a deluxe hardcover LP style sleeve. Which is also accompanied by a 128 page book littered with candid stories, tour and studio reports and never seen before pictures. The album "Bible of the Beast" comes with two bonus tracks, 'Testament In Black' and a cover of Running Wild song 'Riding the Storm'. The EP "The Sacrilege Symphony" was only previously available with the limited edition version of "Blood of the Saints".
So for any newbies to Powerwolf lets just begin with what you will get on these releases! You see Powerwolf play fast, hard Power Metal with a tinge of thrash (some of the earlier material has more of a thrash/doom feel) with lyrics about Werewolves and Vampire legends and also dark religious tales. However unlike the black metal bands of the 90s the Anti-Church lyrics are done tongue (well and firmly) in cheek. This is power metal to the extreme and will have you banging your fist and singing along to the chorus of each songs. In my opinion the album "Blood of the Saints" is the slightly better album, with more catchier riffs and sing-a-long choruses.
The EP "The Sacrilege Symphony" is a reworking of 5 songs but rearranged into an Orchestral version, this is quite good and show the songs in a different light. However I can't really see this EP being played to many times, although the rearrangement of the songs are good and vocalist Attila Dorn is spot on and his voice is fantastic. I will be honest, If you are new to Powerwolf or a diehard fan/collector then this boxset is a must and a steal at £24. If you already own any of the albums then I can't really see you purchasing this boxset, unless you want to upgrade.
BIBLE OF THE BEAST
SCORE – 8/10
SONGS TO DOWNLOAD – "Moscow After Dark", "Panic In The Pentagram", "We Take The Church By Storm" & "Resurrection By Erection"
BLOOD OF THE SAINTS
SCORE – 9/10
SONGS TO DOWNLOAD – "Sanctified With Dynamite", "We Drink Your Blood", "Murder At Midnight", "Son Of A Wolf" & "Die, Die, Crucified"
THE SACRILEGE SYMPHONY
SCORE – 7/10
BIBLE OF THE BEAST
1 Opening: Prelude to Purgatory
2 Raise Your Fist, Evangelist
3 Moscow After Dark
4 Panic in the Pentagram
5 Catholic in the Morning… Satanist at Night
6 Seven Deadly Saints
7 Werewolves of Armenia
8 We Take the Church by Storm
9 Resurrection by Erection
10 Midnight Messiah
11 St. Satan's Day
12 Wolves Against the World
13 Testament In Black
14 Riding The Storm
BLOOD OF THE SAINTS
1 Opening: Agnus Dei
2 Sanctified With Dynamite
3 We Drink Your Blood
4 Murder at Midnight
5 All We Need Is Blood
6 Dead Boys Don't Cry
7 Son of a Wolf
8 Night of the Werewolves
9 Phantom of the Funeral
10 Die, Die, Crucified
11 Ira Sancti (When the Saints Are Going Wild)
THE SACRILEGE SYMPHONY
1 Raise Your Fist, Evangelist (Orchestral Version)
2 In Blood We Trust (Orchestral Version)
3 Sanctified With Dynamite (Orchestral Version)
4 Ira Sancti (When the Saints Are Going Wild) (Orchestral Version)
5 Moscow After Dark (Orchestral Version)