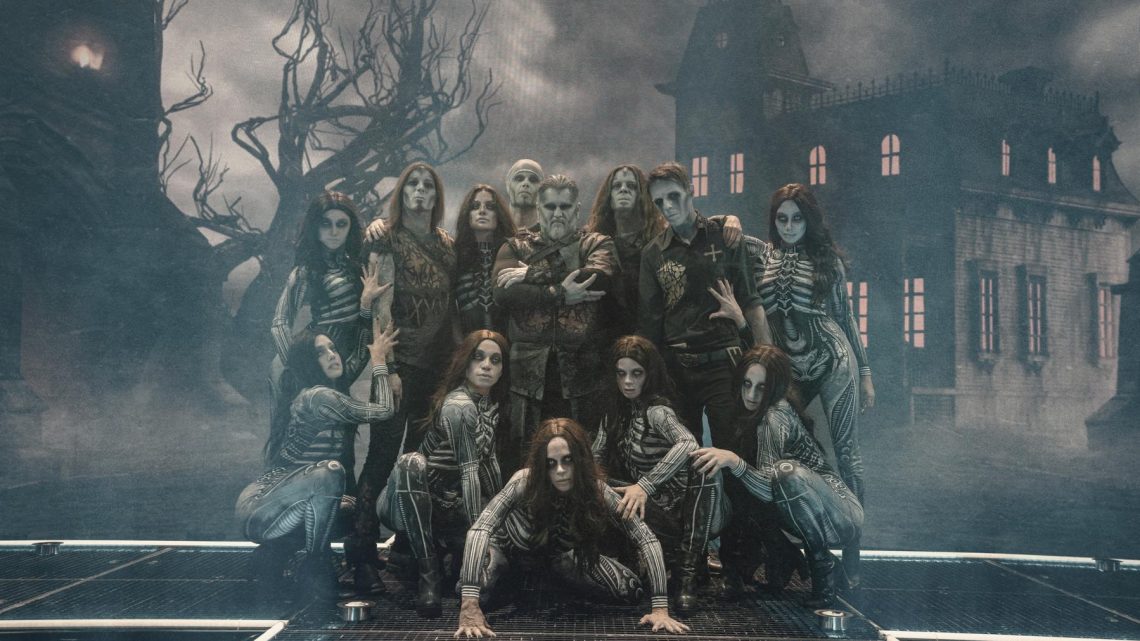 POWERWOLF RELEASES THE MONUMENTAL MASS – A CINEMATIC METAL EVENT JULY 8th 2022
7th July 2022
0
By
John Deaux
At the end of 2021, POWERWOLF – the most successful German metal band to date – fascinated with a streaming event of unprecedented dimensions. Those who thought they had seen everything in the live sector were instantly proven wrong with unmatched audio production and visuals that can only be described as simply breathtaking. This summer, on July 8, 2022, this new benchmark for music streaming events will finally be available to view any time you crave. THE MONUMENTAL MASS – A CINEMATIC METAL EVENT will be unleashed on DVD, BluRay and many other physical formats!
POWERWOLF have stood at the peak of superlative, epic metal moments for years, but what they present with this streaming event surpasses anything seen before. After months of detailed work, a story was crafted and presented in several chapters based on the stunning music and elaborately staged cinematic scenes. All show effects, actors and stage settings work hand in hand with each other and bring the medium of live music to a level never seen before. From battles with clergy to stories of nuns, monks and burning angels, cinematic images immediately capture the viewer.
Each song has its own stunning set designed and is perfectly staged – the production and size alone are unparalleled. One live premiere of a POWERWOLF classic follows the next, one after another – all with impressively produced sound design. With fan favorites "Demons Are A Girl's Best Friend", "Beast Of Gévaudan", and top radio hit of their last studio album "Dancing With The Dead", with the help of numerous actors, the Wolves artistically portray screenplays of their original music videos.
One of many highlights of the show is Falk Maria Schlegel's bombastic pyro organ, which spits fire with each single keystroke during songs like "Fire And Forgive" and "Amen & Attack". On "Cardinal Sin", singer Attila Dorn pushes a self-deprecating cardinal back into the fire, while on the ballad "Where The Wild Wolves Have Gone", snow falls on the fire-dominated scenery. Through all four chapters – Temptation, Sin, Confession and Forgiveness – the Wolves create a high-quality pyrotechnics display, often flickering discreetly in the background while other times engulfing the scene in massive awe-inspiring light.
THE MONUMENTAL MASS – A CINEMATIC METAL EVENT is a live spectacle that unveils new details watch after watch, and cements POWERWOLF's status as the most outstanding band in their genre!
Don't miss your chance to own this live spectacle of epic proportions! THE MONUMENTAL MASS – A CINEMATIC METAL EVENT will be available in numerous formats including a 96 page earbook, 48 page mediabook, deluxe box, vinyl box and other elaborated formats. The mediabook format will feature POWERWOLF's legendary headline show from Wacken 2019, Hallowed Be The Holy Ground, in full as a special bonus. The show is also included in the vinyl box – you can't get more live action than this!
The concept of THE MONUMENTAL MASS – A CINEMATIC METAL EVENT was conjured by POWERWOLF mastermind Matthew Greywolf, who is also involved in the screenplay, while Jörg Michael is responsible for the cinematic production. The artwork was once again created by Zsofia Dankova, with audio production, mixing and mastering by Kristian "Kohle" Bonifer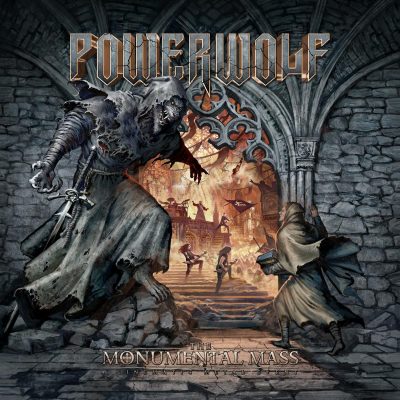 Tracklist:
Chapter I – Temptation 
 1             Prologue / Monumental Mass Theme
 2             Faster Than the Flame
 3             Venom Of Venus
 4             Stossgebet
 5             Demons Are A Girl's Best Friend
Chapter II – Sin 
 6             Dancing with the Dead
 7             Cardinal Sin
 8             Resurrection By Erection
 9             We Drink Your Blood
 10           Glaubenskraft
Chapter III – Confession               
 11           Fire & Forgive
 12           Beast of Gévaudan
 13           Incense & Iron
 14           Where The Wild Wolves Have Gone
Chapter IV – Forgiveness             
 15           Amen & Attack
 16           Army of the Night
 17           Blood for Blood (Faoladh)
 18           Armata Strigoi
 19           Epilogue / Monumental Mass Theme
POWERWOLF live:
07.07.22 DE – Ballenstedt / Rockharz Festival

16.07.22 RO – Bukarest / Romexpo (KISS Support)
20.07.22 DE – Bremen / Bürgerweide (IRON MAIDEN Support)
22.07.22 FI – Laukka / John Smith Festival
24.07.22 FE – Selestat / Rock Your Brain Festival
26.07.22 DE – Frankfurt / Deutsche Bank Park (IRON MAIDEN Support)
03.08.22 ES – Villena / Leyendas Del Rock 
04.-06.08.22 DE –  Wacken / Wacken Open Air 
19.08.22 FR – Saint Nolff / Motocultor Festival 
Wolfsnächte 2022
w/ Dragonforce, Warkings
11.11.22 DE – Berlin / Velodrom
12.11.22 DE – Munich / Zenith
13.11.22 CZ – Prague / Tipsport Arena
14.11.22 PL – Katowice / MCK
16.11.22 HU – Budapest / Barba Negra
17.11.22 AT – Vienna / Gasometer
18.11.22 DE – Stuttgart / Schleyerhalle
19.11.22 CH – Zurich / Samsung Hall
21.11.22 ES – Barcelona / Razzmatazz
22.11.22 ES – Madrid / Riviera 
24.11.22 IT – Milan / Alcatraz
25.11.22 DE – Frankfurt / Jahrhunderthalle
26.11.22 DE – Oberhausen / König Pilsener Arena
27.11.22 FR – Paris / Zenith
29.11.22 UK – London / Roundhouse*
01.12.22 NL – Amsterdam / Afas Live
02.12.22 DE – Hamburg / Sporthalle
03.12.22 DE – Saarbrücken / Saarlandhalle
04.12.22 BE – Antwerp / Lotto Arena
*without Dragonforce
POWERWOLF are:
Attila Dorn – vocals
Falk Maria Schlegel – organ
Charles Greywolf – guitar
Matthew Greywolf – guitar
Roel van Helden – drums
More Info:
HOMEPAGE
FACEBOOK
INSTAGRAM
NAPALM RECORDS
How useful was this post?
Click on a thumb to rate it!
Average rating 0 / 5. Vote count: 0
No votes so far! Be the first to rate this post.
Related