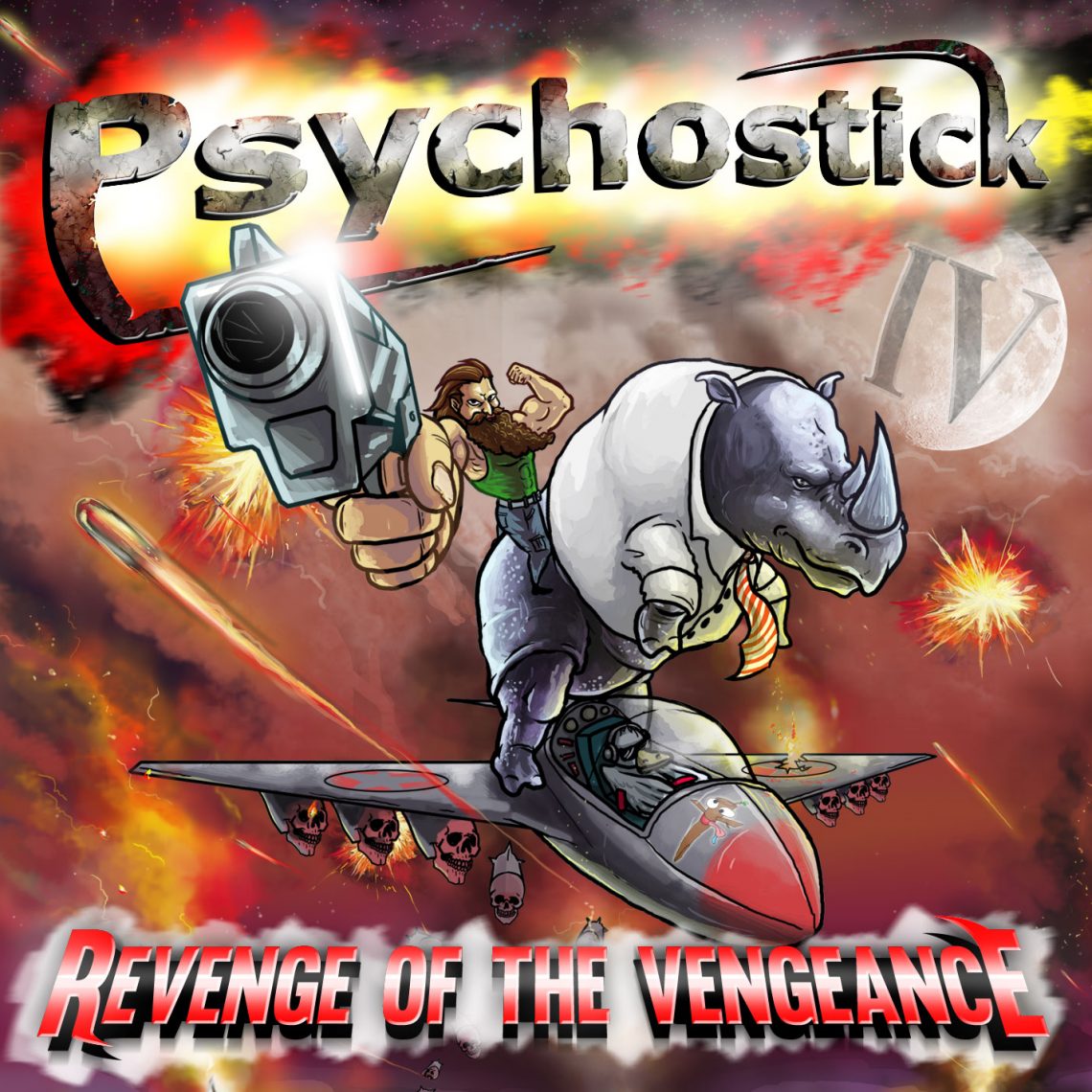 PSYCHOSTICK Announce October Dates
8th September 2015
PSYCHOSTICK Announce October Dates For 'The Ugly Americans Tour' w/ Dog Fashion Disco
New Music Video 'Bruce Campbell', A Tribute To Ash vs. Evil Dead
September UK Dates w/ Dog Fashion Disco
Video – Danger Zone – Watch here.
Video – 'Obey The Beard' – Watch here.
Psychostick's top 10 uses for a beard. Check it out on Metal Hammer UK here.
Metal Hammer UK – Blessed Are The Stick – Read here.
Kicking off the UK leg of  'The Ugly Americans Tour' with Dog Fashion Disco this week, PSYCHOSTICK confirms they will continue the USA leg in October at the following the dates below. The tour is in support of PSYCHOSTICK's latest album 'IV: Revenge of The Vengeance' released last November on Rock Ridge Music. The album features 21 tracks of pure rock comedy genius with titles such as 'Obey The Beard', 'Dogs Like Socks', 'Quack Kills' (a song about Anatidaephobia: The fear of being watched by a duck), 'Bruce Campbell' (a tribute to the 21st century's most beloved action hero), 'NSFW' featuring Bill Manspeaker (founder of Green Jello), a spoof cover of Kenny Loggins' 'Danger Zone' and many more! There's no wonder why these guys are the kings of parody metal!
'Revenge of The Vengeance' is available on iTunes here, all major online retailers plus the band's online store here.
 https://www.youtube.com/watch?v=xX_vADIJts0 
'The Ugly Americans Tour' UK Dates w/ Dog Fashion Disco
Sept 10 – Milton Keynes, UK @ Craufurd Arms (Buy Tickets)
Sept 13 – Newcastle Upon Tyne, UK @ The Cluny (Buy Tickets)
Sept 15 – Wolverhampton, UK @ Slade Rooms (Buy Tickets)
Sept 17 – Southampton, UK @ Joiners (Buy Tickets)
*= Psychostick only shows
* Sept 26 – Danville, IL @ Vintage Villians
* Sept 27 – Dubuque, IA @ DBQ Con @ Five Flags Center)
* Sept 29 – Lansing, MI @ The Loft
* Sept 30 – Toledo, OH @ Frankies
* Oct 2 – Virginia Beach, VA @ Shakas
—
'The Ugly Americans Tour' US Dates w/ Dog Fashion Disco
Oct 4 – Winston Salem, NC @Ziggy's
Oct 6 – Wilmington, NC @ Ziggy's By The Sea
Oct 8 – Orlando, FL @ West End Trading Co.
Oct 9 – Tampa, FL @ The Orpheum
Oct 10 – Jacksonville, FL @ Underbelly
Oct 13 – Houston, TX @ Scout Bar
Oct 14 – Austin, TX @ Dirty Dog Bar
Oct 15 – Fort Worth, TX @ The Rail Club
Oct 16 – Oklahoma City, OK @ 89th Street (formerly the Conservatory)
Oct 17 – St Louis, MO @ Fubar
Oct 19 – Joliet, IL @ The Tree of Joliet (formerly Mojoe's)
Oct 20 – Shawnee, KS @ Aftershock
Oct 21 – St. Paul, MN @ Amsterdam Bar and Hall
Oct 22 – Madison, WI @ The Red Zone
Oct 23 – Lakewood, OH @ The Foundry Concert Club
Oct 24 – Trenton, NJ @ Championship
Oct 25 – Baltimore, MD @ The Ottobar
About:
Harnessing their crazy sense of humor and love of all things metal, vocalist Rob "Rawrb" Kersey and guitarist Josh "The J" Key joined forces with drummer Alex "Shmalex" Dontre and bassist  Matty J "Moose" to create Pyschostick, a band they've coined as humorcore. With hilarious lyrics, heavy riffs, notorious stage antics and high-energy performances, the band has caused millions of laughs around the world and hundreds of mosh pits across the US of A, often simultaneously, since its birth in Phoenix, AZ in 2000.
Now residing in Chicago, IL, with four full-length albums behind them – "We Couldn't Think of a Title" (2006), their holiday album "The Flesh Eating Rollerskate Holiday Joyride" (2007), "Sandwich" (2009),  and "Space Vampires vs. Zombie Dinosaurs in 3D" (2011), the almost 100 percent do-it-yourself laugh factory, Psychostick returns with their signature sound (Chimaira, Machine Head and Hatebreed sexing Tenacious D and Weird Al Yankovic) to showcase their latest offering, the crowd funded album 'IV: Revenge of The Vengeance' (fan thank you video) due out on November 4, 2014. Featuring a hilarious track listing that includes previously released singles the beard anthem 'Obey The Beard' and popular 'Dog Like Socks' plus new tracks such as 'Quack Kills', 'So. Heavy', 'Blue Screen', and a tribute to the 21st century's most beloved action super hero 'Bruce Campbell'. Psychostick are crazy to share with fans many more comedy sing-a-longs on the road and more!