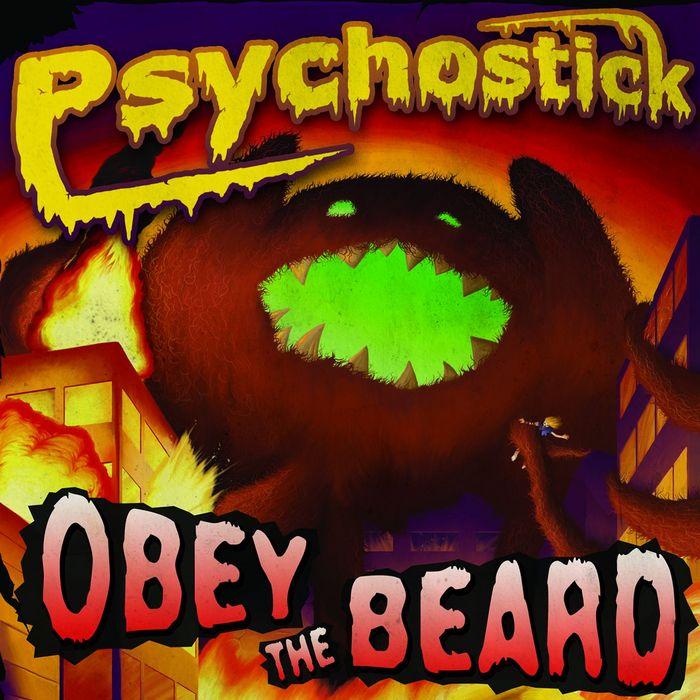 PSYCHOSTICK – Rebellion Bar Manchester – 21st September
26th September 2016
So it took over an hour to get to Rebellion Club which is only around 35 minutes away from my house but hey I made it! Rebellion was founded in 2013 by Ainars Gruznovs & Inese Fjordorova, I've been here a bunch of times and think it's an awesome venue for live music, club nights and personally to kick my mates butts at pool. On this occasion, I walked in to be hit by a blockade of body sweat and dry ice which filled my nostrils with the salty sweet aroma which can only be found at a gig, it's repulsively loveable.
First band I got to see was Footprints in the Custard, due to personal issues Green Jelly were unable to perform so these guys were drafted in quick sticks and they did not disappoint. FiTC are a Manchester based band described themselves as comedic punk-metal with tutus, mankinis and salty, salty shame. All will be revealed shortly however I won't be revealing quite as much as certain band members did….. There was an instant sense of mischief about these guys as the first thing I heard was something about "bears killing emos" followed by "point any emos out"….now don't get me wrong I'm not an emo (anymore) but my Sleeping with Sirens hoodie has never been removed so quickly and I rejoiced that I was wearing a Dead Kennedy's t-shirt underneath! Aside from my embarrassing near brush with emo death these guys were good, like really good.
Head banging in time with the cross dressing carnage of the stage, yes cross dressing…the vocalist, Ross had stripped down to a neon green tutu quite early on. Bizarrely that was not the weirdest site since another band member stripped to a mankini (ashamed to say his gyrating was oddly mesmerising) as he wiggled his peach around the stage. These guys engaged with the crowd, fucked off every heckler and created a dry humping wall of death which one guy later told me was the most action he'd had all year! Yes, these guys are worth a look despite their disgustingly vile antics and weird obsession with Hayley Williams (I'd be getting a restraining order!). Their final song was a rendition of "It's Raining Men" which truly went down a storm with their thunderous drums & shattering riffs and it was so wrong it actually felt right.
Next up was Psychostick, a band currently residing in Chicago, IL who described themselves as a comedic metal band who punch you in the face with the fist of funny. They took to the stage with the crowd going mental and went straight in with Obey the Beard accompanied by key jangling and vertical middle fingers to the stage in protest of any conformity. They follow on well from FiTC and maintain the same silly absurdity and peculiar dress as the singer pranced around in an eyebrow raising pointy hat and followed by the bassist bopping his moose ears around.
There are 2 things to note about these guys:
1. They are completely mental and a little too old to be playing the party hard teenage personas they have but the vocalist, Rob has one hell of a voice and his melodic tones are truly a thing of beauty
2. The finger work demonstrated by Matt on the bass lines was so damn funky you can't help but dance to them (it also helps that the moose ears bop with the rhythm).
They really put on a performance rather than just sing songs on a stage and there is an array of visual and audio delights which were impacting everyone's mood and filling the room with this encouraging harmonious slightly sarcastic energy.
I particularly loved the way that "Because boobs" started with the monologue from the movie "Liar Liar" where he's asking to squeeze the chicks boobs in the lift, the film is a personal favourite of mine so I might be biased but it added to the theatrics especially since the Rob went on to motorboat several lines; a skill which I never knew existed but piss your pants hilarious anyway.
They went on to do a kind of song lottery to allow fans to hear songs which they don't always play which was well received and ended with crowd surfing although the bassist asked the crowd to drop his ass which in my opinion was a dick move since most bands promote helping people up if they fall and want their fans to crowd surf but I guess repeated visions of this guy's ass crack got the bassist pent-up. The party continued through with Psychostick picking the biggest, burliest guy possible to don a sombrero whilst wrestling packs of people clambering on top of him for a piece of it whilst the band thrashed out "The Sombrero Prophecy" in an unpredictable flurry of chaotic bedlam. I was dragged in for the longest 30 seconds of my life and have the bruises to prove it!
Moving through each song in the set, they were well received in the main with the shorter songs being a little less appreciated but the variation between long, short, fast, slow and funny songs impale your senses and is comically captivating. Never have I seen so many air guitars, air drums and the a-typical rock face which accentuates that these really are an eclectic taste. They did announce that upon finishing the tour they would be returning home to finish their album and played future hit "Adulting" which follows the same humour and pattern but just as catchy as the rest has a resemblance of a breakdown which resonated with every hard-core bone in my body
Interesting and entertaining but not for the faint of heart…or stomach. If you're the type of person that gets offended over bodily functions, sexism or anything else which you can generally take the piss out of then it's not for you since a sense of humour is 100% required.
So much more than a gig and I don't think I've ever laughed so hard or wanted to burn my eyes out so much at the outfits or lack of but both FiTC & Psychostick were totally awesome, I'd recommend watching them even if you don't like the music they are true-born entertainers with comedic musical talent. The songs were hilarious, the riffs were epic and the growls and screams were face melting. And to end it all the entire crowd basked in their contagious stupidity as we all proceeded to turn around and do the "Hokey fucking pokey" because that's what it's all about…..
Set List
Obey the Beard
Dogs Like Socks
Because Boobs
Die…A LOT!
Do you want a taco?
Two Ton Paperweight
The Doom Song
The Sombrero Prophecy
My Clingy Girlfriend
Happy Fucking New Year
No pun intended
Bruce Campbell
NSFW
Orgasm = love
Adulting – off new album
BEER!
So. Heavy.
Hokey Fuckin' Pokey
Score: 10/10