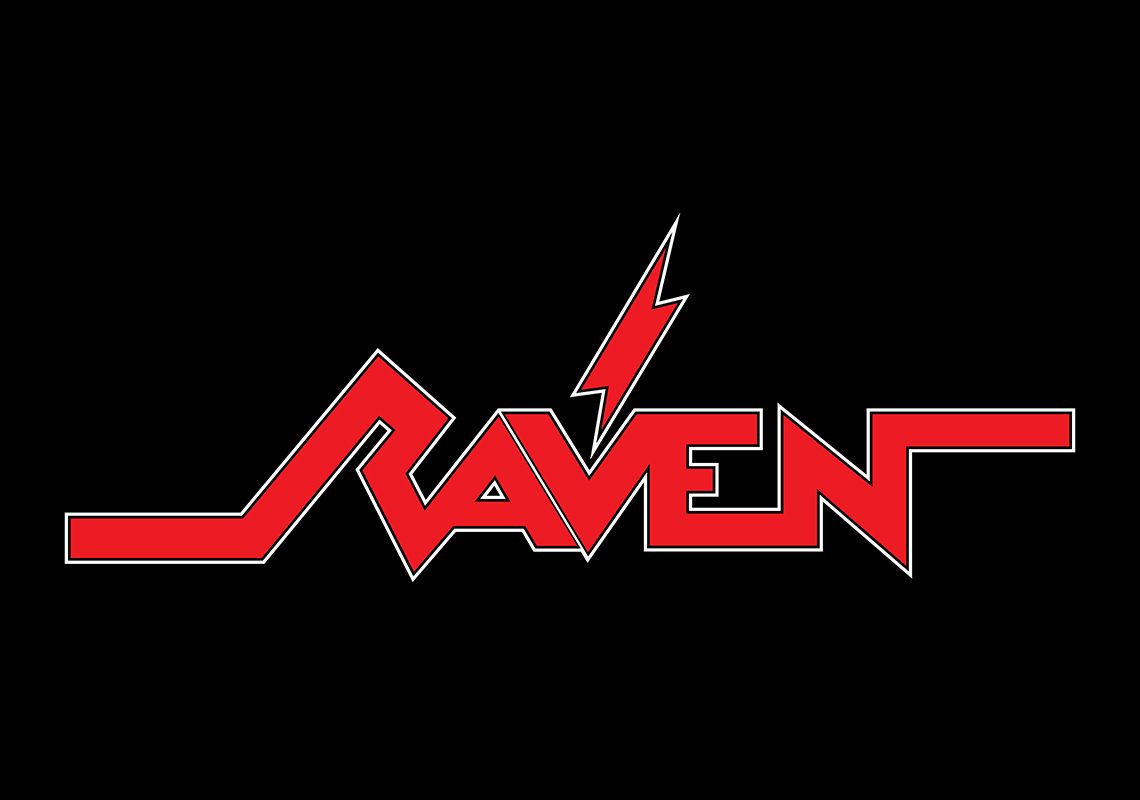 Raven: Over the Top! The Neat Albums 1981-1984, 4CD Clamshell Boxset
25th June 2019
0
By
Owen Edmonds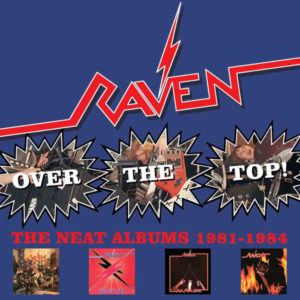 Pure, unadulterated NWOBHM, 7.5/10.
There you go, that's my review. 
What? You want more?
You don't get Thrash and Speed Metal without first having Raven. Is that enough? No! Fine…. I'll continue.
This 4 CD box set is made up of Raven's first 3 albums, 1981s Rock Until You Drop 1982's Wiped Out 1983's All For One and 1984's live album Live at the Inferno. For your money you get 69 tracks, which include several bonus tracks (one features Udo Dirkschneider which I'll come back too later). The albums in this box set were released by the NEAT label and provide a real snap shot of early NWOBHM. 
Background
For those of you that don't know much about Raven, let me provide some background. The band was formed in Newcastle in the mid 70's by brother John (bass and lead vocal) and Mark Gallagher (Guitar and backing vocals), they were joined by drummer Rob 'Wacko' Hunter in late 1979 and this kicked off a ferocious period of music making for the band.
The band were known for an energetic style of live performance which led them to open for Ozzy, Maiden, Motorhead and Whitesnake. After making waves in Britain, the band went and broke in the States with a small band called Metallica opening for them on the Kill Em All For One tour.
Raven are widely regarded as one of the most important influences on the Thrash, Speed and Power metal that came out of Britain and the States in the early and mid 80's. Listening to the albums on this box set it is easy to hear the progenitors of early thrash metal, the riffs (think Dave Mustaine), the drum rolls (think Phil Taylor) and vocal styling (think Rob Halford).
The band themselves have a live sound, even on the studio albums and the volume being produced by the trio is incredible and very reminiscent of other power trios (Rush, Nirvana, Husker Du).
The Albums
Each of the studio albums has a very similar raw sound, as mentioned they sound like they are playing at the same time in one take. In fact, you can often hear dialog between the band between songs suggesting that they just straped on the guitars, turned it up to 11 and played. What Raven did on these albums was to keep it real, there was no schtick, no make-up (that would come later sadly) nothing but fresh, hard, real rock. 
The first album "Rock Until You Drop" is the highlight for me with some classic tunes which are going to make my playlist. This album provides 3 of the four tracks that are making my playlist.
The first playlist tune is the fourth track "Over The Top". It has an early Maiden sound with a cool and inventive guitar lick. A very close second is the epic "Tyrant of the Airwaves", it's a monster at over 7 minutes long. Finally there is "Hell Patrol" as mentioned, John Gallagher has a vocal style that is similar to Rob Halford and his final screech on "Hell Patrol" is something to be heard.
The final track that's making my playlist is "Break The Chain" which is  the seventh song on the third album "All For One". This is just a groovy tune with a catchy hook to it and I love it. Of the four songs making my playlist, this is my favorite.
Whilst there are some real highlights over these four albums, there are a lot of 'interesting' songs as well. The most 'interesting' song is the cover of "Born to be Wild" which features Udo Dirkschneider as guest vocalist. I don't mind a bit of screeching or growling in my metal, however, this takes the biscuit. It is 3 minutes 26 seconds of scream fest, I'm sure I'd enjoy it if I was at a gig and after a few pints, however, I mainly listened to it sat at my desk in work. I'll be happy not to listen to it again for a few years.
Conclusion
As mentioned above, on these albums, Raven are clean, raw and powerful musicians they are proto-Thrash. You don't get to enjoy the explosion in Thrash and Speed Metal that would come about from the mid 80's onwards without first enjoying Raven. So this band should be very highly regarded by everyone that enjoys Thrash today.
That said, these early albums do get a bit samey, John Gallagher's vocals are superb, but he does tend to rely on the scream a bit too much.
Overall, I really enjoyed going back to the start of Thrash and to a band that really helped get NWOBHM on the musical radar, but I'll be taking a break from screaming vocals for a while.
SCORE 7.5/10
Track Listing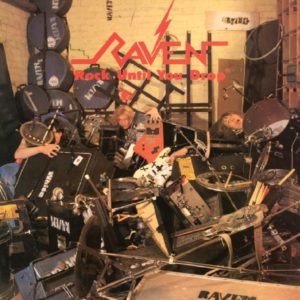 DISC ONE: CD
ROCK UNTIL YOU DROP
1. HARD RIDE
2. HELL PATROL
3. DON'T NEED YOUR MONEY
4. OVER THE TOP
5. 39-40
6. FOR THE FUTURE
7. ROCK UNTIL YOU DROP
8. NOBODY'S HERO
9. HELLRAISER/ACTION
10. LAMBS TO THE SLAUGHTER
11. TYRANT OF THE AIRWAYS
BONUS TRACKS
12. WIPED OUT
13. CRAZY WORLD
14. INQUISITOR
15. LET IT RIP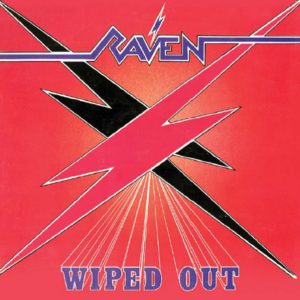 DISC TWO: CD
WIPED OUT
1. FASTER THAN THE SPEED OF LIGHT
2. BRING THE HAMMER DOWN
3. FIRE POWER
4. READ ALL ABOUT IT
5. TO THE LIMIT/TO THE TOP
6. BATTLE ZONE
7. LIVE AT THE INFERNO
8. STAR WAR
9. UXB
10. 20/21
11. HOLD BACK THE FIRE
12. CHAIN SAW
BONUS TRACKS
CRASH BANG WALLOP EP
13. CRASH BANG WALLOP
14. RUN THEM DOWN
15. ROCK HARD
16. 20/21 (OUTTAKE)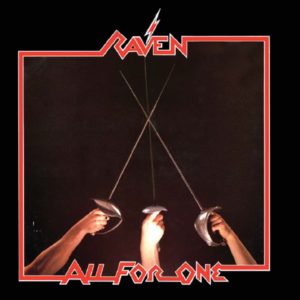 DISC THREE: CD
ALL FOR ONE
1. TAKE CONTROL
2. MIND OVER METAL
3. SLEDGEHAMMER ROCK
4. ALL FOR ONE
5. RUN SILENT RUN DEEP
6. HUNG DRAWN & QUARTERED
7. BREAK THE CHAIN
8. TAKE IT AWAY
9. SEEK & DESTROY
10. ATHLETIC ROCK
BONUS TRACKS
11. BORN TO BE WILD (Featuring Udo Dirkschneider)
12. THE BALLAD OF MARSHALL STACK
13. INQUISITOR
14. POWER AND THE GLORY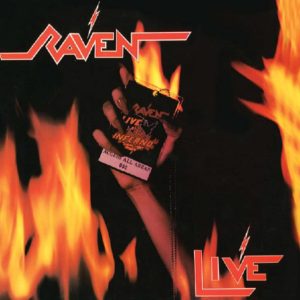 DISC FOUR: CD
LIVE AT THE INFERNO
1. INTRO/LIVE AT THE INFERNO
2. TAKE CONTROL
3. MIND OVER METAL
4. CRASH BANG WALLOP
5. ROCK UNTIL YOU DROP
6. FASTER THAN SPEED OF LIGHT
7. ALL FOR ONE
8. FORBIDDEN PLANET
9. STAR WAR
10. TYRANT OF THE AIRWAY/RUN SILENT RUN DEEP
11. CRAZY WORLD
12. LET IT RIP
13. I.G.A.R.B.O.
14. WIPED OUT
15. FIRE POWER
16. I DON'T NEED YOUR MONEY
17. BREAK THE CHAIN
18. HELL PATROL
19. LIVE AT THE INFERNO
Label
HNE Recordings
Release Date 
28th June 2019
For all things Raven, click HERE and to purchase the album, click HERE
How useful was this post?
Click on a thumb to rate it!
Average rating 5 / 5. Vote count: 4
No votes so far! Be the first to rate this post.
Related
About the author
I love music. My favourite 3 bands are Iron Maiden, The Doors and Jethro Tull. However, I love early Metallica, early RHCP, RATM, QOTSA, The Lounge Kittens, Rammstein, Clutch, Slayer, Faith No More, Pearl Jam, Rush, Black Sabbath, Led Zeppelin and so many more.