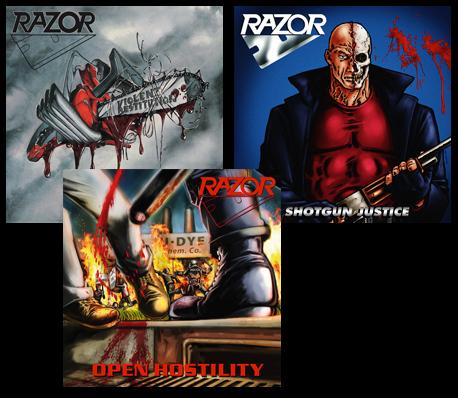 Razor – Violent Restitution / Shotgun Justice / Open Hostility (re-issues)
24th May 2015
I've a confession to make.  Prior to getting my hands on these 3 re-issues, I'd never heard anything by Canadian speed / thrash metal band Razor.  For some reason these guys just passed me by – probably because back in the day I was spending all my money on albums by the bigger more well known bands.  Thankfully, Relapse Records have reissued these 3 long out of print albums, giving myself and others a chance to hear these "classic" albums and make up for missing out all those years ago.
First up is 1988's Violent Restitution.  This album is a full speed aggressive thrash fest that perfectly combines early Slayer with a crossover / punk sound – the end result is an album that despite being 27 years old (!) actually sounds like it's offering something a little different.  The riffs on this album are amazing, and if you're going to try and headbang along to this make sure you've booked yourself an appointment with a neck specialist because the album is fast as fuck from start to finish.
1990's Shotgun Justice is the Razor first album with vocalist Bob Reid (replacing Stace McLaren) and is more of a straightforward thrash album.  The speed and energy are still there, along with the impressive riffs, but the crossover sound has disappeared.  That's not necessarily a bad thing, as it sounds like a natural progression for the band, and the album still delivers everything a thrash fan would want with no filler or pauses to let you catch your breath.
1991's Open Hostility continues in the same vein as Shotgun Justice, but has a more polished sound.  Again, the tracks on this album are all relentless 100 mile an hour thrash fests, with no sound of mellowness creeping in.  Interestingly, due to the band's drummer, Rob Mills, being injured in a traffic accident, the album was recorded using a drum machine – and for the most part that works, but there are a couple of places in the album where it does jar slightly.
If you're a fan of old school thrash metal then you really need to get yourself these albums – all 3 are full of first class thrash metal and worthy of the label "classic".  Not only that, but all 3 have been completely remastered, come with super deluxe packaging, and include a whole bunch of previously unreleased bonus tracks.  Check out the links below and order your copies today !!
Score: 9 out of 10
ALBUMS INFO
Violent Restitution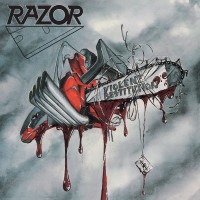 01  The Marshall Arts
02  Hypertension
03  Taste the Floor
04  Behind Bars
05  Below the Belt
06  I'll Only Say it Once
07  Enforcer
08  Violent Restitution
09  Out of the Game
10  Edge of the Razor
11  Eve of the Storm
12 Roll out The Barrel – Hidden Track
13  Discipline
14  Fed Up
15  Soldier of Fortune
16  (BONUS TRACK) Shootout Live Feb 1988 Toronto, Canada
17  (BONUS TRACK) Snake Eyes Live Feb 1988 Toronto, Canada
18  (BONUS TRACK) The Marshall Acts / Hypertension Live Feb 1988 Toronto, Canada
01  Miami
02  United by Hatred
03  Violence Condoned
04  Electric Torture
05  Meaning of Pain
06  Stabbed in the Back
06  Shotgun Justice
08  Parricide
09  American Luck
10  Brass Knuckles
11  Burning the Bridges
12  Concussion
13  Cranial Stomp
14  The Pugilist
15  (BONUS TRACK) Meaning Of Pain – Show Opening Somewhere Shotgun Justice Tour
16  (BONUS TRACK) Violence Condoned – Live August 1989
17  (BONUS TRACK) Learning and Refining Cranial Stomp
18  (BONUS TRACK) Miami – Original Mix
19  (BONUS TRACK) Electric Torture – Alternate Version
20  (BONUS TRACK) Brass Knuckles – Alternate Version
Open Hostility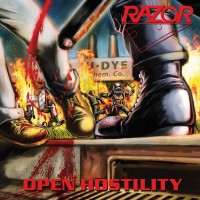 01  In Protest
02  Sucker For Punishment
03  Bad Vibrations
04  Road Gunner
05  Cheers
06  Red Money
07  Free Lunch
08  Iron Legions
09  Mental Torture
10  Psychopath
11  I Disagree
12  End of the War
13  (BONUS TRACK) Tow The Line – Unreleased Track Late 1990
14  (BONUS TRACK) Taking The Strain – Unreleased Track Late 1990
15  (BONUS TRACK) Violent Propensity – Unreleased Track Late 1990
16  (BONUS TRACK) Taking The Strain (Instrumental Version) – Unreleased Track Late 1990
17  (BONUS TRACK) End Of The War – Rehearsal With Rob Mills
18  (BONUS TRACK) Tow The Line – Instrumental Demo With Programmed Drums
19  (BONUS TRACK) Red Money – Instrumental Demo
20  (BONUS TRACK) Iron Legions – Instrumental Demo
Released
5th May 2015
Record Label
Relapse Records
Links
http://www.razorband.com
http://www.relapse.com/razor/
https://razorband.bandcamp.com