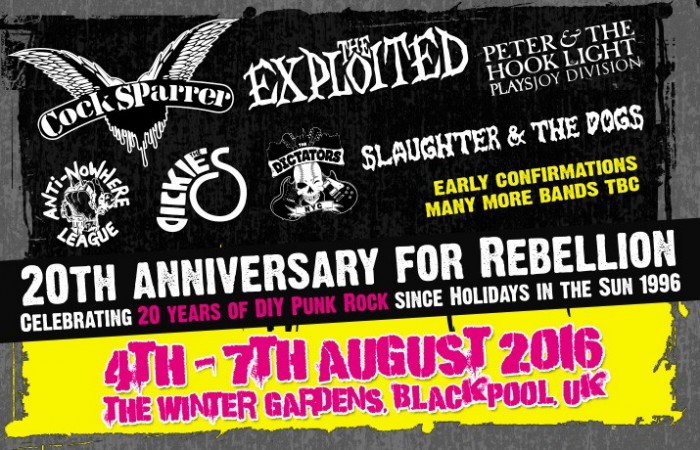 REBELLION FESTIVAL Announce full stage times
1st July 2016
Set to return for its 20th year this August 4-7th, simultaneously celebrating the 40th anniversary of the initial punk explosion in 1976, the iconic Rebellion Festival has revealed full stage times today, and confirmed that UK punk legends, the Angelic Upstarts, will join the line-up.
Rebellion have also detailed extensive interviews, film screenings and Q&A's all taking place at the Opera House, one of the largest theatres in Europe, throughout the four-day event. Live interviews with Jello Biafra, acclaimed film maker Don Letts, ex-Fall guitarist Brix Smith, Dictators NYC frontman Dick Manitoba and many more punk rock luminaries have been announced, as well as film screenings of recently released documentaries by Belfast legends, The Outcasts, Cass Pennant and Slaughter & The Dogs, followed by Q&A's.
Full line-up details and stage times are available here – www.rebellionfestivals.com/line-up.
The depth and variety of legendary bands performing at this year's festival is positively overwhelming. Poised to release their long-awaited new LP, Hypercaffium Spazzinate, in July, Californian pop-punk legends the Descendents take a highly-anticipated headline slot, and their only appearance in the UK this year.
Speaking of their appearance, front-man Milo Aukerman said, "The Descendents have never played Rebellion Festival, so we're psyched to rock Blackpool for the first time! Along with our classic material, we will be playing songs from our new record, Hypercaffium Spazzinate. That's right; folks get to hear some new Descendents music!  The four-day Rebellion lineup is amazing; I wish we could stick around for the whole thing.  On that first day, I'm looking forward to seeing the Pears, the Dwarves, Gnarwolves, and Off With Their Heads.  It should be a blast; see you there!"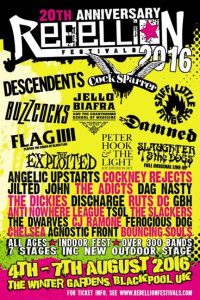 Dischord Records' post-hardcore icons, Dag Nasty, and skate-punks JFA, are both set to play the UK for the very first time at this year's festival, alongside the key members of Black Flag performing under the Flag banner, Dead Kennedys frontman Jello Biafra with his Guantanamo School Of Medicine, Dictators NYC, The Weirdos, CJ Ramone, The Adolescents, Bouncing Souls and T.S.O.L. etc, all guaranteeing that the best of US punk is truly represented at Rebellion Festival in 2016.
As always, the UK is represented by genre defining artists such as the Buzzcocks, Stiff Little Fingers, The Damned, The Exploited, G.B.H., Slaughter & The Dogs, Peter Hook And The Light (Joy Division set) Penetration, Cock Sparrer, UK Subs, Cockney Rejects, Discharge and many more.
With six stages under one roof, plus a brand new outdoor stage opposite the front doors of the Winter Gardens, this year's festival is the biggest in its 20 year history with 355 acts over the four days. The festival now also incorporates the Opera House, one of the biggest theatres in Europe that will host poetry readings, film screenings, interviews and audience Q+A's as well as full sets from the likes of Ruts DC, TV Smith, Membranes, Steve Ignorant and many more.
Rebellion Festival is an ALL AGES, family friendly event and children under 12 are admitted free of charge (accompanied by an adult). More information and tickets are available at:
Website: www.rebellionfestivals.com 
Twitter: @rebellionfest 
Facebook:  www.facebook.com/RebellionPunkMuskFestival
How useful was this post?
Click on a thumb to rate it!
Average rating / 5. Vote count: