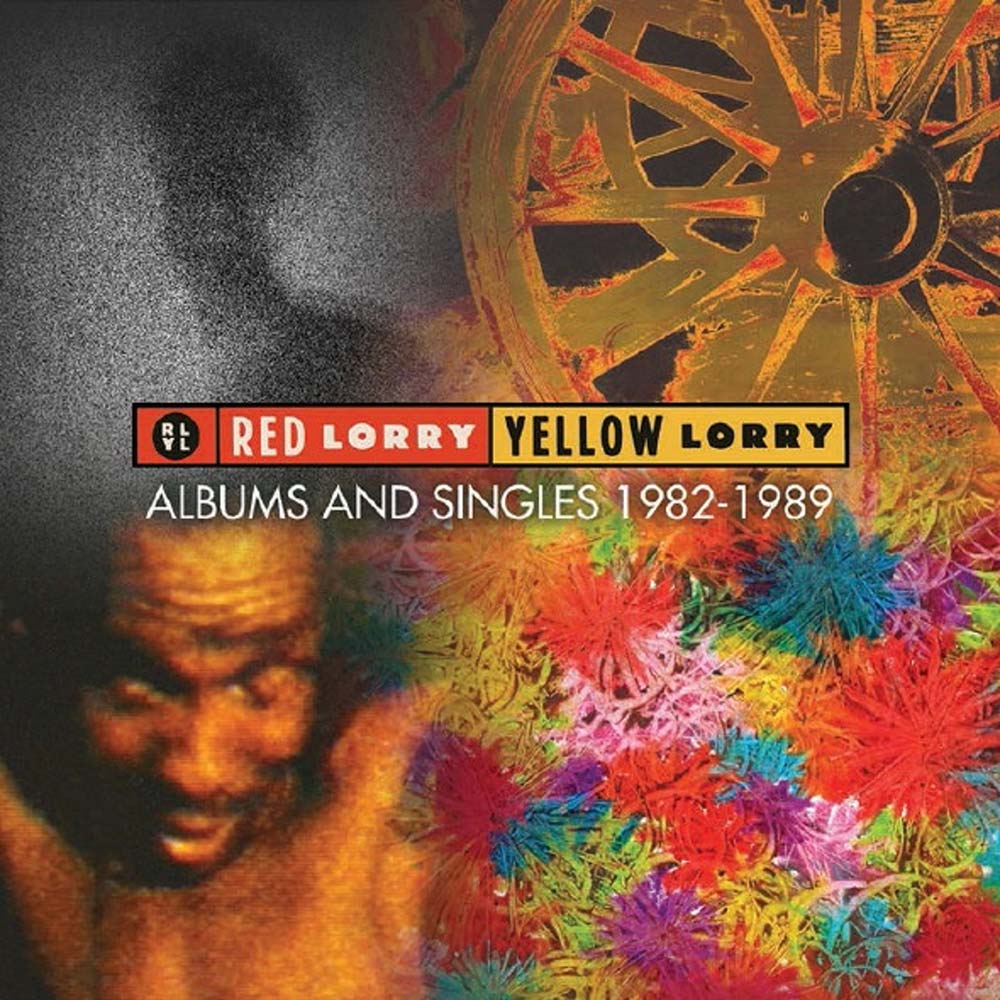 Red Lorry Yellow Lorry – Albums & Singles 1982-1989
1st February 2017
In total there are 73 tracks spanning 4 CDs of Red Lorry Yellow Lorrys career. This is one hell of a comprehensive box set of dark & driving rock music with a post punk & goth tinge.
If you like The Sisters of Mercy along with The Jesus & Mary Chain then this collection is for you.

Primarily an underground band, no other act experimented with a rigid drum machine, coupled with fuzz guitar & insanely dark lyrics. Red Lorry, Yellow Lorry, had a profound effect on the whole goth scene that was to follow. 
Every album has been given a proper makeover. Totally remastered from the original source tapes & exploding with bonus tracks.
There's not only a specially commissioned interview with band member David Wolfenden but every CD cover has had the original artwork re-created.
The most genius thing about this clam shell box is this. You can now retire the vinyls of the albums & singles & finally do away with the old CD versions. This set takes up less room in your storage, leaving you enough room to purchase more CDs. 

If you're just discovering Goth music, you wont go wrong with this release or this band. You will discover the origins of this amazing genre of music. 
Check out Red Lorry Yellow Lorry HERE
DISC ONE:
TALK ABOUT THE WEATHER
1. TALK ABOUT THE WEATHER
2. HAND ON HEART
3. FEEL A PIECE
4. HOLLOW EYES
5. THIS TODAY
6. SOMETIMES
7. STRANGE DREAM
8. HAPPY
BONUS TRACKS
9. BEATING MY HEAD
10. I'M STILL WAITING
11. TAKE IT ALL
12. HAPPY (SINGLE VERSION)
13. HE'S READ
14. SEE THE FIRE
15. MONKEYS ON JUICE
16. PUSH
17. SILENCE
18. HOLLOW EYES (12" VERSION)
19. RUSSIA
DISC TWO:
PAINT YOUR WAGON
1. WALKING ON YOUR HANDS
2. JIPP
3. LAST TRAIN
4. HEAD ALL FIRE
5. MESCAL DANCE
6. SHOUT AT THE SKY
7. WHICH SIDE
8. TEAR ME UP
9. SAVE MY SOUL
10. BLITZ
BONUS TRACKS
11. PAINT YOUR WAGON
12. MORE JIPP
13. CHANCE
14. GENERATION
15. SPINNING ROUND
16. HOLD YOURSELF DOWN
17. CUT DOWN
18. RUNNING FEVER
19. PUSHED ME
20. CRAWLING MANTRA
21. HANG MAN
22. ALL THE SAME
DISC THREE:
NOTHING WRONG
1. NOTHING WRONG
2. HANDS OFF ME
3. BIG STICK
4. SHE SAID
5. SAYONARA
6. WORLD AROUND
7. HARD-AWAY
8. ONLY DREAMING
9. DO YOU UNDERSTAND?
10. NEVER KNOW
11. PUSHING ON
12. TIME IS TIGHT
BONUS TRACKS
13. OPEN UP
14. ANOTHER SIDE
15. YOU ONLY GET WHAT YOU PAY FOR
16. CALLING
17. ONLY DREAMING (WIDE AWAKE) (Extended Single Version)
18. THE RISE
DISC FOUR:
BLOW
1. HAPPY TO SEE ME
2. TEMPTATION
3. SHINE A LIGHT
4. TOO MANY COLOURS
5. HEAVEN
6. GIFT THAT SHINES
7. IN A WORLD
8. YOU ARE EVERYTHING
9. WEST WAKES UP
10. IT WAS WRONG
11. BLOW
BONUS TRACKS
12. DON'T KNOW WHY
13. BLOW (Hard Press Mix)
14. HEAVEN (Acoustic Version)
Label
Cherry Red
Release Date
24th February 2017